Posted 12th February 2016 | 2 Comments
Major landslip will close Settle line for months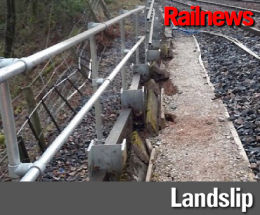 A LANDSLIP involving half a million tonnes of earth on the Settle & Carlisle line will close the route between Carlisle and Appleby for several months 'at least', Network Rail has warned.
The slip at Eden Brows, some 3km north of Armathwaite, is currently accelerating after its base was eroded by a fast-flowing river.
The line near Armathwaite had been closed three days ago after aerial surveys and ground monitoring had revealed that the embankment had moved. The area of land affected is more than 130m long and 70m wide.
Network Rail said its geotechnical specialists are carrying out detailed ground investigations using borehole equipment, and the results of these measurements will be used to design a lasting repair. It is not yet known how long reconstruction will take.
Route managing director Martin Frobisher said: "An estimated 500,000 tonnes of earth have moved already and the embankment is still moving. That's 10 times the weight of the QE2 ocean liner when it is fully loaded. The extent of this landslip means it is no longer safe for this section of railway to be open to trains.
"Our monitoring has detected a twist fault in the tracks caused by the ground movement. The slip is accelerating and it is not safe to run trains in this situation.
"Our engineers on site are undertaking detailed ground surveys and this will enable us to design a permanent and lasting repair.
"Network Rail's contractors have already started to build access roads and compounds so we can get our heavy machinery to where it is needed. This will enable us to start construction work as soon as the design is finalised.
"The River Eden has severely eroded the base of the embankment. This, combined with the recent repeated storms and saturated ground, caused the landslip.
"This is a vital rail link across the north of England and I am very aware of how important the railway is to the local community and local economy.
"I can assure everyone that we are doing all we can to design a lasting solution and to reopen the railway as quickly as possible. We will continue to work with Northern Rail to keep passengers and communities informed of what we are doing and the progress we are making."
Northern's md Alex Hynes said: "This is clearly another challenging and complex engineering project for Network Rail to tackle. While their engineers assess the extent of the work, we will continue to ensure our customers are kept on the move, up to date with the latest information and that disruption is kept to a minimum.
"We will be operating train services between Leeds and Appleby with a replacement bus service running between Appleby and Carlisle."
This new damage is the latest to be discovered in the Cumbrian region after weeks of heavy rain. The viaduct at Lamington on the West Coast Main Line between Lockerbie and Motherwell is expected to remain closed until the beginning of March after its foundations were affected by the River Clyde in spate, to the point where the structure nearly collapsed, and the latest problems on the Settle line will reduce the railway's capacity in the region still further.
Reader Comments:
Views expressed in submitted comments are that of the author, and not necessarily shared by Railnews.
This is news that the residents of Cumbria will probably have been dreading - they've had to put up with enough disruption to this point without receiving more news of further closures to their railways. Notwithstanding, the safety of the passengers should always come first, and I have my full confidence in Network Rail that they will come up with a long-term solution, so no further issues arise and a safe running of rail services on the line can be accomplished.