Posted 19th January 2016 | 10 Comments
West Coast Main Line to stay blocked until March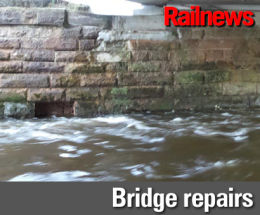 THE West Coast Main Line is to remain closed in southern Scotland until March, Network Rail has warned, as repairs continue at Lamington Viaduct. It has been revealed that recent flood damage was so serious that the whole structure came close to collapsing.
The viaduct, which bridges the Clyde, was severely affected by Storm Frank on New Year's Eve, but engineers have now discovered that more damage was caused by high water levels in the early part of January.
Engineers have been working to divert the river with more than 1,500 tonnes of stone and stabilise the structure after the viaduct's second pier had been left on the brink of collapse.
Although the pier was stabilised on 13 January with the aid of more than 300 cubic metres of fast-setting concrete, structural checks have now revealed more damage, including three steel bearings which support the bridge deck.
Network Rail said the damage is 'worse than previously thought, requiring more time and significantly more work to properly stabilise the structure'.
ScotRail Alliance managing director Phil Verster said: "The damage caused by Storm Frank to the Lamington Viaduct has been very serious. Our engineers have been in a race against time to get the structure stabilised and prevent it from collapsing into the Clyde. Only now that we have won that race can we really see the full extent of the damage.
"The damage from the floodwaters is significant. We have had to use hundreds of tonnes of rock to divert and reduce the flow rates at the piers and an extraordinary amount of concrete just to stabilise the second pier. Unfortunately the scale of the damage and the complex nature of the engineering challenges means that the repair is going to take longer than we initially thought.
"All of the train companies who operate services on the West Coast Main Line are working together to make sure that we keep goods and people moving. The temporary timetables and arrangements are going to have to continue. That is why it is so important that anyone who is travelling on this route checks their travel details before they travel. All the companies have information on their websites and have staff ready to answer any questions you might have.
"We are doing everything we can to get the repairs done and the line reopened quickly and safely."
Phil Bearpark of Virgin Trains added: "Safety is our priority and we fully support Network Rail in their work to repair the Lamington viaduct."
Trains have been diverted via Dumfries. Mr Bearpark explained: "This means that journeys take around an hour longer than normal but customers travelling between Glasgow and Carlisle are able to take a replacement train rather than a bus."
Engineers will install additional concrete supports on either side of the second pier to strengthen the structure, before installing additional rock anchors and mini piles through the pier's foundations. Structural repairs to the third pier will also be completed and the course of the river widened. Network Rail engineers say this will reduce future water pressure on the structure.
Reader Comments:
Views expressed in submitted comments are that of the author, and not necessarily shared by Railnews.
Are trains (including freight) which go over Lamington Viaduct allowed to go at the full 125mph WCML speed limit, or do they have to slow down on approach to the structure? It's just that the Ribblehead Viaduct has a set speed limit, and Class 158s and other Northern stock aren't permitted to go at their maximum speeds - even services not scheduled to stop at Ribblehead.

I think key diversionary routes on the network such as the following examples should be electrified: Durham Coast Line, Tyne Valley Line, Settle & Carlisle Line and Glasgow South Western Line. EMUs have no opportunity to use their own power on these lines as there's no wires.

It hasn't made the national news, but the line between Newcastle and Carlisle is blocked by a landslip just east of Corbridge. This is used as a diversionary route most years when the ECML is closed north of Newcastle.

Your fact Mr Editior proves that the East Coast Main Line is also at risk of having parts of its infrastructure damaged by severe weather conditions. DfT, if you are reading this, you need to do more to protect the stretches of railway that carry the most traffic and passengers, such as the ECML. Do not just think of London all the time, I beg of you. I also feel for passengers in Devon who experience unwanted disruption when the line through Dawlish has to shut.

It's a good thing that the line north of Newcastle - the other main route into Scotland - isn't closed because if that did happen, that would mean that both of the main lines would have no trains running on them. I'm just wondering, are there any particular viaducts on the ECML north of Newcastle that would be vulnerable to extreme weather conditions? The DfT seriously need to think of investing in maintaining the network's infrastructure more. The railway is more vulnerable to the weather than it ever has in its history. Fares are going up every year, and the DfT claim that they are pumping loads of money into the network, but not enough of us are recognising any improvements to the reliability of the infrastructure. These closures would be a rarity if passengers' money was put to good use. If there was ever a time to splash the cash further on viaducts and other pieces of infrastructure that could be at risk of future bad weather, now would be time.
[Floods caused serious damage on the ECML north of Newcastle in 1948, after which some structures had to be rebuilt.--Editor.]

March? Ouch.

Wonder if this will prompt a rethink of extending HS2 to Scotland. I doubt weather resilience was considered before now.

The power of the elements should never be underestimated. Lessons were learnt by BR the hard way in the 1980's with bridge collapses at Glanrhyd on Central Wales line & the Ness Bridge at Inverness. Since then bridge inspections post flooding have been more stringent.The challenge now facing today's engineers is to safeguard our infrastructure against increasingly severe climatic conditions.

An equal challenge is placed on the operators to ensure that a viable service is provided to passengers & freight customers when a strategic route is lost. Freight operators have generally proved adept in diverting services to avoid blockages. However during the franchised privatised era passenger operators have become less flexible. As we appear to be witnessing an increase in unforeseen blockages of strategic routes this has to change. Robust contingencies need to be available to ensure viable services can be made available over diversionary routes. In recent years too much flexibility has been lost by the deployment of route specific rolling stock and restriction in train crew route knowledge for short term savings.

Fortunately in the case of Lamington addition capacity over the G&SW created for the now declining coal market has also proved a godsend for handling WCML diversions. Future capacity studies should take note.


I wonder how much of the National Network's Infrastructure is slowly eroding and disintegrating below the surface, away from Public Gaze. Presumbably inspections are carried out but there have been so many examples of lines closed due to rain, water and sea damage over the last few years that it would seem that this is developing into a worrying trend.

Passengers' patience will be tested to the limit. No-one likes to travel on a replacement bus or a diverted service, but their safety is of paramount importance. A 125mph Pendolino would stand no chance of getting over an unstable viaduct.