Posted 11th February 2016 | 7 Comments
London Midland hires rolling stock to plug sports gap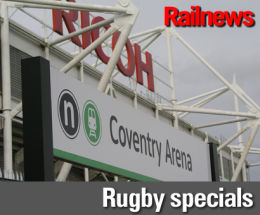 LONDON MIDLAND and Wasps RFC have announced a special train service for Coventry Arena on match days, using spot hired rolling stock.
Coventry Arena station opened last month, but it was the subject of controversy because the new six-car platforms alongside the Ricoh Stadium also display notices warning potential visitors to the stadium that trains will not call before or after major events. This was because the crowds could overwhelm the single-car Class 153 unit which provides the hourly service on the line between Coventry and Nuneaton, and London Midland had said it had no additional rolling stock available.
However, rugby fans will now be able to catch the train to and from Coventry Arena for Wasps games against Harlequins and Leicester Tigers on Sunday 28 February and Saturday 12 March, when a six-car train will provide an extra 1,000 seats on the route before and after each game.
London Midland said it would also be promoting a special joint ticket in partnership with the club that will give fans arriving by train a discount at the Arena bars and a free drink. This will be available from railway booking offices on match days.
London Midland's head of regional services Steven Fisher commented: "We listened to fans and stakeholders and made a commitment to look at every possible option. While London Midland has no additional trains for match days, we have hired in charter services to test the idea of running rugby specials."
Andy Gibb, managing director of Arena Coventry Limited, said: "The station next to the Ricoh Arena is a great asset. With further planned investment rail travel to the stadium will get even easier. We have worked hard with London Midland to find a solution in the short term. We will be doing all we can to raise awareness of the test services and we hope Wasps fans will get on board with the trial."
London Midland said there would be a review of the 'operational and commercial performance' of the special services before deciding what would happen after 12 March.
Reader Comments:
Views expressed in submitted comments are that of the author, and not necessarily shared by Railnews.
We constantly hear dismissals of the former D78 trains converted to 278 Diesel trains and yet shortages like this show how useful they could be at least until new DMUs recently announced at part of the new Northern franchise arrive in a few years.

In fact given the trouble C2C has experienced since it introduced its new timetable it's a pity pantograph can't be installed on D78 trains for use on Fenchurch Street to Grays service freeing up stock for longer services. Especially given announcement today of application for loan of rolling stock falling through.

When passing Tyseley diesel depot in the early afternoon of Saturday January 9th 2016, I spotted 5X3-car diesel LM units in the yard along with a couple of longer units from other train companies. I don't know if all of these units were surplus to requirements or there for repair/maintenance etc. Perhaps someone from LM could enlighten me? In general I agree with the comments above from Messrs Braham and Packham.

Slight amendment to the article needed. Platform 1 only caters for a three car train, but platform 2 can handle 6 cars. The logistics will be interesting to say the least as the crossover has not been constructed yet. Editor is quite correct, Wasps RFC have the cash to subsidise the service, Coventry City FC do not !!


Not really a surprise, since London Midland assumed the local franchise to Euston the quality of service has been poor. Why did London Midland think that a station was being built at the stadium if not to provide a service. The raison d'etre of London Midland seems to be to squeeze as much money as possible from passengers with the minimum of effort on their part.

Better late than never London Midland, but a shame that this wasn't sorted before Arena station opened. Then the media wouldn't have had a field day with their new station at stadium but no trains on match days stories. LM's argument that they don't have spare stock isn't convincing. Surely Saturday stock requirement is less than Monday-Friday, and you'd only need one 2 or 3 car unit to couple to the 153 to provide much better match day capacity.

What about the other tenants at the Ricoh Arena, Coventry City? Why should the Wasps receive a service at the expense of the Sky Blues?
[I understand the arrangement is a partnership between London Midland and Wasps. It is presumably open to other sponsors of major events at the Coventry Arena, including of course the city's main football club, to follow suit.-- Editor.]