Posted 18th August 2015 | 6 Comments
July RPI means 1% rise for regulated fares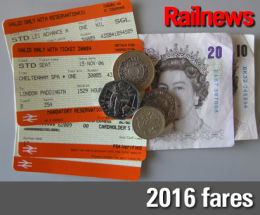 A RISE of 1 per cent in the Retail Price Index last month means that regulated rail fares will be increased by the same amount in January.
July saw inflation turn positive but only just, if measured by the lower Consumer Prices Index, which rose by 0.1 per cent.
The Government has already pledged that regulated fares -- which include season tickets -- will rise only by each July's Retail Price Index throughout the life of this Parliament, without any additions in real terms.
Saver fares on intercity services are also regulated, but train operators have commercial freedom to decide other discounted fares and also intercity First Class rates.
Rail minister Claire Perry said: "I know that many families are concerned about the cost of rail travel, which is why we are putting an end to above inflation fare increases. This will make a real difference to household budgets, saving season ticket holders around £425 each over the next five years.
"It also means that for the first time since 2002 wages are increasing by more than fares, which is real progress for the passenger."
But transport campaigners and unions remain critical, saying that rail fares have risen by 25 per cent since 2010, while wages have increased by only 9 per cent.
TUC general secretary Frances O'Grady argued: "If ministers really want to help hard-pressed commuters, they need to return services to the public sector. It would allow much bigger savings to be passed on to passengers.".
Action for Rail, the campaign sponsored by the TUC and rail unions, claims that £1.5 billion could be saved over the next five years if routes were returned to the public sector rather than being refranchised.
A separate report from the Campaign for Better Transport is calling for 'flexible' ticketing, which would open the door to season tickets valid for fewer than five days a week, making them suitable for part time workers.
The charity's public transport campaigner Martin Abrams said: "The UK government and train operators are dragging their feet, meaning many part-time workers are being priced off the railway."
Reader Comments:
Views expressed in submitted comments are that of the author, and not necessarily shared by Railnews.
Still no promise of simplified rail fare structure.
How about something like...
(a) Scrap railcards.
(b) Only full priced tickets purchasable unless ticket purchased at a time when only a cheaper journey would be possible.
(c) Travel off-peak or an a cheaper operator etc - ticket becomes a discount voucher for next journey.
Need station / on platform / conductor held validators.
No data stored on ticket - information held on central database.
(d) Adult + child together and group tickets.
Proper policing of groups traveling together.
One ticket for the whole group?
(e) Link tickets to loyalty / credit / debit cards.
Be better than mobile phone tickets.
(e) See how Tesco and Sainsbury's do their loyalty cards and discounts.
Also 'you would have saved discounts' for next shopping trip.

One benefit the government gets by announcing increase now is that by the time it takes affect next January the TOCs get blamed for higher fares by the media .

It's odd how the government uses RPI to increase rail fares but uses CPI which is always much lower to increase benefits and pensions etc.

While now we have an Office for Rail and Roads it's time they looked at roads to see how much subsidies road transport receives compared to rail which following large fare rises in recent years covers the bulk of its costs with many TOCs now paying a surplus to the government!



Private companies may or may not be more efficient than publicly-owned ones, but you cannot go from that generality to say that railways are "always" more efficient when privately run. Don't forget that when the 'bus operators' first took over some BR services they got a considerable shock, finding out in the process that BR was way more efficient. Some measures found BR was the most efficient operator in Europe. Quality of service is another consideration, but that's not what is being argued here.

"But transport campaigners and unions remain critical, saying that rail fares have risen by 25 per cent since 2010, while wages have increased by only 9 per cent."

I'm pretty sure rail workers in RMT & ASLEF have had wage increases far in excess of 9%. Kind of deflates the union's arguments over higher fares doesn't it - especially when fare increases are determined by government and not the TOCs.

Action for Rail claims that £1.5 billion could be saved by 'Nationalisation'. This of course is the 'profit' made by the current Franchise Holders. However they pay tax on their Profits which is 20% which reduces the amount. But private companies are always much more efficient that Publically owned ones. Government organisations are just one long line of wasted money - mainly £billion Computer Systems that don't work - and poor Customer Service. Just try and phone Income Tax or Benefits Offices to see that the Customer is just a nuisance who has hours and money to waste trying to speak to someone.