Posted 8th September 2014 | 4 Comments
Chancellor confirms Railnews fares report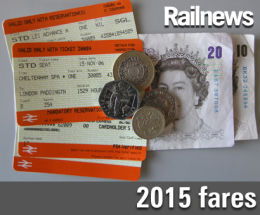 THE Chancellor George Osborne has confirmed a Railnews report which had contradicted widespread media claims that regulated rail fares in England were going to rise by 3.5 per cent in January.
After the Retail Price Index in July was revealed to be 2.5 per cent, many sources alleged that the formula for the fare increases would be July's RPI + 1 per cent, although the Department for Transport advised Railnews that no decision had been taken.
Mr Osborne was speaking during a visit to companies in the Midlands, where he said next January's increase will be a 'maximum' of 2.5 per cent, which would be in line with inflation. He is also not allowing train operators to use a 'flex' arrangement. In past years this had meant that some fares could go up by as much as a further 5 per cent, although other fares had to be restrained or even reduced so that on average there was no increase across a 'basket' of fares.
Labour's shadow transport secretary Mary Creagh responded: "Commuters suffering under the cost-of-living crisis will take this with a pinch of salt. David Cameron's Government has hit passengers with inflation-busting fare rises of 21 per cent since 2010, adding to the cost of living crisis.
"The Tories have no plan for the railways: this won't deal with the costs of their bungled franchise extensions and won't deliver the change passengers need."
Rail Delivery Group director general Michael Roberts said: "The Chancellor's announcement is good news for commuters. We support the government's decision to ensure a real terms freeze in next year's season tickets and other regulated fares.
"The rail industry will continue investing in more trains, faster services and better stations while getting more out of every pound spent."
Meanwhile a new ban on travel with off-peak tickets in the evening rush hour on Northern has been criticised by transport campaigners and unions, and the RMT has published an internal document which attributes the ban to the Department for Transport, which wants Northern's revenues to rise from the start of its franchise extension on 7 September.
Reader Comments:
Views expressed in submitted comments are that of the author, and not necessarily shared by Railnews.
Headline News in the Railway Magazine received today - 'Train Fares to rise by 3.5%' I think the Government deliberately hoped that this figure would be widely reported so that they 'looked good' in cutting it back. So well done Railnews for reading the small print. Anything and everything is possible in Election Year - but not afterwards.

The BBC gave extended prominent coverage to the "news" that train fares could be rising by upto 5.5%. How much coverage will be given to the truth. I've heard one quick mention, and nothing more.

The chancellor has confirmed rail fare increase as being RPI only on Andrew Marr show today .

So why does he not use same formula to increase fuel duty ?