Posted 20th January 2014 | 1 Comment
Critics gather as London fares go up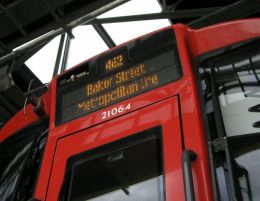 TfL said the rises were necessary to allow investment in the Underground and other networks to continue
TRANSPORT FOR LONDON fares have risen by an average of 2.7 per cent, some two weeks later than first planned, but the Mayor of London Boris Johnson has been criticised for authorising the increases.
TfL was described as 'increasingly successful and efficient' in the third annual report of the Independent Investment Programme Advisory Group, which appeared earlier this month, but TfL said the rises were necessary to 'help protect current levels of reinvestment in the transport network, delivering greater capacity and more reliable services'.
TfL is also currently embroiled in a dispute with unions about proposals to close all London Underground ticket offices, and two 48-hour strikes on the Underground have been called by the RMT for next month.
The delay in the rises was caused by the Government's late change of heart about regulated National Rail fares for this year. They had been set to go up in England by last July's RPI of 3.1 per cent, plus a further 1 per cent, but Chancellor George Osborne announced a rethink at the start of December, reducing the average increase to 3.1 per cent.
Transport for London said this decision had an effect on its calculations as well, and so its 2014 fares had to be worked out again.
Labour described some of the rises as 'inflation busting', such as the price of an annual Zone 1 to 4 Travelcard, which it said has risen by £122 to £1,800. This is almost 7.3 per cent, or some £70 more than an inflation-only rise would have been, although TfL pointed out that some other fares had risen only slightly or in some cases not all.
The party's transport spokeswoman on the London Assembly, Val Shawcross, said Boris Johnson was "saving people £4 a year on their council tax but is taking vastly more from them in higher transport fares".
The RMT union is fighting TfL plans to reduce staff numbers on the Underground, particularly by the closure of ticket offices, and its general secretary Bob Crow branded the rises as a "cynical attempt to play off fares against cuts to jobs, services and safety", which he said "will fool no-one as this highly politicised stunt unravels for Boris Johnson and the government".
The official passenger watchdog London TravelWatch commented that passengers in the capital were having to pay 'an increasingly large share of their regular income on commuting', while Martin Abrams of the pressure group Campaign for Better Transport added: "Many Londoners will be relieved that fares are rising by less than originally planned. However, they are still going up three times faster than wages and adding to the squeeze on living standards.
"The Chancellor and the Mayor need to work together so the capital's transport network gets the investment it needs, while ensuring that affordable ticket prices are the number one priority."
Reader Comments:
Views expressed in submitted comments are that of the author, and not necessarily shared by Railnews.