Posted 9th July 2015 | 5 Comments
'Rock solid' strikes reduce London to a crawl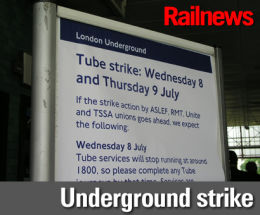 WALKOUTS by members of four unions have closed London Underground today, and Transport for London said 'major disruption' was inevitable.
Members of the RMT on First Great Western are also on strike today, which means that intercity and commuter services to Paddington have been badly hit as well.
Members of the RMT, ASLEF, TSSA and Unite are protesting at plans to bring in all-night services on several Underground lines on Fridays and Saturdays from September, while the Great Western dispute centres around the introduction of Intercity Express trains, which the RMT fears could endanger jobs.
Many Londoners have struggled to work on crowded buses, although normal services are running on London Overground as well as the Docklands Light Railway and tram routes. Transport for London is running an extra 200 buses to boost capacity in central London.
RMT general secretary Mick Cash said the response from his members had been 'rock solid'.
However, a threat to Scottish train services has been lifted, after ScotRail announced that it had reached agreement over Sunday rosters. ScotRail Alliance managing director Phil Verster said: "I am pleased to confirm we have agreed a deal that will ensure we can run our existing services on a Sunday and help us develop plans to make Sunday part of the working week.
"We run a seven day railway, so it is hugely important that we have staff rosters that can cover this. The commitment from the unions to work with us to change the way we roster Sundays will allow us to recruit new drivers and will, ultimately, deliver a much improved service for our customers.
"We are now contacting drivers to seek to their cooperation to reinstate services from Sunday 12 July. I am hopeful that, with their support, we will be able to run a near-normal service. We will know more later today and would urge customers to check our website for updates."
A separate dispute affecting Northern Rail has been followed by the cancellation of a strike in the Manchester area, after Northern threatened to challenge the legality of a walkout by members of the RMT.
Reader Comments:
Views expressed in submitted comments are that of the author, and not necessarily shared by Railnews.
London Evening Standard =
Please vote Cameron =
Cameron voted for =
Cuts (too far) start =
Unions go nuts =
Strikes happen =
London Evening Standard don't understand why. Wasn't rocket science.

The RMT backed some very extreme Left Wing Candidates at the last General Election. They represent a Political Viewpoint first, and are using members grievances to further their Political Ambitions.

Those 200 extra buses still won't make up for the loss of capacity when Boris threw away 400 high capacity single deck Artic buses which on days like today used to sweep up the crowds at stations like Victoria . Now we have lumbering Borisbuses which not only load far slowly but have a lower capacity than normal double deckers with space wasted on useless platform and two staircases !

It's Boris who wants a night tube something the unions are agreeable to so its Boris who should have arranged meetings between himself as Chair of TFL and management at TFL with union representatives to discuss this plan , long before terms and conditions like pay were involved.

Seems the above is beyond Boris capability and he uses anti Union card knowing his colleagues in Fleet Street will back him up together with his old school chums parliament !

I did read Boris was sacked in the past for not doing his job and it seems whoever did that must have a good sense of character!

I just feel that the 'Golden Age' of Railways - the last 20 years - is coming to an end.