Posted 7th July 2015 | 1 Comment
Stagecoach to rebid for SWT after talks fail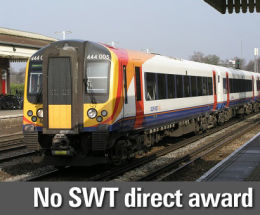 TALKS have broken down between the Department for Transport and South West Trains, which is owned by Stagecoach Group, over a proposed direct franchise award of 26 months which would have allowed SWT to continue until 2019.
The franchise will now end between February and August 2017, and Stagecoach will have to compete with other contenders for the next contract instead of carrying on unchallenged.
Direct awards have been used for several years by the DfT as a way of regaining control of its refranchising timetable after the Intercity West Coast competition collapsed in October 2012.
All work on franchise awards was suspended while two inquiries into the West Coast problems and its consequences were carried out by the Department, but the resulting loss of time meant that the franchise replacement timetable needed adjustment. The transport secretary announced a number of changes in March 2013, and these included a potential direct award of 26 months which would have seen Stagecoach Group keep South West Trains until April 2019.
The terms of previous direct awards have been negotiated successfully, but discussions have now failed for the first time, and the Department for Transport will be inviting bids from the open market for a new long franchise to begin in 2017.
Stagecoach Group said: "Our direct award proposals sought to build on the extensive improvements delivered under our operation of the franchise since 1996, providing more benefits for customers, good value for taxpayers and an appropriate return for investors.
"However, despite extensive negotiations, a significant difference has remained between both parties regarding the financial evaluation of the proposals. As a result, South West Trains has been unable to reach an agreement on a direct award.
"Nevertheless, as the incumbent operator with nearly 20 years' experience in growing and improving one of the most complex and busiest rail franchises in the country, we believe we are in a strong position to submit a powerful and attractive bid for a new South West Trains franchise."
The company also confirmed that it will continue to invest £50 million in the existing franchise as part of a contract amendment agreed with the DfT earlier this year.
The South West Trains franchise has been renewed before, but Stagecoach Group has run South West Trains since the start of passenger franchising. The first train run by a privatised operator was the SWT departure from Twickenham to London Waterloo at 05.10 on Sunday 4 February 1996.
Reader Comments:
Views expressed in submitted comments are that of the author, and not necessarily shared by Railnews.