Posted 30th April 2012 | 6 Comments
Launch of 'deep alliance' marks new phase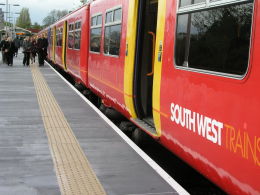 A NEW 'deep alliance' between Network Rail and South West Trains has started work, putting into effect one of the main recommendations in the McNulty 'value for money' report.
A single senior joint management team led by SWT managing director Tim Shoveller now has responsibility for both trains and track on the 'Wessex' routes operating from London Waterloo.
The formation of the alliance marks a significant return towards 'vertical integration' of industry management, and builds on the progress already made with joint working between South West Trains and Network Rail through the Wessex Integrated Control Centre at London Waterloo, as well as Network Rail's own devolution of route management to largely stand-alone business units.
The new alliance, which will continue until the present South West Trains franchise ends in February 2017, will co-ordinate the response to incidents on the route, with the intention of reducing delays to both passenger and freight trains by managing disruption more effectively.
South West Trains said there would be 'more collaborative working and better decision-making', and that the new pooling of resources would also help with such matters as winter preparation. Other activities to be co-ordinated include training, communications and occupational health.
Sir Brian Souter, chief executive of Stagecoach Group, the parent company of South West Trains, said: "This new model is a real opportunity to deliver change that will benefit both passengers and taxpayers and support our objective of growing the railway. Safety will continue to be our top priority and will remain at the core of the way we run the railway. By working more closely with Network Rail than ever before, and with aligned incentives, we can deliver a more customer-focused and more efficient railway for the long-term."
Network Rail chief executive David Higgins described the formation of the alliance as a 'new phase' which would 'protect the interests of all customers, whilst maintaining seamless operation', and promised that his company would continue to focus on delivering its obligations.
Alliance managing director Tim Shoveller added: "The creation of this joint alliance provides a real opportunity to deliver an even better service for our passengers, and we have already had a very positive response to this new way of working. Our focus now will be on leading and supporting our 6,000 employees and managers who play a critical role in the delivery of our train services 24 hours a day, 7 days a week. Together we will develop a collaborative way of working through the alliance and deliver a great train service for our passengers."
A governance board including equal representation from both organisations, will oversee the operation of the alliance and take major business decisions. SWT said arrangements had been made to ensure that the interests of other passenger and also freight operators are protected.
Although the alliance is being described as 'deep', both companies will retain their own identities and staff. There are no changes to terms and conditions of employment or collective bargaining agreements.
Reader Comments:
Views expressed in submitted comments are that of the author, and not necessarily shared by Railnews.
A useful and good idea, but i feel its just tweaking things at the edges, the hard decisions regarding changing job types, reforming safety policy to allow the use of new ideas and technology etc and maybe some voluntary redundancies if needed still have to be adressed one day if the railway is to save some serious money and keep future fare rises low

What a Great Idea ! Its called BR!
Think what BR could have done with all the excess profits ( in reality Government Subsidy ) that the ' Privatised ' rail industry have made since 1994 - Electrification , Line and station reopenings , the list goes on as opposed to Fat Cat Salaries , Shareholder Dividends , Takeover Payments where all the money has been wasted.

Back to the Future - Putting back the system that worked. Franchises DO NOT WORK. nearly as effectively as BR did and cost twice as much into the bargain.

Amazing! Network Rail and Southwest trains have collaborated together to produce something that all post-Thatcherite private railway companies did and was originally recommended nad rejected by the previous conservative government. I can honestly see in another 15-20 years we might have gone full-circle and have either a nationalised railway network or a small number of private operaors responsible for both track and trains. It never fails to amaze how alledgedly new innovations largely smack of principles and ideas that have been around for decades.

I hope it works well and if so it is replicated across the whole network without further delay. I also hope this alliance removes the need for delay attribution as clearly it is not needed now that they are "all in it together". This is one small step towards bringing the whole system under one roof and to close the door on the wasted years of fragmentation; confrontation and wasted resources and money through the compensation culture and finally achieve what everyone passenger wants.

That is, being a highly efficient rail industry serving the passenger first rather than meeting the needs of myriad share holders that the privatised railway produced. Next phase will be to run the trains under one roof and cut out the need for all the Train leasing companies; who knows, someone in Whitehall may come up with the idea of calling it BR!! A railway run by railway people for the people.