Posted 10th June 2015 | No Comments
Dutch franchise scandal triggers call for ScotRail probe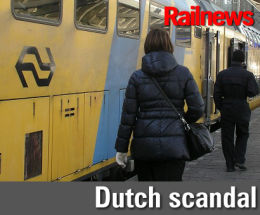 A MAJOR scandal affecting Dutch Railways which has involved the departure of two senior executives has prompted calls for an inquiry into the recent award of the ScotRail franchise to Abellio -- the international arm of the state-owned Dutch operator Nederlandse Spoorwegen.
Alleged irregularities and 'untrue statements' in a tendering process have led to the withdrawal of a Dutch franchise to Abellio's subsidiary Qbuzz. The contract has now been given instead to the runner-up, the German-owned operator Arriva, which said it was 'delighted' at what its chief executive David Martin described as "quite a strange turn of events".
The £1.4 billion contract is to run train and bus networks in the Dutch province of Limburg, which borders Germany and Belgium and whose capital is Maastricht.
Abellio chief executive Jeff Hoogesteger and his boss Timo Huges, the president of NS, have both been dismissed. Mnr Huges was accused of making 'incorrect and incomplete' statements following an internal investigation into the bid for the Limburg contract.
Jeff Hoogesteger had been working for several days a week at Abellio's new UK headquarters in Glasgow. The move from London was part of Abellio's bid for the ScotRail franchise last year, and the RMT is now calling for an inquiry into the award of that franchise to Abellio.
The union's general secretary Mick Cash quoted Dutch finance minister Jeroen Dijsselbloem, who described NS as having a "poorly developed sense of values and judgment", and who said it must undergo a "profound culture change process". NS has also been under fire over the past couple of years for poor performance, and both NS and the Dutch infrastructure manager ProRail have been penalised.
Mick Cash said: "If the Dutch finance minister believes the whole culture in NS/Abellio is wrong and needs to change, RMT believes the Scottish Government needs to clearly show that nothing was irregular with the tendering for the ScotRail franchise. Only a full public inquiry can do that."
However, Transport Scotland said: "There is absolutely no suggestion of any conduct that puts the ScotRail franchise procurement process in doubt. Reviews by Audit Scotland and independent auditors have supported and indeed praised the process and the outcome."
Meanwhile Abellio's UK managing director Dominic Booth agreed that the news from NS was 'very serious', but he added that it did not 'directly affect' the British franchises.
Apart from ScotRail, Abellio currently runs Greater Anglia, plus the Merseyrail and Northern franchises as joint ventures with Serco. Abellio is also one of the bidders for the next Greater Anglia franchise, which is due to begin in 2016.