Posted 20th October 2011 | 11 Comments
'Delighted' Abellio wins Greater Anglia franchise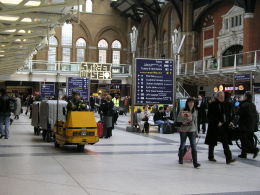 THE STOCK EXCHANGE has been told that the international arm of Dutch Railways, Abellio, has won the new Greater Anglia franchise, beating off competing bids from Go-Ahead and Stagecoach.
The present operator National Express had failed to be shortlisted.
Abellio already runs the Merseyside and Northern franchises as 50/50 joint ventures with Serco, but Greater Anglia is the first British rail franchise which it has won single handed.
The company said it was 'delighted', and that it would now be working towards a 'seamless' transfer from National Express on 5 February.
The new contract will start on 5 February and run for just 29 months, to bridge some potential clashes in the Department for Transport's timetable.
The former transport secretary Philip Hammond had announced in August that the future Greater Anglia franchise would be extended by 12 months, to run from February 2012 to July 2014, because of changes to the renewal dates of East Coast and Thameslink (currently First Capital Connect).
The transport minister Theresa Villiers said: "The terms of the contract the Government has agreed with the winning bidder will deliver a series of improvements for passengers during the 29 month franchise.
"These include providing better station and ticket facilities and measures to improve passenger information. A text messaging service to keep passengers informed if service disruption occurs will be introduced. New information desks will be provided at major stations including London Liverpool Street, Cambridge, Norwich, Ipswich and Stansted Airport."
There have been calls for franchise operators to give more details about their performance, including line-by-line statistics, which were fuelled by a controversy earlier this year when Southeastern's average performance was only just over the level at which it would have been obliged to pay compensation to season ticket holders.The government has responded to these calls, because Ms Villiers continued:
"To date, only overall figures for the performance of the franchise as a whole have been published. From the start of the new franchise, Abellio Greater Anglia Limited will start publishing a break down of punctuality figures by route giving passengers more transparency over the performance of the lines they use. The reliability requirements for the new franchise are also more demanding than the previous one."
She concluded: "When the franchise is renewed again in July 2014, the contract is expected to be 15 years in length. This forthcoming franchise will provide the opportunity to seek further improvements for passengers. We also intend to draw on the work of Sir Roy McNulty in setting the terms of the franchise with the aim of reducing costs and improving efficiency."
Reader Comments:
Views expressed in submitted comments are that of the author, and not necessarily shared by Railnews.
Thanks Theresa!
"These include providing better station and ticket facilities and measures to improve passenger information. A text messaging service to keep passengers informed if service disruption occurs will be introduced. New information desks will be provided at major stations including London Liverpool Street, Cambridge, Norwich, Ipswich and Stansted Airport."
Just what I need, a text message when the train is cancelled, which just now happens EVERY DAY! I realise it's not always Abellio's fault, but hey, it's their service I'm getting on.
How about some better trains, not the old bangers which have been pensioned off from elsewhere and often aren't suitable for commuter services,and a ticket machine that works when the office is closed, rather than all this cosmetic garbage, which is an insult to passengers.
The only changes I've seen since Abellio took over the service are new names on the worn out trains, they must be so proud of them!


I don't know how the comments above were merited by previous companies that have run trains namely NXEA. I moved to Enfield Lock 5 years ago and I have to say this is the biggest shambles of any train operating company or state owned railway I have seen anywhere in the world. Greater Anglia have just taken over the franchise this week but we have yet more delays than we had before. I pay extortionate amounts for my travel to work every year and most times I have to stand in overheated overcrowded carriages every day. It's a complete scandal. Year after year they have gotten away with it and with our money and yet i cannot see any improvements! The trains are filthy and run down and the stations in a poor state of repair and staff generally rude. But take a company like First Capital Connect. Mostly on time trains, clean, efficient stations and smart staff. And good communication for travellers keeping them informed. Maybe some of the staff on our line should go and learn lessons from another company like that as to how to operate trains.

Brilliant start to the franchise on the route through Stoke Newington..as usual with a bit of bad weather no trains all day and a broken website. Presumably they are going to continue to run the worn out trains which are held together with the paint of previous train companies.
Well done Abellio, great start!

I would like to thank the three previous franchisees for this area, namely First Great Eastern, Anglia Railways and National Express East Anglia. All three did and excellent job, and especially Anglia who saved the country routes of East Anglia from a long period of decline.
I would also like to welcome Abelio to East Anglia. Continued development is required, and a re-establishment of through trains between London and Lowestoft by the East Suffolk route are essential. Once the passing loop at Beccles is restored in the Autumn, the timetable on this great line will be capable of much more flexibility.

If Ms Villiers is serious about reducing costs and increasing efficiency, the answer is surely to follow the East Coast Main Line example and bring the route under public ownership rather than continuing to subsidise shareholder bonuses, unstaffed stations and service reduction as endorsed by McNulty.

NX let the Greater Anglia routes on a zero investment promise, around the same time they took the East Coast franchise - the results on both franchises were immediately clear, and one had to be taken back into state control. Until UK operators understand that passengers want more than zero investment, they don't deserve a franchise. Let us hope that Abelio will make a few improvements and NX will never be allowed near it again!

I have no complaint whatsoever about Abellio. Indeed they are doing a fantastic job on Merseyrail, and are trying their level best at Northern but they have some way to go before this is a top-class franchise. My gripe is that Europe is far from being a "level playing field", as services in most other countries are still dominated by the big state-owned railways and, apart from a few small areas, UK bus/train operators seem to be excluded. Until there is complete open access throughout Europe, where British companies are allowed to tender for services, it is my opinion that the DfT should limit the number of foreign operators here, although I doubt that this would ever happen

I'm afraid that the spate of suicides, signal failures, overhead line problems etc... wont go away just because a new company takes over the franchise and after a honeymoon period Abellio will be the subject of much the same criticism that is levelled against NXEA. Basically, the public aren't interested in who is responsible for the problems and blame the people in the front line. The rail service will not improve radically until the congestion that exists is addressed and that means investment in additional track capacity.

After living in the North pretty much most of my life i can say that Norther are a fantastic TOC. Unfortunately its the rolling stock that is enforced on them that lets the franchise down.To MIkeB's comment, they may be a foregn compay but they are the best candidate. DB and NedRailways are state owned.... is this a sign of what COULD have being for British Rail?>

In view of how Abellio has performed on Merseyside and on the Northern franchise, i think this has to be seen as a positive step forward for all of the rail users in the Greater Anglia area. I would personally welcome Abellio in my franchise area (southeastern) as i and a lot of my fellow commuters are sick of the endless excuses and broken promises offered to us by Southeastern to compliment our 'top value' 11% fare rises !

Many people may indeed say that, as long-established rail operators, the likes of Abellio, DB and Keolis/SNCF will make a better job of running our train services than the British "bus companies". However, we surely cannot allow a complete takeover of the UK rail network by the big state-owned railways when, apart from FirstGroup in Denmark, no UK company currently operates regular rail services in Europe. Don't forget that Arriva is no longer a British company!