Posted 18th March 2015 | No Comments
New recovery strategy for London Bridge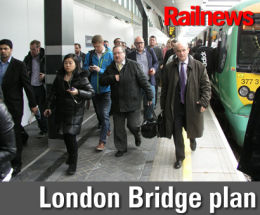 UPDATED 14.01

NETWORK RAIL has announced a new plan to improve station working at London Bridge, after repeated disruptions in recent weeks. The major reconstruction of the station as part of the Thameslink Programme means that pairs of platforms must be successively closed, and the reduced capacity has meant that there is very little room for recovery when things go wrong.
Phil Hufton, Network Rail's new managing director of network operations, said: "In the last few weeks passengers have experienced unacceptable levels of service and overcrowding at London Bridge.
"Passengers have been very tolerant about the changes to their usual travel arrangements, but understandably they have lost their patience with the recent poor service experienced for which we are very sorry.
"The measures we are putting in place, in collaboration with our train operators will improve both train service provision as well as station management in order that customers receive a better service at London Bridge and if delays occur, they are given the help they need."
A delegation of Labour MPs met transport secretary Patrick McLoughlin today (18 March) to demand action. London Assembly member Val Shawcross said: "This morning's meeting with Patrick Mcloughlin was an opportunity to impress upon him just how bad the situation at London Bridge has become. I hope we have made him understand the scale of the challenges at London Bridge and that he finally accepts he needs to step in and get a grip of the failing management at the station.
"We also pressed the transport secretary for significant compensation to be given to the passengers affected. Having paid thousands of pounds for their tickets commuters have faced consistent chaos, delays and cancellations – it cannot be right that they aren't being properly compensated for that. We have called on the Transport Secretary to set that right by ensuring fair compensation for everyone who has seen their travel adversely affected."
The RMT has also been very critical, claiming that the conditions are posing a safety hazard to passengers and staff. The union is calling for a major rail summit to discuss what can be done. Two days ago, general secretary Mick Cash said: "This has been another miserable morning for commuters as train breakdowns and electrical faults were amongst the problems that have wrecked services into London yet again.

"Last week RMT demanded a top level summit into the overcrowding and continuing chaos on our transport services. Those demands have been ignored. RMT will allow no cover up of the facts and this union will continue the fight for public ownership and an end to the cuts."
Some of the new measures announced by Network Rail include a 'one-station-team' management structure, involving the staff of Network Rail and train operators, more staff on the station, better wi-fi so that train information can be communicated more effectively and better advanced warning for passengers of potential problems at the station, with alternative travel advice.
The 'travel champions' first deployed during the Olympics in 2012 are also to stage a return, supported by customer action teams.
Mr Hufton concluded: "I want to assure customers that we do take this situation seriously and Network Rail is committed to improving our performance by delivering improvements to deliver a safe environment for users of London Bridge hand in hand with meeting the level of train provision and customer service they rightly expect."