Posted 6th March 2015 | 4 Comments
Railway inspectors launch London Bridge overcrowding inquiry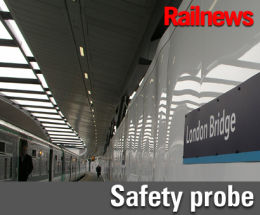 RAILWAY safety inspectors from the Office of Rail Regulation have launched an inquiry into the crush conditions at London Bridge earlier this week, when overcrowding became so acute that commuters crawled under ticket gates or jumped over them.
London Bridge is under reconstruction for the Thameslink Programme, and timetables have been changed to allow platforms to be upgraded in pairs. But the changes have caused serious overcrowding which became almost uncontrollable during the evening peak on Tuesday when services were disrupted by a person on the line at Streatham.
The crush conditions were criticised by the Mayor of London and rail unions, and Network Rail has undertaken to review its arrangements along with Southern and Southeastern.
But the Office of Rail Regulation has told Railnews that inspectors from its Safety Directorate have now become involved, and they will be assessing whether the London Bridge problems pose a safety risk to passengers and staff.
A spokesman said: "We are monitoring London Bridge on two levels at the moment. One is part of the continuing, routine supervision of Network Rail, which is a major part of our responsibilities as the rail regulator. But railway inspectors have also been brought in to consider whether health and safety is being compromised."
Southeastern is changing some train lengths and calling patterns from Sunday in a bid to reduce extreme overcrowding on some of its trains which have been diverted to Cannon Street.
Meanwhile, a woman has received an undisclosed sum in damages after being trapped in a ticket gate at London Waterloo. The gates closed on Karen O'Brien, 64, of Twickenham, injuring her ribs and torso. She could not be freed until her husband had alerted staff. Network Rail admitted liability for the incident, which occurred in April 2012.
A Network Rail spokesman added: "Keeping people safe in and around our stations is something that we take very seriously, and further safety improvements have been made."
Reader Comments:
Views expressed in submitted comments are that of the author, and not necessarily shared by Railnews.
Excuse me: Railtrack CERTAINLY put customers at risk, lets not forget that. And, after Grove (lack of maintenence) they increased shareholder dividends before finally being put out of operation. So lets not get carried away with bashing old BR.

@Andrew, London
Correct: NR is following in BR's footsteps with total disregard for the safety of its Customers, with staff absent when they are needed. That is the Public Sector for you.

Because obviously privatised companies are always a paragon of virtue and never cause any problems EVER...

So a nationalised entity has gone back to it's old ways in no time, putting it's customers at risk.