Posted 17th March 2015 | No Comments
Railfreight 'contributes £1.6bn to British economy'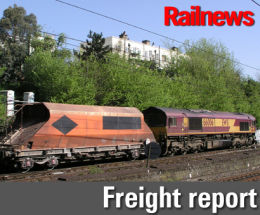 A NEW report says that railfreight is now contributing some £1.6 billion to the British economy every year.
The figure is an estimate of the benefits, which include reduced road congestion and favourable environmental factors. Two years ago these benefits were valued at £1.5 billion, but the sector has continued to grow since then.
The report comes from the Rail Delivery Group, which says the five major railfreight operators between them move goods worth more than £30 billion each year, including groceries, luxury cars for export and half of the fuel used to generate electricity. Container traffic has risen by 30 per cent since 2006, partly because of the growing market in consumer goods. One in four of the containers entering the country are now moved from port to inland destination by train.
The railfreight industry has also become more efficient, with the cargo tonnage carried on each train having risen by an average of 80 per cent since 2003. One reason is the investment which has been in made in rolling stock and infrastructure, which has resulted in longer or new freight loops, avoiding lines and new chords which make alternative routes available to freight traffic.
The RDG said: "The growth in volumes has been possible through significant investments made by freight operators as well as ports, terminals and other customers, Network Rail and government. That in turn has allowed the sector to be more competitive, particularly with road transport, and savings to be passed down to the freight customer. The resulting productivity benefits for UK plc are valued at over £1.1 billion per year, helping to underpin economic growth.
"Freight also has a key part to play in meeting governments' environmental targets, particularly since investment in the network and new rolling stock has resulted in more efficient, longer and heavier trains. Alongside reduced congestion and improved safety, the environmental benefits are worth over £0.5 billion a year to the UK economy."
The present growth is expected to continue, with the economic benefits realised by railfreight expected to be approaching £2 billion by 2023.
Peter Maybury, who is chairman of Freightliner and also chairs the RDG freight group, said: "Investment and a commitment to service excellence has helped our sector to grow by 80 per cent in the last 20 years, and increase its share of the market for transporting goods. The growth seen in the last 12 months underlines how vital the sector is to maintaining Britain's economic competitiveness.
"Freight operators also play a key role in supporting the operation and reliability of GB rail, moving materials needed for crucial network improvements and keeping lines clear in times of severe weather.
"Greater certainty in the long-term charging and regulatory regimes will help provide the stability needed to ensure continued investment in the future, and allow us to build on our success and further increase the benefits of rail freight to the UK economy."