Posted 3rd November 2014 | 6 Comments
State buys back more than 100 railfreight sites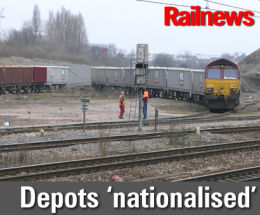 A DEAL to transfer more than 100 railfreight yards and depots back to the public sector has been confirmed, with the rights to 105 such sites now owned by Network Rail, which became a government body on 1 September.
The sites had been acquired by various railfreight operators when British Rail sold its freight businesses almost 20 years ago as part of railway privatisation, and Network Rail had exchanged contracts with the operators at the end of March this year. It has, however, taken until now for the formal transfers to be completed.
Network Rail described the deals as 'self financing', pointing to the predictions of steep market growth in the sector over the next 30 years which would double the demand for freight trains. In a related development, plans to restore railfreight services at the North Kent port of Sheerness were published only at the end of last week.
The acquisition covers 105 sites – 87 from DB Schenker, 15 from Freightliner and three from GB Railfreight – and NR said the buyouts represented 'the first substantive change in the strategic management and development of Britain's rail freight estate in the two decades since privatisation', which would 'make Britain's freight sites more readily available to the growing number of rail freight operators and end users, increasing competition and supporting growth in a sector which directly contributes almost £900 million to Britain's economy each year and supports an economic output of £6 billion'.
Network Rail freight director Paul McMahon added: "This represents one of the biggest changes to the rail freight sector in this country in decades and is a bold strategic move by the industry. It will help drive continued rail freight growth, give customers greater transparency and equality in property arrangements, allow Network Rail to make more efficient use of the network and release capital for freight operating companies to invest in their operations.
"Consolidating the ownership and management of our key freight sites puts us in the best possible position to promote a more efficient and effective use of the rail network by freight traffic in coming years. It will also enable redundant land to be redeveloped and provide a valuable additional source of revenue for Network Rail as it delivers a bigger, better value railway for Britain."
Reader Comments:
Views expressed in submitted comments are that of the author, and not necessarily shared by Railnews.
Interesting how few sites are of interest to the railfreight companies, aside from DBS who might well be asset-hogging to prevent others gaining access. On the face of it though, a good decision.

I hope this is a step in the right direction for rail freight and allows more access to other operators across the board, having NR being sole owner should help freight grow, does this deal include Dollands Moor?

This makes a great deal of sense. Many of the original divisions of the then British Rail land were done seemingly primarily on political grounds, in a great hurry, with minimal thought as to the operational consequences. I was involved in having to sign off some of the documents, particularly plans, and they really made little sense in operational terms. They also inter alia made it more difficult for engineering access, seemingly of little consequence to the decisionmakers of the time, but who nevertheless subsequently complained of costs going sky-high!

The last sentence sounds ominous...

Potential asset stripping ?

It will only increase Competition if Network Rail don't put huge charges on Operators using the sites. Will they consider letting Operators use them for 'Free'. This would definitely encourage Rail Usage. I am worried by the phrase 'an additional source of revenue'. Does this means that the current Operators are going to have to pay for using a transfer facility which upto now was basically 'Free' to them. This could then result in Freight actually being lost to the Railway. These sites may actually be ones that at present see no freight trains and have been bought 'strategically' in the past by the Freight Companies. In that case it is good news providing they are not 'sold' for other purposes such as Housing.