Posted 6th February 2015 | No Comments
Railfreight link restored at Sunderland Port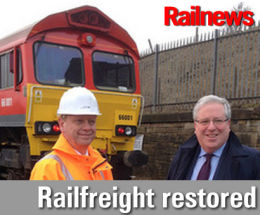 FREIGHT trains are returning to the Port of Sunderland after a gap of more than two decades.
Network Rail has invested £600,000 to reinstate the line, and transport secretary Patrick McLoughlin was there to see the first ceremonial use of the track by a DBS locomotive on 5 February.
He said: "As part of the government's long term economic plan, we are investing record amounts in improving road and rail connections so that ports like Sunderland can realise their full potential and contribute to regional growth.
"The reconnection of the port's rail link will boost its import and export capabilities significantly. I am proud to see this historic port being put firmly on the map again for freight and maritime projects and gearing up for more business."
The Transport Secretary was visiting the Port of Sunderland as part of a three day trip to meet northern leaders to discuss how transport can help to create a 'Northern Powerhouse'.
The Port of Sunderland handles more than 700,000 tonnes of cargo each year. The reinstated line will allow up to five trains a day to operate to the port, connecting it to the East Coast Main Line, and from there to the wider rail network and mainland Europe via the Channel Tunnel.
During his visit Mr McLoughlin saw a trial run of a Class 66 locomotive organised by DB Schenker and Network Rail.
Some minor work is still being completed, but the line will be able to carry daily trains soon.
Port director Matthew Hunt said: "It's fantastic to once again have rail connections at Port of Sunderland. We have always enjoyed great access to open sea, and the port is well placed in terms of its links to major roads and airports.
"However, for more than 20 years, Port of Sunderland has not seen any rail traffic coming into its heart. To have lines connected into the port is a huge step forward for us and it really was an important moment for us to see the lines in use once again. It was great to share that with the Transport Secretary too."