Posted 17th February 2015 | 3 Comments
Harbury line now set to be closed until April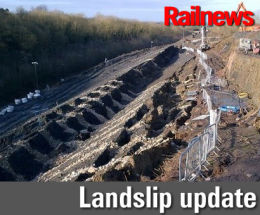 NETWORK RAIL has warned that the line blocked by a landslip between Leamington Spa and Banbury is likely to remain closed for more than a month yet, but the company said it will reopen by 2 April.
The route is used by more than 130 trains a day -- 50 of them freight -- and has been closed since 31 January.
The incident involved the movement of more than 350,000 tonnes of earth and rock, in a steeply-sided cutting near Harbury Tunnel. It is said that this section was also originally intended to be in tunnel, but the cutting was built instead to save money.
So far over 100,000 tonnes of earth have been removed and monitoring equipment has been installed to track the continuing movement of the slip.
Network Rail chief executive Mark Carne said: "We've been working around the clock to safely reopen the railway as soon as possible and are now able to give passengers and freight operators confirmation that services between Leamington Spa and Banbury will restart by Easter.
"The line provides a vital link for more than 130 passenger and freight trains every day and our engineers are working tirelessly to make the landslip safe and make it possible to reopen the line within the next six weeks.
"This cutting has suffered from landslips since it was built in the 1840s and we are looking at what new engineering solutions are available to make it safer and less at risk in the future."
Chiltern Railways has been one of the operators most affected, although its rail replacement bus services have been praised by passengers. Managing director Rob Brighouse said: "We are fully supportive of the approach and it is absolutely right that the line should only be reopened when it is safe to do so. We are working in close partnership with Network Rail and doing our utmost to ensure that the impact on passengers is minimised.
"In the meantime, we have reduced fares so that West Midlands to London passengers only pay the equivalent of a Banbury to London fare and put in place a "step-straight-on" bus replacement service between Leamington and Banbury stations."
CrossCountry trains have also been diverted. The operator's managing director Andy Cooper said: "It's good news that Network Rail will have the line reopened for the busy Easter holiday period. This disruption has already affected many thousands of our customers who travel along this line every day and, despite providing a fast connecting road service, this has not been the quality service they were expecting. It is vital that Network Rail uses this opportunity to minimise the possibility of such events occurring again."
Freight operators have been affected too. Freightliner said: "While we are pleased that Network Rail is making significant progress towards providing a long-term solution for the land condition at Harbury, the landslip has caused substantial disruption to freight services to the midlands, north east and north west.
The company added that it "recognises the considerable efforts being provided by Network Rail to restore the route and looks forward to recommencing services as soon as possible".
Reader Comments:
Views expressed in submitted comments are that of the author, and not necessarily shared by Railnews.
Pity we didn't start East-West Rail five years earlier. If it was open now, at least the Manchester-South Coast services would still be running.

I am a little worried about whether or not this type of thing could be a sign of the times and a portent of what may come.

The wholescale removal of plantlife on cuttings and embankments has resulted in the destabilisation of many banks and slopes as the shallow root structure helps ensure that the banks remain relatively "controlled" and also tends to improve water run-off. Once they have been cut down the roots left in place tend to rot and disintegrate leading to the ground absorbing more moisture as well as having shallow voids that increase the lielihood of water causing stratification and heave. This then tends to destabilise the banks to an increasingly greater depth and results in subsidence and slippage.