Posted 5th February 2015 | No Comments
Watford work cancelled because of landslip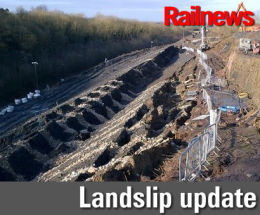 NETWORK RAIL has cancelled its planned engineering work at Watford Junction later this month, because of the landslip which is threatening the line between Leamington Spa and Banbury. The slip, near Harbury Tunnel, means that this route must remain closed for several weeks and the West Coast line through Watford will be needed as the principal alternative link between London and the West Midlands.
The work to improve the West Coast Main Line at Watford over the weekend of 14/15 and 21/22 February would have seen passengers redirected to the Chiltern route between Birmingham and London Marylebone.
Network Rail chief executive Mark Carne said: "Passengers must come first and with the alternative route from Birmingham to London now blocked we have made the right decision to ensure journeys can still be made."
Phil Bearpark of Virgin Trains welcomed the decision, saying: "Network Rail's decision is in the best interests of passengers who would have been left with no alternative services to and from London when work on the West Coast Main Line at Watford took place.
"We are working very hard with Network Rail and other train operators to put in place a timetable that makes best use of the space now available. This will mean that passengers are able to travel to and from London on direct services rather than taking diversionary services, which is really good news. But we are reacting to fast-moving events and I would ask that customers bear with us over the next few days as we clarify details of which trains will be available."
London Midland's head of West Coast services Terry Oliver said: "Postponing the weekend engineering work at Watford is the right thing to do. The Chiltern line is going to be blocked for much longer than everyone originally expected. Having two main lines from London to the midlands blocked could have caused severe disruption across the whole of the rail network as passengers and freight trains would have very few routes available."