Posted 3rd February 2015 | 3 Comments
Landslip line will stay closed 'for several weeks'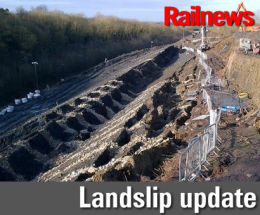 THE Chiltern main line through Warwickshire will remain closed by a large landslip 'for several weeks', Network Rail has warned.
The slip occurred between Banbury and Leamington Spa at 14.30 on Saturday afternoon, when a slip 150m long left 350,000 tonnes of soil and rock in a dangerously unstable position.
Network Rail said the slip is still moving, and its engineers have been assessing the scale of the problem. Remote sensing techniques are being used to monitor the landslide and Network Rail added that remedial works will begin as soon as it is safe to do so.
The site had already posed some problems a year ago, and ground water in the area is known to be a factor.
NR chief executive Mark Carne said: "This is a massive incident and I am making sure we have all the resources we need to tackle this problem. Our safety precautions ensured the railway was shut before there was any risk to passengers. Looking forward, our focus is on making sure the site is safe before our engineers move any of the affected earthworks.
"We know just how important this key route between Birmingham and London is, for both passengers and freight. This is a very deep cutting built back in Brunel's days which we have been repairing for some time. I can assure passengers whose journeys are being disrupted that we will do our utmost to restore their services as soon as possible. However, it may take several weeks to stabilise it before we can start some services."
Network Rail said it would be working closely with the train operators on alternative services, and would be able to give a clearer idea on timings within the next two weeks. "We will provide further updates as our investigation and recovery work progresses," it added.
Replacement buses are running between Leamington Spa and Banbury and revised train timetables apply between Banbury and London Marylebone, Birmingham Moor Street, Leamington Spa and Stratford upon Avon.
Reader Comments:
Views expressed in submitted comments are that of the author, and not necessarily shared by Railnews.
The irony is that had Network Rail taken the initiative to fully upgrade the Cotswold Line to double track, rather than stop-gap measures of short double track sections, this route would have served as a diversionary route for CrossCountry trains to and from Birmingham New Street. Also, a few gauge enhancements would have allowed container traffic to be diverted this way, rather than exhausting train paths on an already busy WCML for several weeks. Alas, Chiltern's services would not experience the benefits of this diversionary route so well done to the TOC for handling the current situation with the limited resources available either side of the landslip.

We've been here before last year with several Landslips - and most of them took months to get back. But under-lying this latest incident maybe an upward trend in many parts of the UK because of increased Rainfall ? And if so can it be predicted where the next slip may occur.