Posted 12th February 2015 | 3 Comments
'Passengers must come first' says KX report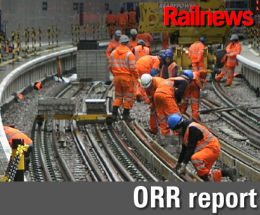 THE Office of Rail Regulation said the rail industry 'must place passengers at the heart of enhanced contingency planning' for overrunning engineering works, in a key report published today.
The ORR has been inquiring into the overruns of blockades at London King's Cross and Paddington on 27 December. It has calculated that more than 115,000 passengers were affected by the disruption to main line services on the East Coast and Great Western lines.
Network Rail can be fined if the ORR concludes that it has breached its licence, but the ORR said its latest investigation had been 'aimed at learning lessons with a view to preventing similar disruption happening again'. The inquiry considered evidence from passengers as well as Passenger Focus, London TravelWatch, Network Rail and train operators.
The ORR said that Network Rail managed more than 98 per cent of its Christmas engineering schemes successfully, but that there had been 'significant weaknesses in the planning and oversight of the King's Cross and Paddington works, and how communication was managed when overruns occurred'.
It has told Network Rail that it needs to continue upgrading the railway, but that 'effective planning, management and communication of this work is essential'.
The ORR's director of railway markets and economics Joanna Whittington led the investigation. She said: "Network Rail has rightly acknowledged it didn't do enough for passengers affected by overrunning engineering works at King's Cross and Paddington this Christmas. While the company generally has a good record for delivering engineering work on time, in this instance passengers were really let down.
"Our investigation found that contingency planning did not fully consider the impact of potential overruns on passengers and that this needs to change. In future, plans will address the impact on passengers as well as engineering and train operation issues. Network Rail cannot achieve this alone, train operators will also need to play their part.
"Network Rail has committed to ensuring all work undertaken this Easter has a contingency plan which is fit for purpose, and to implement all recommendations in time for engineering works planned over Christmas 2015. ORR will audit its progress, to ensure that passengers' needs and safety are central to Network Rail's and train operator contingency arrangements."
Network Rail has responded by again admitting that its planning was at fault, after publishing its own initial report last month. Chief executive Mark Carne said: "Putting passengers at the heart of our planning is absolutely the right thing to do and we recognise that we let people down during the disruption experienced on the 27th and 28th of December.
"Over Christmas, we undertook the biggest programme of engineering and investment work ever, upgrading train lines across the country. The overwhelming majority of this work went to plan but in the case of King's Cross and Paddington we accept we got things wrong.
"Our own report has caused us to look again at the work we have planned this year and the contingency plans we have in place and the ORR's report underlines the necessity of this work."
Louise Ellman, who chairs the Commons Transport Committee, said: "Network Rail must implement the Office of Rail Regulation's recommendations in full so that passengers do not face avoidable disruption and chaos.
"The scenes at Christmas were unacceptable. Bad planning, the failure of contingency arrangements and breakdown in communication resulted in thousands of people waiting for hours in the cold outside Finsbury Park station, or stuck on delayed trains.
"The rail sector must work together to ensure that Network Rail's planning and communication improves. Network Rail's investment programme for 2014-19 means that more major and complex engineering work will need to take place. Network Rail must learn from their errors to regain the confidence of the public."
Apart from the ORR inquiry, the Rail Delivery Group has also started a wider industry review of how possessions are timed and managed.
Reader Comments:
Views expressed in submitted comments are that of the author, and not necessarily shared by Railnews.
There is no shortage of contingency plans in the industry. As has clearly been reported an off the shelf plan existed for the closure of Kings Cross at Christmas. Given the advanced notice of the overrun the East Coast operators had time to plan their response, their GW colleagues did not have that luxury. Despite criticism of the suitability of Finsbury Park the station it is recognised the station is no stranger to handling crowds. Overcrowding developed as a consequence of deviating from the detail of the agreed contingency.

Perhaps the great challenge to be addressed is the provision of high quality data to the information systems our staff and customers now increasingly refer to and rely on. Even with the benefit of advanced warning the East Coast operators struggled under the volume of information to input and disseminate. I know from experience that in the dynamic of a mishap or unplanned line blockage clear decision making and communication is crucial in maintaining a service. The fragmented railway has made that more difficult to achieve with the duplication of controls between NR and TOC's.

Running trains has always taken priority to updating the virtual railway that drives our IT systems. This has to change as both our staff and customers rely on clear communication when challenged with service disruption.

Slightly disagree with the conclusion - it should read 'Passenger and Workers Safety should come first'. That is the watchword for the Aviation Industry and should be for Railways as well. Passenger delays - although regretable - should always come second to Safety. In today's witch-hunt world of the Internet, the Rail Industry must be careful not to give in to Media and MPs pressure.