Posted 12th January 2015 | 5 Comments
Christmas disruption caused by multiple failings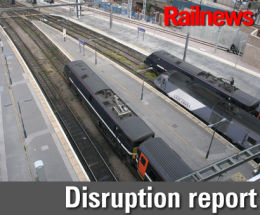 STORY UPDATED 14.53

A REPORT from Network Rail has revealed that the Christmas overrun at King's Cross on 27 December was caused a multiplying catalogue of errors which was worsened by 'mutual failings' of communication between Network Rail and Govia Thameslink Railway, which manages nearby Finsbury Park station.
This was used an emergency alternative but became overwhelmed with King's Cross passengers and had to be closed for a while during the day. Network Rail chief executive Mark Carne said: "A number of things went wrong. In addition it is clear that our project back-up plans and the train service plans should have done a much better job in protecting the travelling public from our engineering problems."
The report, which was prepared by NR's managing director of infrastructure projects Dr Francis Paonessa, describes how track replacement work at Holloway Junction, some 3km north of King's Cross station, was bedevilled by a number of factors. These included 'issues with the removal of the old ballast, scrap rails and sleepers, resulting from failed new equipment'.
As a result, the project had slipped six hours by the evening of Christmas Day.
The report continues: "The equipment failures were unexpected, due to the provision of new hardware that had been bought specifically to reduce the risk of breakdown. However this new hardware had not been tested in the railway environment before deployment, and was not reliable when put to use.
"Despite this, it was still believed that two of the four railway lines could be opened on the morning of Saturday 27 December for the reduced passenger service that had been agreed previously because there was still some contingency time in the plan. In any event the project had long passed the point of no return by this time – the full works were committed. Overnight, the physical project works then fell out of sync with the logistics plan for the engineering trains and crews. Progress suddenly fell to a crawl as train drivers reached maximum shift length limits and trains were left out of position to support the work."
Network Rail also concedes that its communications with the station operator at Finsbury Park were inadequate. The report explains: "There were mutual failings in the communications between Network Rail and Govia Thameslink Railway, who manage Finsbury Park station, around the implementation of the contingency plan. Failure to operate a revised platform usage pattern, as agreed the previous evening, was a significant contributor to the subsequent overcrowding, and was only corrected after three long distance trains had cycled through the station."
Network Rail chief executive Mark Carne said: "Being sorry is not enough. We have to learn from what happened."
He added: "In very complex projects sometimes simple things go wrong and these can snowball in short periods of time to become major issues. Our contingency plans should address these issues and protect passengers from our problems as far as possible. And our industry service recovery plans should minimise the impact of any disruption once it has occurred. On these occasions we simply did not do these things well enough."
He now faces questioning from the Commons Transport Committee in two days' time. The Office of Rail Regulation has also launched its own inquiry.
Meanwhile Govia Thameslink Railway said: "The overrun of engineering work at King's Cross on Saturday 27 December was hugely frustrating for passengers, causing lengthy delays and overcrowding.
"Clearly Finsbury Park is no substitute for King's Cross but it was our only option to avoid leaving many thousands of long distance passengers stranded. Our staff, supported by East Coast and the British Transport Police, worked incredibly hard to help people and ensure the safe operation of the station in some very difficult and trying circumstances.
"To ease the pressure on Finsbury Park, we turned many of our trains at Letchworth Garden City and Welwyn Garden City so people could transfer on to trains to Moorgate for connection with the Underground and we put on buses from Letchworth to Luton Airport Parkway for trains to and from St Pancras.
"Messages advised people not to travel and we helped people with specific needs such as mobility issues or airport connections with taxis wherever possible. There was also ticket acceptance with all other operators including local bus companies.
"We are working closely with all industry partners to examine what could have been done better and extend our apologies to all passengers who were personally affected."
Apart from the ORR inquiry, the Rail Delivery Group has confirmed that a wider industry review of how possessions are timed and managed will now take place. The RDG said: "The biggest projects have historically been undertaken during key UK public holidays such as Christmas and Easter, largely because significantly fewer people travel by train at those times."
Reports earlier today claimed that transport secretary Patrick McLoughlin is in favour of a fundamental rethink. There are also growing calls for more trains to run during Christmas in any case.
The RDG-led review will be overseen by FirstGroup chief executive Tim O'Toole. He said: "Thousands of passengers did not get the service they deserved in the days following Christmas. So it's right that the industry takes a good look at how it plans improvement works, and the best time to carry these out."
The members of the review team will be Anton Valk, Christopher Garnett, Richard Morris and Graham Smith.
Meanwhile, RMT general secretary Mick Cash said: "At the core of this report is the clearest possible message that more than two decades of privatisation, fragmentation and under investment has left Britain's railways with a backlog of maintenance and renewals work that is simply impossible to shoehorn in during the limited window offered over the Christmas break. To try and pretend that we can squeeze a quart into a pint pot does no one any favours.
"The problems on Britain's railways are compounded by yet another slab of cuts being demanded from Network Rail by the government through their agents the Office of Rail Regulation. Pile on the ludicrous proliferation of casualised contractors and agencies looking to make a quick buck and it is no surprise to RMT that we ended up with the shambles played out over Christmas and ever since.
"The solution is to bring all works in house under a single command and control structure and to set realistic programmes and targets to tackle the backlog."
Reader Comments:
Views expressed in submitted comments are that of the author, and not necessarily shared by Railnews.
There is much to digest in the NR report into the Xmas overruns. I have no doubt that due process was followed planning the work at Holloway and assessing that it was achievable within the planned possession time frame. From the comfort of the desktop the risk assessment boxes were clearly ticked. From the catalogue of failures reported from the site it is clear the introduction of inexperienced staff and untried plant made the prearranged plans unworkable. These risks clearly escaped evaluation during the pre planning process. There is clearly an issue NR has to address from the risks imported to engineering sites that have increasingly been resourced by sub contracting and casualisation.

Given that an overrun was inevitable it is fortunate that an off the shelf contingency was available for Finsbury Park and compared to many major mishaps the route did have the advantage of being able to institute from commencement of service. Perhaps the major lesson to be learnt from it's implementation is to work to the agreed plan. If I've understood correctly deviation from planned train flow though the station resulted in passenger congestion as arrival and departure passenger flows were not initially segregated. By the time order was restored the damage had been done.

The GW overrun is much more concerning regarding communication from the engineers regarding it's impact. Neither NR or FGW had a clear time frame to plan a revised service. NR have clearly had previous issues with hand back from the signalling contractor involved. Given the stringency of signal testng in the post Clapham world was adequate time allowed in the plan for for thorough testing to be satisfactorily concluded and issues arising to be resolved?

In all the pre planning and associated risk assessments for the Christmas work did NR senior management undertake an overall assessment of the risk of a major possession overrun? As was seen at Christmas due to the media focus serious reputational damage has been inflicted both on NR and by default the industry as a whole. While the majority of planned work was completed safely, on time and within budget the failures have attracted media and political attention negating so much that was achieved.

While there are demands for a curtailment of work over the festive season I am sure a significant volume of work will continue to be undertaken in future years. One major lesson to learn from the Christmas overruns is that there is only a finite resource of suitable, reliable plant and experienced personel to undertake the work.




25 years ago, I worked on very many project upgrades which had to go Weekends or Bank Holidays. They always did go in on time - although it was often very close. However they were rehearsed to perfection and all timings and equipment was tested. I can't believe that Network Rail is so negligent that projects aren't totally analysed. However your report doesn't clearly indiciate what 'new equipment' failed. Things beyond immagination can always go wrong - silly things such as an Employee burning toast and setting off all the Smoke Alarms causing an evacuation or a Juggernaut lorry accidentally backing into the building I was working in. However although there was a shift system - if something went wrong - you couldn't just walk out but were expected to stay for as many hours as it took - something I know doesn't happen on the Railways.

(There are limits to the amount of detail we can provide in a news report. However, if you follow the link provided with the story, you can read the rest in Network Rail's own words.--Editor.)

This is what happens when you return an organisation to state control - they all go back to their sloppy old ways with no redress from the public.

The only answer to this is a wholesale clear-out of the planning department - examples must be made of those that failed to set an example to others - failure is not acceptable.

Fig 5 of Network Rail's report shows the "Extent of the possession".

Can anyone please explain why the Finsbury Park - Alexandra Palace branch is included? I thought it closed in about 1954 and all tracks subsequently lifted.

Is this a genuine error on Network Rail's part?

(For the record, passenger trains on the Muswell Hill branch to Alexandra Palace ceased in 1954, and freight last used the line in 1957. The rest of the route from Finsbury Park to Highgate was last used for empty stock moves by London Underground in 1970. Network Rail appears to have imposed an engineering possession on a route which has long been dismantled and sold. The extent of the possession shown on the map is also a puzzle, since it also extends way north of Finsbury Park and no northern boundary is apparent.--Editor.)

Anyone planning a major project checks and checks the planning over and over. When it is time critical even more checks should be made. Did Mark Carne think to ask for reports and assurances prior to Christmas? The individuals responsible, including senior managers, need to be disciplined. Sacked even if there is a history of failure. Of course we get the sort of rant from the RMT we have come to expect.