Posted 10th October 2014 | 4 Comments
Updated franchise schedule signals GW extension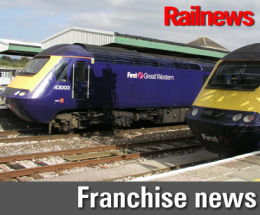 INDUSTRY speculation that the First Great Western franchise is set to be extended again has been confirmed by the publication of a new franchising timetable today by the Department for Transport.
Today's revision was not given any publicity but the new timetable is now available on the Department's website. It bears the title of the DfT's new Rail Executive, and appears to confirm that FirstGroup is in line for a further contract which will extend its Great Western contract until at least March 2019.
FirstGroup has responded by commenting that "this direct award will ensure stability during a period when a substantial programme of infrastructure upgrades will take place on the network and new trains are to be introduced".
First has been disappointed by the loss of two franchises this year, first the winning of Thameslink by Govia and, two days ago, the news that Abellio will take over as the operator of ScotRail in April.
First chief executive Tim O'Toole said: "We welcome the publication of the latest DfT franchising timetable which continues to demonstrate clarity and momentum in the re-franchising programme. A period of detailed negotiation will follow but we are very pleased that, after a consultation process in which the DfT sought the views of stakeholders and user groups across the line of route, the DfT intend to negotiate a direct award with us which will be for three-and-a-half years with an option to extend for up to one year at the DfT's discretion.
"This offers good value and better services for First Great Western passengers and in particular, will provide stability and allow the planned major projects and new trains to be delivered."
Reader Comments:
Views expressed in submitted comments are that of the author, and not necessarily shared by Railnews.
I seem to recall some years ago FGW talking about the acquisition of new trains and basically specifying the type and number of units they would like. However, they were shot-down by the Labour Transport Secretary of the day (whose identity I cannot remember) with the advice that the DfT order any new trains - not the train operator! After that, I presume FGW decided to keep quiet and hope for electrification.

Tim, when it comes to long-distance at least, I think FGW are excellent. The other day, I changed from a CrossCountry Voyager to a FGW HST and the difference was incredible. FGW gave me comfortable seats, accessible power-points and peace and quiet. They have clearly invested in their stock (and, I believe are continuing to do so with a First Class refurb). I know that CrossCountry are saddled with the Voyagers, and their limitations, but FGW have still shown what investment in older stock can achieve. Their HSTs are always well presented and clean, as well, in my experience.

Show's the way the DfT operate, the original contract was terminated by FGW who had back ended their bid and with a fear of having to pay the taxpayer some money decided to terminate their contract earlier. Now we hear they got out of paying the funds they had committed to, yet have an even longer contract than they initially had! What happened to this quote we keep hearing from MP's value for money for the Taxpayer?

Worst Late Western strike again. Why is it that they are rewarded for failure again and again?
They have invested nothing, our stations are filthy and old, the trains are the same. Ticket prices are extortionate. Services are slow and unreliable.
It's clear how little the government cares for any service west of Bristol