Posted 18th February 2014 | No Comments
Thameslink shortlisted bidders revealed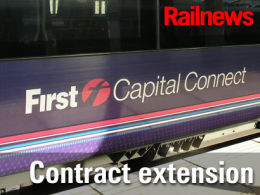 THE Department for Transport has confirmed that a 'direct award' has been made to FirstGroup following negotiations over a short term extension to the existing First Capital Connect franchise, which had been due to end on 31 March.
The new contract is intended to bridge the gap until a seven-year management contract can begin on 14 September with the winner of the current Thameslink/Great Northern/Southern competition.
Although no formal announcement was made at the time, a DfT spokesman told Railnews that the shortlisted bidders were chosen in December last year. They are Abellio, FirstGroup, Govia, MTR and Stagecoach. The winner is scheduled to be named in May.
When the September contract begins it will cover only the existing FCC network at first, but will be merged with Southern when that franchise ends in July next year. The result of that merger will be the creation of the largest rail franchise in Britain, carrying a predicted 280 million passengers annually.
Details of the temporary First Capital Connect contract have not been revealed, but transport secretary Patrick McLoughlin said: "The new contract with FCC represents the best deal for passengers and taxpayers. It ensures the continuity of the existing service and guarantees the completion of the ongoing Thameslink Programme."
FirstGroup said: "Today's award secures continuity of rail services for passengers and retains the Group's experience as the delivery partner of the multi-billion pound Thameslink Programme already well underway on the network. During this six-month period First Capital Connect will continue with its comprehensive maintenance programme, as well as introducing service improvements for passengers including new and enhanced information at stations, better customer assistance and higher levels of train cleaning."
Meanwhile, talks are understood to be continuing between the DfT and Virgin Trains over the details of a proposed Intercity West Coast franchise which must start by November, when Virgin's present 23-month management contract runs out. This contract was awarded in December 2012 after the failure of the West Coast franchise competition. A provisional award to FirstGroup in August 2012 had to be withdrawn in October because of mistakes made by the Department for Transport.