Posted 23rd May 2014 | 9 Comments
Govia chosen for new Thameslink contract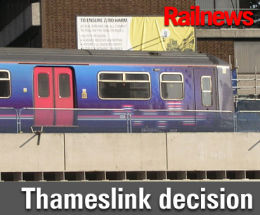 THE Department for Transport has announced that Govia is the winner of the new Thameslink contract.
The seven-year franchise includes three new fleets of trains. The largest is the Siemens Class 700 fleet, amounting to 1,140 vehicles, which is now under construction in Germany.
But Govia has also undertaken to provide new fleets for Gatwick Express and the Great Northern services between Hertfordshire and Moorgate.
The new franchise is the largest ever let, and will carry more passengers than any other. The routes involved currently carry around 273 million passengers a year.
The contract also includes investment in stations and staffing. Staff hours will be extended at more than 100 stations, so that there will always be staff on duty while trains are running.
The DfT said there would be a 'simplified ticketing structure'. Delays are to be reduced by a fifth and there are high cleanliness targets. Other improvements include 'better retail and catering facilities', plus free wi-fi at more than 100 stations.
The new Gatwick Express fleet will consist of 108 vehicles, while the Great Northern inner suburban services will have 150 new vehicles to replace the venerable Class 313 units on the route, which are almost 40 years old.
Rail minister Stephen Hammond said: "A world class railway is a vital part of our long-term economic plan. New state-of-the-art trains, more seats, better connections and improved stations will transform travel across London and the South East. That's great news for businesses and the hundreds of thousands of passengers who use these vital services every day."
Govia has beaten off four rivals to win Thameslink, including the present incumbent FirstGroup. The other three on the shortlist were Abellio, MTR and Stagecoach.
Govia is a joint venture with 65 per cent owned by Go-Ahead Group and the rest by French transport operator Keolis.
Go-Ahead chief executive David Brown said: "I'm delighted the DfT has chosen us to operate this important and complex franchise and to play an instrumental role in delivering the benefits of the Government's £6 billion Thameslink Programme. This will be the UK's busiest franchise and we will be introducing 50 per cent more capacity into central London during peak times, with 26 per cent more morning peak carriages providing 10,000 additional seats."
The decision has come as a blow to FirstGroup, which has been operating the Thameslink network as First Capital Connect since April 2006.
First's chief executive Tim O'Toole said: "I am disappointed that we will not be operating the new franchise and taking the Thameslink Programme on to its next stage. We submitted a strong bid which would have delivered high quality services for passengers, value for taxpayers and an economic return for shareholders.
"We are tremendously proud to have operated a significant part of this network over the past eight years through our First Capital Connect franchise, and of the many improvements we have delivered during that time. I would like to thank all of our employees who worked tirelessly to deliver improved services for our customers during a period of great change."
The transfer will take place on 14 September this year, and the present Southern operation will be merged with the Thameslink and Great Northern routes on 26 July 2015. A small number of services and stations will also be transferred from Southeastern by 21 December this year, the DfT added.
The new franchise is understood to be a form of management contract, but the DfT has not yet released any financial details.
The award is due to be confirmed after the mandatory 10-day standstill period.
Reader Comments:
Views expressed in submitted comments are that of the author, and not necessarily shared by Railnews.
Station improvements - don't forget to move the ticket machines which block Potters Bar subway to somewhere less obstructive - but still in the subway!

No mention of clearly signposted cycle / whealchair / pram / luggage areas and working tip up seats in such areas to maximise peak seating.

Won't take much to simplify the fare structure. Brighton mainline is a mess due to the plethora of "Southern only" and "FCC only" options.

To add to Melvyn's comment about Moorgate (Great Northern) services, this line really needs to be on the Tube Map once the GN has late evening and weekend service, as it will increase passenger mobility, decrease journey times, and reduce loadings on existing services, mostly off-peak. The GN connects the City, Old Street, 2 Overground lines at Highbury & Islington, and the busy Finsbury Park interchange, so it's a strategic shortcut for many journeys.

Since my earlier post I have read details on Govia site and it seems evening and weekend services on Moorgate branch are planned for next year . Now all that's needed is to persuade TFL to include this branch on standard tube maps given how under used the branch is while Northern line is packed with passengers who could change at Highbury and Islington from the Victoria Line to GN line and actually reach old street and Moorgate quicker than going via kings cross and changing lines !

One problem I have read is Morrgate GN branch has restricted tunnels and stations which raises questions as to suitable modern stock that could be used and whether overground train type could be used ?

Further to my previous post.

I've just managed to be able to read the entry for Gatwick Airport; there will be eight Thameslink trains an hour (which seems to match the RUS), but the surprise to me is the statement "On board ticket purchases to be reinstated"

What, no ticket barriers?

It will be interesting to see the full details of what's going on here.

There is an interactive map on the DfT website, and this report (which - as the content is similar - I guess is taken from the DfT press release) doesn't reflect all that can be gleened from it; quite strangely, the press release seems to hold back on some of what appears to be good news.

For example, if you click on King's Lynn, it tells you that the off-peak frequency of the service to King's Cross is going to be doubled to a half-hourly frequency by 2017; not only that, but "more modern air conditioned trains will replace the current units".

So what are these A/C equipped units? Could they be the 377s currently sub-leased to FCC? And what's going to happen to the Networker Express sets presently operating the KIng's Lynn services?

I'm finding it difficult to use the interactive map for the stations at the bottom, but from what I can read and what can be picked-up elsewhere on the map it seems that major changes to both the existing Thameslink network may be planned; moreover, these seem to provide a different service pattern to that described for Thameslink in the London & South East RUS. Brighton is shown as having only two Bedfords each hour, and that these will go via the Elephant & Castle, and Cambridge shows that it will have two to Brighton each hour; I can't see either of these in the RUS.

simplified fare structure?

lets hope the simplification will reflect that of Chilterns, sensible fare structure.

But if people really think the current state with fares of cheap long term booking rather than booking on the day, is good, why does the fare structure need to be simplified? have the government finally realised that people want basic fares that are the same on the day as they are 6 months in advance for the same train, the same seats and the same service?

Tim O'Toole may be disappointed but I reckon. FCC passengers who see the better quality stations their trains currently serve on the Southern network will hope they will now gain stations to the same quality .

In fact Southern seems to be better at getting investment from schemes like Access for All than FCC in fact while complaints are being made about 7 Crossrail stations that will still not be step free many more stations on the admittedly larger Thameslink network still remain inaccessible including stations within London .

The news of new trains for the Moorgate services confirms that these services will not be transferred to TFL Overground although its time stations South of Finsbury Park gained a proper upgrade and services extended to operate in evenings and weekends given the rise of evening life in the old street area around silicon roundabout and of course Crossrail services from Moorgate in a few years.

Sense has also been seen re Gatwick Airport with provision of trains suited to Airport passengers with luggage raising the question as to whether any class 700 trains for Thameslink could also be fitted out for airport passengers and used on shuttle services linking Gatwick to Luton via St Pancras International ?

The replacement of First Capital Connect with the proper Thameslink name is also welcolm and hopefully the DFT could insist this title is used if franchise changes hands !

With all these surplus EMUs perhaps someone needs to look into whether spare carriages could be added to DMUs to provide extra capacity until electrification releases more DMU trains.

Finally, with HS2 disruption at Euston perhaps the Milton Keynes to Croydon service could be extended South to the coast creating in effect Thameslink 2 via West London Line with a station linked to Willesden Junction and Old Oak Common for Crossrail and HS2!