Posted 18th August 2014 | 9 Comments
Private sector operators challenge nationalisation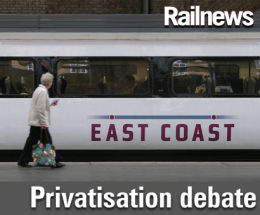 A SENIOR industry figure has spoken out against Labour's recently-agreed proposals to allow the government to compete for future franchises.
The Department for Transport currently runs intercity services on the East Coast Main Line via its subsidiary Directly Operated Railways, but this operation is set to return to the private sector in March next year.
The public sector has been running East Coast since 2009, after National Express was forced to surrender the contract.
Unions and transport campaigners have been pointing to the level of premiums paid by East Coast since then and arguing that the taxpayer has been gaining from nationalisation, but transport secretary Patrick McLoughlin has remained firm about reletting the franchise.
When a prospectus for East Coast bidders was published last October he said: "Since 2009, the East Coast franchise has been stabilised under government ownership, but management by Directly Operated Railways was never planned to be a permanent arrangement. The government believes a strong private sector partner, as an innovator and investor, will build on this stable basis and deliver a world-class railway for passengers and best value for the taxpayer."
Now Go-Ahead chief executive David Brown, whose Govia joint venture with Keolis has just won the new Thameslink, Southern and Great Northern franchise, has joined the debate by defending the government's policy.
Speaking to the Financial Times about the supporters of continuing nationalisation, he said: "My view is, what problem are they trying to solve? If it's about competitiveness, there's already competitiveness. If it's about trying to take away profits, there are very low profit margins on the railways. Whatever it is, I don't see that the answer is Directly Operated Railways."
Stagecoach chief executive and Rail Delivery Group chairman Martin Griffiths has already spoken in favour of reprivatising East Coast, warning that the direct participation of government could deter private sector bids.
FirstGroup, Keolis/Eurostar and Stagecoach/Virgin Trains have been shortlisted for the East Coast contract, and the winner is due to be announced in October.
Reader Comments:
Views expressed in submitted comments are that of the author, and not necessarily shared by Railnews.
Didn't I read somewhere (Roger Ford?) that one of the reasons DOR was more "profitable" than privately held TOC's was because they, as a government owned company, were allowed to cut back on required pension contributions, leaving a huge shortfall for whatever private company now bids for East Coast?

Also they haven't invested in any new trains either (IEP was not a decision DOR made, and the huge costs of that decision will be borne by the next private franchisee).

One last point. Apparently the rate of return on passenger rail franchises is around 3%. If interest rates creep up just a little, do you think it will be worth all the aggravation for a private company to even bother bidding for a franchise when they could earn the same amount of return investing the cash in certificates of deposit/bonds/safe blue chip investments/etc. ?


Surely the problem is that state owned railways can bid for franchises here and thus earn profits for their country's users but as we don't have a state owned company we can't do likewise in their countries.

Of course this could be talked at EU level but our governments majority party fears getting to involved in issues like this as they are frit of their anti EU members and so nothing gets done !

The reality is the success of ECML under DOR ownership is an embarrassment for the party that privatised the railways hence the priority to franchise it ahead of other franchises that have had several extensions in order that ECML can be offloaded ahead of next years election.

As for railways in other EU countries the question as to why our government has not fought hard enough to get them open to competition needs to be asked and answered!



I'm not pro-nationalisation, in fact I think there may be too much government control of the railways now, but I don't see what's wrong with allowing DOR bid for franchises as long as they are treated the same as the other bidders. It allows for more competition and more money going in to government coffers rather than going to France through Keolis, when they don't allow foreign franchises in their own country.

I suppose it's a case of "They Would,Wouldn't They!" Also, I don't think the likes of Abellio, Keolis, MTR or DB would even dare considering joining the UK-based operators in challenging Labour''s nationalisation plans.

I have worked as an employee for both private and state organisations. I can assure you that I was more trusted, paid more, and had a much more enjoyable job under a Private Firm. (Doing exactly the same job.) For those of you who have to deal with the Government Income Tax Departments you will realise that getting through to someone and actually getting them to take a decision and put it in writing is a very time-consumming affair. You have to put up with so much delay and checking with a Government Organisation that you would most certainly not accept in a Private Supplier. Why do you think Governments have wasted £40 billion on Computer Systems that don't work and have been scrapped ?

Not sure they've got a leg to stand on here. If these private operators can do a better job than the state owned bidder, put in a better bid. What's the problem with that?

So the private sector does not like nationalised railways, at least not if they are owned by the British public. It's OK for the German or French public to own British railways. So what else is new? They own our electricity industry, our water industry, our car industry etc etc etc. All this thanks to Thatcher and that spineless successor Major. And left unchanged by Blair the self promoter.

So let's have this right - private sector operators are OK with state bidders, so long as it's not the BRITISH state?? Abelio, SNCF, DB all good; DOR bad!!!