Posted 14th July 2014 | 7 Comments
Dawlish report 'due this week'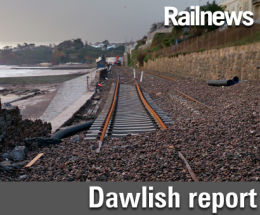 UNCONFIRMED reports suggest that the DfT is about to publish a report which examines an alternative route to the far south west avoiding the vulnerable sea wall at Dawlish in south Devon.
Two fierce storms closed the route in early February after a stretch of the coastal line was demolished by high seas. It was not the first time that the stretch along the front at Dawlish had been damaged in this way, but on this occasion the damage was particularly bad.
Heroic efforts by Network Rail teams meant that the route could reopen in early April, but in the meantime there was grave concern that the economies of Plymouth and Cornwall were being damaged by a lack of train services to the rest of Britain. The economic damage would probably have been even worse had the link been cut at the height of the holiday season.
In the wake of the storms, Ministers and Network Rail promised to examine a relief route avoiding the sea wall, and their report is said to be imminent.
It is thought that a reopening of the former Southern main line between Okehampton and Bere Alston is unlikely, and making use of a former inland branch line via the Exe Valley has also apparently been ruled out.
Instead, it is understood that five alternative new inland routes have been sketched out between Exeter and Newton Abbot, but the cost of such a new line could be as much as £3 billion.
A line avoiding the sea wall was planned by the Great Western Railway in the 1930s, more as a means of increasing capacity than providing greater resilience, but the project was interrupted by the outbreak of war in 1939 and never resumed.
Reader Comments:
Views expressed in submitted comments are that of the author, and not necessarily shared by Railnews.
Stuart, the report has apparently come up with £875 million for reopening the LSWR route, despite only 20 miles of track being missing! This is absolutely staggering. (Compare with waverley route £350m for 30 miles).

All I can think is that they priced reopening as a full blown 4 aspect signalled 100mph+ double line with most strucutures rebuilt to allow current width standards. I can't see that a single track line with loops at Okehampton, Lydford and Bere Alston and using the existing solid granite structures would cost more than a quarter of that. All structures other than two small road bridges are intact and well maintained other than Meldon Viaduct which would need strengthening. The council owns most of the trackbed too.

A single line route would allow extension of the Waterloo - Exeter 159s to Plymouth giving north Devon and North Cornwall railheads and allow diversions when Dawlish was shut. A single line would also enable the cycleway to remain sharing the trackbed as it does between Okehampton and Meldon.

I fear that the anti Southern attitudes among BR western region staff in the 1960s that led to the line shutting in 1968 may not have entirely dispersed.

My vote is to ignore the BCR calculations completely and go ahead with one of the options. I'm not too bothered which one as long as there's some sort of alternative. This is a prime example of why the fixation with BCR is deeply deeply flawed. BCRs were only really meant as a means of comparing similar competing schemes for a local area, but and it relies of some extremely questionable assumptions. Attempt to extrapolate this to HS2 or a Dawlish Avoiding Line and the figure is pretty much meaningless, because an event this catastrophic is not factored into BCR methodology.

Having said that, it'll be interesting to see what the anti-HS2 crowd make of the poor BCR. Frankly, they're the people most obsessed with BCR. Do they drop their opposition to schemes with poor BCRs, drop their "support" for a Dawlish Avoiding Line, or carry on having their cake and eating it?

The guided busway option should not be ruled out.

Reopen Okehampton route. Huge economic benefits to Mid & West Devon, Dartmoor, and North Cornwall, park & ride near Sourton Down etc to connect express buses to Launceston, Bude etc. And give an alternative route to Dawlish. Reopen within 5 years. The express route - the most costly should be opened in less than 30 years.

Of course the Okehampton route will be ruled out, it is the most sensible option both on price and community benefit measures. Instead the report will come up with an ambitious high speed avoiding line that can be easily shelved as far too expensive.

The politicians will kick this one into the long grass.