Posted 11th January 2014 | 7 Comments
RMT to stage 48-hour London Underground strikes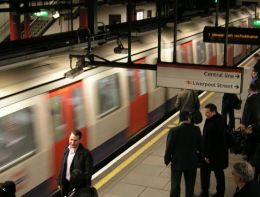 LONDON Underground services are facing disruption during February, because the RMT union has called two 48-hour strikes. Staff at stations will also refuse to collect fares or sell tickets during selected 2-hour periods on three other days.
The action is being taken in protest at plans to close all the system's ticket offices. However, London Underground has urged the union to think again.
The walkouts are planned to start at midday on 4 February and 11 February, and last until midday on 6 and 13 February.
The RMT said there had been a 'massive vote' for strikes and also other action short of a strike. This additional action will take the form of station staff refusing to carry out 'revenue duties' for two 2-hour periods on 7, 10 and 14 February from 09.30 to 11.30 and from 18.30 to 20.30.

RMT General Secretary Bob Crow said: "RMT members on London Underground have voted by a massive majority for both strike action and action short of a strike in a dispute which is wholly about cash-led cuts plans that would see the axeing of nearly a thousand safety critical jobs and the closure of ticket offices at a time when the tube network is under growing pressure from customer demand and needs more staff and not less to ensure safe and efficient operation.
"Not only are a thousand posts on the line but staff remaining are going to be forced through the humiliating and degrading experience of re-applying for their own jobs – the same staff who have been hailed as heroes when the tube has faced emergency situations. That is a kick in the teeth for the loyal and experienced tube workforce who have kept services running safely and efficiently under constant pressure from weight of demand and a creaking and under-resourced infrastructure.
"These cuts would hit the vulnerable, the elderly, those with disabilities and women the hardest. De-staffing stations, with supervisors running operations three stops down the line on an IPad, would turn the tube system into a criminals' paradise where those with violence and robbery on their minds are given a clear run. RMT will work with our sister unions and passenger groups to ensure that tube users understand just what's at stake as Boris Johnson turns his opportunist election pledges on their head."
However, the news of the strikes has been met by a swift response from London Underground, which is urging a rethink. In a statement, Transport for London said that 'just 30 per cent' of the RMT members who were balloted had voted in favour of action, and also claimed that the turn-out had been low.
It commented: 'The result means that nearly 70 per cent of union members either do not want industrial action or refused to vote'.
The Underground's chief operating officer Phil Hufton added: "Our customers and staff are at the heart of our vision for the future of the Tube. All Tube stations will remain staffed at all times when services are operating, and we'll be introducing a 24-hour service at weekends during 2015. In future, there will be more staff in ticket halls and on platforms to help customers buy the right ticket and keep them safe and secure.
"We're committed to working with unions and staff to implement changes to station staffing without compulsory redundancies and we've been clear that there'll be a job for everyone at LU who wants to work for us and be flexible. I urge our trade union colleagues to work with us to shape the future of the Tube.
"I want this to be a real consultation and I'm determined to listen to all views expressed. However, threatening industrial action will be seen by hard-working Londoners and businesses as totally unnecessary given all the commitments we have made."
Reader Comments:
Views expressed in submitted comments are that of the author, and not necessarily shared by Railnews.
As a user of the Underground, I want to see staff available, at ticket barriers, on platforms and circulating in the ticket halls for me to approach directly and ask for advice or assistance. Does Bob Crow or the 30% of those who voted for strike action realise this? Doubt it.

I regularly use a central London ticket office in the morning and the evening at peak periods. Today, there were two windows open, and no one using them in the admittedly limited time I spent walking fromt he ticket barrier to the exit. The same was the case yesterday evening where there were three windows open and no one using them.

Facts and evidence against supposition and ulterior motive, please.

Driverless trains may need platform edge doors to be fitted to all platforms on a line first so how much would Piccadilly Line cost ?

Boris was elected in 2008 on a promise to keep ticket offices open and repeated this pledge ahead of 2012 election but as he has said he is not standing in 2016 he can do what he likes !

Funny how he wastes far more money on vanity projects than this closure of booking offices will save but who's counting ?

Driverless trains would make it easier to run a service when Bob Crow and his cronies decide they want to throw another fit and chilishly disrupt the whole capital for their own selfish reasons.

TfL have guaranteed no compulsory redundancies. I don't think you can ask for more than that.

The unions are always dragging their heals, failing to keep up with trends, always throwing their clogs into the machines. If the unions ran the country we would still be riding around on horse pulled carriages to prevent muck shovellers losing their jobs.

What have driverless trains got to do with it? This is industrial action being taken to prevent the closure of ticket offices, from a ballot of all grades of staff. The company has implied that ticket office staff will be filtered out onto the station concourses. This is wholly untrue. These 950 jobs are disappearing, end of story, and most stations will be left with less staff on the concourse. Customer service will inevitably suffer.

Bring on the driverless trains!

I do think that closing the Ticket Offices that are used in Tourist Areas is short-sighted. I can see the reasoning behind the more remote and lesser used Offices closing but generally speaking I do regard a helpful Ticket Office Clerk a real benefit when buying the right ticket on all Rail Systems. They also increase security at small stations and probably reduce vandalism. The company's proposals do seem to accept my concerns as well by promising more staff available outside of the ticket office. But I don't see why the travelling public has to be punished by the RMT (yet again) over this matter.