Posted 3rd October 2013 | 10 Comments
First celebrates last-minute Great Western deal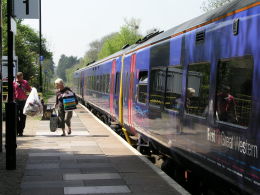 FIRSTGROUP has won a 102-week contract extension of its Great Western franchise, as the Department for Transport continues with its bid to rescue the floundering franchise programme. The news has come exactly a year since FirstGroup's victory in the West Coast competition was reversed, following a challenge by Virgin.
As with c2c earlier this year, the agreement, running until 20 September 2015, has only been announced a few days before the existing Great Western franchise would have ended on 12 October.
However, a further short contract will be needed to bridge the gap between the end of the contract awarded today and the start of the projected long-term Great Western franchise in July 2016.
A DfT spokesman told Railnews that another 'direct award' of some 10 months will be arranged in due course, because the contract announced today cannot run for more than about 23 months under European law.
FirstGroup has simultaneously revealed today in a pre-close trading update that its rail revenues were 'solid' in the six months to 30 September, with like-for-like passenger revenue expected to increase by 5.7 per cent when the final results are published. First is also bidding for the replacement Thameslink/Great Northern and Essex Thameside contracts.
The new 23-month Great Western contract includes assurances that through London services will continue from such places as Cornwall and Hereford. There will be two more vehicles for the Night Riviera sleeper service and more station upgrades.
Electric trains on Thames Valley suburban services are also part of the Great Western mix for the first time. The DfT has given no details of the electric fleet at this stage, saying only that the new deal 'will allow for existing diesel trains to go to other areas of the franchise where they are needed'.
There is also to be a further rearrangement of seating on the existing HSTs, providing an increase in standard class capacity, and on-train WiFi.
FirstGroup chief executive Tim O'Toole said: "Today's agreement with the Department for Transport is good news for First Great Western passengers, taxpayers and our shareholders as it provides continuity and consistency, building on the improvements our experienced team has already made over the last franchise period.
"We have seen significant improvements in customer satisfaction and punctuality, and working with the DfT we have delivered additional capacity on the busiest morning peak trains. We will work closely with stakeholders and partners along the route to explore further ways to support our local communities."
Transport secretary Patrick McLoughlin said: "The Great Western franchise provides a vital service for thousands of passengers every day and under this deal they will see real benefits. For communities like Devon and Cornwall the train is a life-line bringing in business and helping secure the leisure industry the community relies upon.
"This agreement provides further proof that the government's new franchising schedule is on track, delivering value for money for the taxpayer and supporting the ongoing multi-billion pound investment programme in our railways."
Some of the early reactions from elsewhere in the industry have been less favourable. Unions are pointing out that the original First Great Western contract, which started in 2006, should have run until 2016, with premiums of some £800 million payable in the last three years. In the event, FGW took advantage of a break point at seven years, but has continued to operate the franchise by means of short term extensions as a result of the disarray in the DfT franchising programme following the collapse of the Intercity West Coast franchise competition last year.
FirstGroup was provisionally awarded the contract in late August 2012 only to see the award cancelled a year ago today after Virgin Trains had successfully challenged the DfT's methods of calculating the likely financial returns.
TSSA general secretary Manuel Cortes said: "First Great Western are being rewarded for failure on a massive scale. This week we revealed that they have increased walk on fares by 210 per cent since privatisation, three times faster than the rate of inflation.
"They are also the first rail firm to provoke a strike by passengers in the entire history of the railways, in protest at overcrowding in the Bristol region.
"Passengers will continue to suffer from Tory dogma while Patrick McLoughlin, like the Bourbons, seems determined to ignore the lessons of history."
Reader Comments:
Views expressed in submitted comments are that of the author, and not necessarily shared by Railnews.
Over the rainbow, the DfT need to be looking forward and not using old trains kicking around sidings. There is no place for sentiment in the 21st century commuter lines in to London. It's all about fast, quick, modern trains now!

I use Great Western a lot from Tilehurst, and I can't complain about the service I get. Haven't had a cancellation in years. As the line from Didcot to Paddington is regarded as 'full' with little or no paths for more trains available during the day, I would have thought that 3 car Turbos which inhabit the line could easily be replaced with much longer trains. However with Crossrail and Electrification making all other changes 'on hold' for the time being, I can't see any changes happening for 2 years at least. I think First Western can also thank their lucky stars that they did NOT get the WCML franchise as their bid now seems grossly over-priced.

Worst Great Western complied by their contract terms and conditions when they exited their franchise and instead of paying 800 Million to the Govenment the same operator gets a ' Management contract ' to operate the trains at cost plus - WGW Financially astute - Govt Transport Department - need to go back to school and learn to negotiate contracts that work in their favour.
Regarding the issue of overcrowding that plagues this route in/out of London what I dont understand is why 2 x Class 67's with 10 Mk3 Coaches cannot be used as Oxford - Reading - London shuttles in the peak hours to supplement the existing HST's. If you want to see what franchising can really do use the Chiltern Trains from London Marylebone. Far cheaper than WGW and provide the old BR Mk3 comfort - not the HST Cattle Trucks on WGW. Also despite raking millions from the Government ( 210 per cent fare increases - second highest behind Mr Beard ( Virgin ) as per recent press releases ) still no sign of any new stations being opened eg Grove/Wantage, Devizes Parkway, Royal Wootton Basset , Bristol Metro ( Portishead , Henbury ) etc or the services to go with them.

First win the GW franchise for another 2 years yet the rumour mill suggests they have been threatened with losing TPE as a result of the numerous cancellations caused by driver shortages

(As a matter of record, First TransPennine Express [in spite of the brand] is actually a partnership between First and Keolis.--Editor)

I guess First have not done too badly over the last few years at least they have refurbished all their trains unlike companies like northern rail

Roger, plenty of spare stuff about, namely loco and coaches, which could be pressed into service within a short space of time, but because it cost more the franchisees are not interested, although FGW are looking at 2 loco hauled sets to start dec 2014, over a year away?????? but 2 is not enough to cope, the North Downs struggles every morning and evening peak, its about time that line was electrified with 3rd rail (and yes it can be done as an infill scheme) and given extra signal sections to cope


TSSA ignore the fact the company is restricted by the rolling stock available to them. Perhaps if they focused their efforts on the DfT failure to procure additional trains and their failure to come up with water tight contracts, they may get some support. It's a cheap and easy shot to blame the operator when the rail issues lie with the government.

If a longer term franchise was available, then companies would have reason to invest in new trains and infrastructure. The problems lie firmly with the incompetent government

Two more years of Worst Great Western. Rewarded for failure yet again. The franchise system is a farce that rewards the minimum possible service with the highest possible fare increases.

Maybe the order should go in now for 110mph Class 377/379s in 5 car formations to cater the current overcrowding and fruture growth, the order is needed now, not in a year or 2.

Maybe even put guards back on all trains and decrease the unemployments figures too, but that is too easy or too costly


Some might say payback time for WCML robbery but surely not?

Anyway the timing of the end of this franchise could not be better timed for an incoming Labour Government to transfer GWR to DOR but surely not?