Posted 16th August 2013 | 7 Comments
Great Western franchise not at risk, says DfT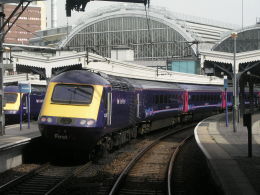 THE Department for Transport has denied claims by the RMT union that train services currently operated by First Great Western could be at risk, as the deadline approaches for agreeing an emergency franchise extension. The DfT and First Great Western have eight weeks left before the present contract runs out.
The negotiations are necessary as part of the wider replanning of the franchise programme. This is needed following the collapse of the Intercity West Coast competition last year and the franchising delays which followed, while the whole process was reviewed.
The DfT is now faced with the task of agreeing extensions of between two and four years with nearly all the present franchisees, with most long-term contract replacements now set to be pushed beyond the General Election in May 2015.

The RMT is claiming that the process of negotiating an interim three-year extension for First Great Western is 'teetering on the brink of chaos'.
Its general secretary Bob Crow said: "It's no surprise to RMT that the talks with First are in trouble on the Great Western route with the deadline only eight weeks away. It is clear that they are seeking to maximise what they believe is their monopoly provider position to bleed the route for every possible penny to prop up their battered balance sheet regardless of the cost to staff, passengers and the taxpayer alike.
"Despite running a franchise universally slated by passengers for its poor customer service and corner cutting on basic issues like capacity and staffing, First are now looking to drive through the closure of ticket offices, and the sacking of ticket office staff, by trying to force on-line bookings only by lumping financial penalties and threats on those who want, or need, to buy a ticket at the station."
But the DfT responded: "It has been necessary to negotiate a series of direct awards with operators including First Great Western. The Department is continuing to negotiate with FGW and is confident a deal will be reached by October."
First Great Western, too, is remaining confident. A spokesman for FirstGroup described the RMT's claims as 'completely baseless', adding: "We are currently in discussions with the Department for Transport in respect of the extension of the First Great Western franchise, and in accordance with the schedule. For the RMT to suggest otherwise is misleading and incorrect."
However, the DfT has installed a safety net which would keep the trains running. Its own subsidiary Directly Operated Railways has applied for the necessary safety certificates in time to take over in October, should this prove to be necessary.
Reader Comments:
Views expressed in submitted comments are that of the author, and not necessarily shared by Railnews.
I have been going to oxford railway station on a regular basis as a train spotter and a passenger and the amount of times hearing driver shortage is ridiculous for the passengers I think another railway company should have the franchise and get some better rolling stock.

Here is also hoping they don't get it. Terrible operator, especially after they took over Wessex Trains.

i think first need to be more proactive, more discounts on rail fares, and more importantly stock. especially on long distance routes we need to have more than three carriages please. eg. bedwyn, oxford, and further locations. there also needs to be some joined up thinking regarding GW Electrification and what stock we are having as there appears to be no orders for our replacement stock. when this stuff is sorted out, we need more stations and reopened lines to serve larger areas not served by rail but were before beeching.

Let it run out,then give it to a company thats more in tune with their long suffering travellers(two car DMU to Reading anyone?)

Does anyone in the rail industry believe anything the RMT says ? They have absolutely no credibility in the rest of the world, even the BBC and Guardian have stopped reporting their fictitious claims. They want more power and more money for their members. Fair enough. But they don't need to insult everyone else's intelligence with farcical and made up stories.

I really hope they don't give FGW an extension. They have shown very little interest in investing in the south west. The new early morning service from Paddington to Plymouth being abandoned because of this fiasco is a complete travesty.