Posted 2nd September 2013 | 8 Comments
Swindon to Kemble line reopens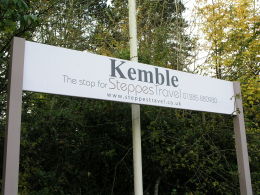 TRAINS are running again between Swindon and Kemble, after a blockade during August in preparation for redoubling the route, which has been single since 1969.
The closure allowed the single track to be slewed back into position, so that a second line can now be laid alongside. The £45 million scheme is due to be completed next Easter.
The line, which crosses the border between Wiltshire and Gloucestershire, was due to open first thing on Monday 2 September, but approval was delayed by a few hours while final checks were made and the first train scheduled to use the line was the 09.55 local First Great Western service from Gloucester to Swindon.
The first down train was the 09.36 from London Paddington to Cheltenham Spa.
An engineering train was derailed near Minety earlier in August, but Network Rail said the incident had not materially affected progress.
When the second line is opened next spring the section will be able to accommodate up to four trains an hour, because signalling has also been upgraded. Although some local halts were closed in the 1960s, the double track on the remainder of the South Cotswolds route onwards from Kemble via Stroud and Stonehouse remained in use, which means that from next year double line will have been restored throughout between Swindon and Standish Junction on the Gloucester-Bristol line..
Reader Comments:
Views expressed in submitted comments are that of the author, and not necessarily shared by Railnews.
Why only 4 trains per hour?

How much money did singling really save? Twice as many trains on the same track equals twice the wear and tear!

Sorry guys, the cost of Swindon-Kemble has escalated to £103bn. I haven't yet decided my basis for this claim, but since most of Fleet Street doesn't bother checking evidence, why don't we just save everyone's time and report this as fact?

In fact, I'll even call myself a think tank if that makes you story sound more credible. Would the Institute for Studies be a suitable name?

This is good news. Now lets have Salisbury to Pinhoe (Exeter) doubled.
This was another singling mistake.

It's schemes like these that Anti HS2 brigade ignore when they go on about spending HS2 mooney on existing network !

I suppose its because they just pass on what they are told and don't understand railways !

This is splendid news; more and more restitution of this kind of damage forced upon British Rail by - naturally - Governments in the 70s. . It would be nice if the future two tracks were to be spaced as the originals were - viz at ex-broad gauge spacing, as seen in Kemble station and many other places.

I worked for BR at the time of singling, the plans were do Kemble to Standish Junction, with a second passing loop at Stroud, it was never done as the costs outweighed the savings, I always. Wondered if it was same for Swindon to Kemble?..


Amazing stuff, especially after the wholesale carnage of the 1960s.