Posted 24th April 2013 | 9 Comments
Safety concerns delay new Eurostar trains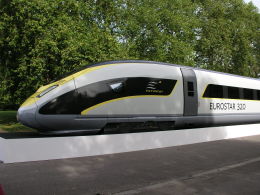 This e320 bodyshell was placed on exhibition in London in October 2010
GERMAN train-builder Siemens has admitted that it will not meet the December 2014 target date for delivering new Eurostar trains, apparently because of safety issues connected in part with the Channel Tunnel. But Eurostar said it was still working on the assumption that it could bring at least some of the new 400m 'e320' sets into service in 2015.
Siemens has already started testing the sets at its Wildenrath test site in the German Rhineland, and Eurostar told Railnews that 'six and a half' sets have been built, meaning that 13 x 200m individual trainsets have been completed – roughly two thirds of the total order for 10 x 400m trains.
The model number 'e320' is based on the fact that the new trains will have a maximum speed of 320km/h. This will be 20km/h faster than the present fleet, which was built more than 20 years ago.
Eurostar will need these sets to add more routes to its network, because they have been designed from the outset to work through from London to such destinations as Amsterdam and Geneva. Technical issues, mainly connected with signalling and traction current, mean that the present trains are restricted in practice to running in Britain, France and Belgium.
The delays are an embarrassment for Siemens, which is also running behind on a programme to build more ICE sets for Deutsche Bahn.
Siemens board member Roland Busch is reported to have told German newspaper Sueddeutsche Zeitung that "I admit we underestimated the complexity of the contract," and he would not be drawn on a revised Eurostar delivery date.
Herr Busch also pointed out that full compliance with the regulations of several countries was a complex matter, and that "how long that will take is not only dependent on us".
Eurostar in London is remaining optimistic, although the company conceded that its plans for the introduction of at least one e320 into service in early 2015 may now slip back until later in the year, 'when more than one set might be ready for a simultaneous launch,' according to a spokesman.
The shape of the enlarged Eurostar network is also staying uncertain for the moment. Various destinations in Germany, the Netherlands and Switzerland have all been suggested, but the company is declining to take the wraps off its ambitions for the time being.
This may be because it is also set to face competition on international services to London from around 2016, when Deutsche Bahn may start running between London, Germany and perhaps the Netherlands too.
Reader Comments:
Views expressed in submitted comments are that of the author, and not necessarily shared by Railnews.
On the issue of border controls, I'm beginning to think it would be easier to do all the border checks on the UK side. The current setup assumes that there would be full co-operation between the UK, France and Belgium on border controls, but as we saw with the Lille loophole that isn't happening.

Once you've got all the border checks done at St. Pancras/Ashford/Ebbsfleet, we can then open up Eurostar to as many destinations as we like on the continent. The only snag will be if we start sending Eurostar to a multitude of UK destinations, but I think we can worry about that at a later date.

How is it that Siemens can get away with delays in delivering rolling stock(including the Thameslink order) but Bombardiar get hammered?
oh yes its only anti anything made in Britain rearing its ugly head
no wonder we have 2m+out of work when we give billions of train orders away


Even though newly constructed High Speed Lines all use the same technical standards, not every single km of service routes can be forecast to use new track - for example when entering and leaving inner city locations, it may well be that these e320 Eurostar trains have to navigate their way across local infrastructure - a bit embarrassing if your brand new all singin', all dancin' trainset can manage 320km/h for 99% of the journey but breaks down just outside the station approach?

Remember also that most of the European mainland rail network boasts a common European (GC?) guage, which will allow the new Eurostars to go off (High Speed Rail) grid?, potentially providing access to new, lucrative destinations? In stark contrast to the UK, a large part of the continental classic network is not off limits due to guage restrictions, provided you can handle the local technical standards?

Safety standards and procedures may also differ slightly and safety is something you don't ever compromise on, not if you want to maintain High Speed Rail's enviable saftey record?


Chris Freel, Basel, Switzerland has hit on an issue that will not go away - in fact it will grow remorselessly over the coming years.

The UK's relative isolation, outside the Schengen Border Free Zone, effectively constrains the emergence of a level commercial playing field, between short-haul air and high speed rail - in the coming decades this will be the target market for future services operating to / from mainland Europe and the UK.

At present this problem doesn't really manifest itself for two principal reasons:
1. Eurostar remains a monopoly provider of international rail services to/from UK and mainland Europe
2. The range of destination and origin points remains limited; effectively London and Paris/Brussels, although there are a few exceptions such as the Winter direct services to Moutiers et al and the Summer direct service to Avignon (I'm not sure what border/security provisions are put in place to facilitate these services but maybe they are temporary in nature and don't incur huge costs?)

However, fast forward a decade or so and it's credible to envisage a very different scenario with:
1. A much larger array of providers, with Deutsche Bahn and SNCF at the very least and possibly Thalys, NS Hi-Speed and even RENFE, TrenItalia and Italo also joining the fray
2. Many more destinations and origins, Birmingham (courtesy of HS2, phase 1) plus Amsterdam, Köln, Frankfurt, Geneva, Lyon and possibly even Marseille/Barcelona

Some of the more populist elements of British media worked themselves into a lather over the prospect of a single weak point in Britain's alleged ring of steel to hold back imagined hordes of illegal immigrants, ie. the infamous Lille Loophole - we can only guess at their hysterics when that number enters double figures!

However, commercial pressure has a way of overcoming apparently insurmountable barriers, just look at the somersaults Theresa May must perform to encourage rich Chinese tourists currently bypassing dear old blighty in favour of the mainland continent simply because a Schengen visa is a) easier to obtain & b) provides seamless access to more or less the rest of Europe!

This is an issue we haven't heard the last of?

I thought Europe was meant to mean 'standardisation'. But judging from all the different voltages in use, there is absolutely no chance of that. Because of security risks (and public transport is the number one target of terrorists eg Madrid train bombs 2004, London Bombings 2005 plus numerous incidents from India to Ireland) it is necessary to check as much as can be checked prior to boarding. There's no point finding out you have a known terrorist on board mid-Tunnel. Airline security is so tight that Terrorists look for another target to generate publicity, and train services fit the bill nicely. I have no doubt that security will also have to be taken very seriously on HS2 if and when built.

The biggest constraint on Eurostar, or anybody else, offering more destinations via the Channel Tunnel is the ridiculous condition the British Government imposes that all passengers must have their passports checked and have their luggage X-rayed before getting on the trains, which in turn implies the current half-hour 'check-in' for Eurostar.

On a Cologne – Brussels – Paris Thalys service, half the passengers get off at Brussels, and are replaced by passengers travelling Brussels – Paris. According to the current rules, a Cologne – Brussels – London service would require a fenced off platform at Cologne, and immigration & security staff at Cologne to check all the passengers.
The same applies for people currently travelling Lille – London. The seat cannot be used for a different paying passenger Brussels – Lille.

Why cannot passport checks be done on the train, as was done everywhere else in Europe until the Schengen Agreement ended passport checks?
Until this restriction is removed any operator running services through the Channel Tunnel has an constraint on where they can economically serve.

Or, even sooner, any chance of introducing through-ticketing to Barcelona now that we're imminently getting a direct service from Paris? It seems daft that you can buy through tickets as far as Perpignan but no further even though you stay on exactly the same train to get there.

If the shape of the enlarged Eurostar network is staying uncertain then I have a suggestion to extend it even further. Given that there are many expats living in Spain and with the opening of the high speed link from Perpignan (France) to Barcelona now up and running I suggest that Eurostar should be looking towards the Iberian peninsular as a potential market. As air fares are getting progressively more expensive - even low cost carriers are not so low cost now- long distance high speed trains should be able to offer a real alternative to the airlines. If TGV can do Paris to Barcelona in 6.5hrs then it is feasible to have a daily service from London to the Catalan capital in less than 10 hours including the time difference. The new interchange at Barcelona Sants offers a number of excellent links via its magnificent AVE services to many parts of mainland Spain with discounted fares if booked in advance on the RENFE website.