Posted 23rd October 2012 | 1 Comment
London Midland cancellations 'caused by low pay'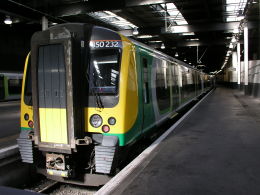 CANCELLATIONS of London Midland services are set to continue until December, the operator has warned. More than 60 trains are set to be cancelled today alone because of an acute shortage of drivers which is apparently being caused by low pay rates, while MPs are now calling for action to be taken by the Department for Transport.
The situation would be even worse if existing drivers had not agreed to work more overtime than usual.
The problems caused by the cancellations are being raised in the House of Commons. Nuneaton MP Marcus Jones has said he is seeking an urgent meeting with ministers to discuss the crisis.
The main routes affected today (Tuesday 23 October) are those between Birmingham and Coventry, Northampton, Lichfield, Redditch, Walsall and Rugeley. Another 30 journeys are likely to be truncated, with buses being deployed as replacements for missing trains.
Some other trains may also be given additional booked stops in a bid to plug the gaps left by the cancellations.
The company has blamed a 'shortfall in qualified train drivers' for the problems, which have been occurring for more than a month. At times some local lines, including those to Bedford and St Albans Abbey, have had their train services replaced entirely by road transport.
Although the company is giving few details about the causes of the crisis, Railnews has been told by an industry source that drivers have been leaving London Midland to join other operators who pay as much as 25 per cent more.
London Midland is providing a daily update of the position. In a statement, it said: 'Whilst the shortfall itself should be addressed by mid-December, we are working hard to ensure the impact on our passengers in the meantime is kept to an absolute minimum. On most days we hope to run a full service.
'We have a dedicated team focusing on delivering the train service on a day by day basis and as a result we have been able to run a near-normal timetable on all but a few days, compensating for the shortage with drivers who have volunteered for overtime.'
London Midland commercial director Richard Brooks apologised for the problems, and added: "The challenge is that it takes over 12 months to recruit and train a driver, yet we will lose drivers after three months if they choose to go elsewhere."
He also indicated that 'new ways of working' should alleviate the difficulties when new timetables begin on 9 December.
Reader Comments:
Views expressed in submitted comments are that of the author, and not necessarily shared by Railnews.
What was expected after the break up of BR. Each Company paying differently for driver and conductor, OH I mean ticket surcharge rent a cop inspector - (In BR days, just show up on a train and buy from the conductor, no problem, NOW IF you board a train without a ticket it is a Criminal OFFENCE!!!! The Rest of world, a person can still buy their ticket from the conductor. Now they are too busy trying to catch what are called 'fare dodgers'. Very wrong turn on customers!
But ECML, was the worst for Not paying to train a single driver and poaching drivers from other TOC's.
So every person knew, go to MML and get hired and trained and as soon as certified - swap to ECML for a 10 to 20k a year instant increase in pay.

Equal Pay for Equal work. Pay all train drivers the same no matter what TOC they work for and the issue of MML having to pay to train the drivers for ECML, WCML and GWR etc.

when bringing in standardised pay, not standarised poverity as this con-dem govt wants to do, TfL, why do people hired, trained, and are tube driver's - on a reasonable pay of 50k a year, after 5 years - able to swap to a office junior position at TfL HQ or a ticket office, for the same pay?
Once hired as a tube driver, a person should drive a tube till they are bored with it and quit or apply for another position with the company -but NOT pay an office junior 50k a year at TfL when the going rate is 25k a year!

Till the equal pay for equal work for all TOC's is created, MML hiring easy because they always have a shortage, but will forever not be able to keep staff when the pay is 30% to 50% less than other TOC's! lol
Only a muppet could not see that not happening haha