Posted 10th October 2012 | 16 Comments
McLoughlin reveals 'fast track' ambition for HS2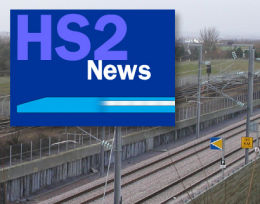 THE TRANSPORT SECRETARY has revealed that he would like to 'fast track' High Speed 2, and that the Government will defy 'grief and hassle' from backbenchers.
These now include the former Welsh secretary, Chesham & Amersham MP Cheryl Gillan, who firmly opposes HS2.
She was sacked from her government post in David Cameron's reshuffle at the start of September, but pledged that her fight would continue from the back benches.
Patrick McLoughlin said those opposing the scheme by claiming that shorter journey times were not worth the upheaval and disruption were 'missing the point', because HS2 represented a 'huge change'. He added: "The age of the train is not dead."
In an interview for the Independent, the transport secretary dismissed claims from anti-HS2 campaigners that there is a link between the collapse of the West Coast franchise award to FirstGroup and financial calculations of the prospects for HS2. He also pointed out that the scheme has the 'unequivocal backing' of the Prime Minister and the Chancellor.
Present proposals envisage a Hybrid Bill being debated by Parliament next year, with the first section of the new route opening between London and Birmingham in 2026. The next stages, to Manchester and Leeds, would follow in the early 2030s.
Mr McLoughlin said: "The easiest thing for any government to do on a project the size of HS2 is to say we're not doing it. All we get is grief. All we get is hassle. But one of the things that government has got to try and do is to look to the long-term future. Whichever route we're going to put it on we're going to upset people."
He has also revealed that he believes the timescale is too long, saying that he would 'love to' finish the project within five years, although he went on to concede that it will take longer.
He added that he is prepared to co-operate with Labour on the issue, although that could upset some Conservatives. He added: "I was very encouraged last week by what the shadow Chancellor said when he made it clear that he supported HS2 and he supported investment in longer term infrastructure.
"I think if we can get cross-party consensus that will be important. Look at what we achieved with the Olympics – we had cross-party support for that."
However, opposition groups remain unconvinced. Joe Rukin of the pressure group StopHS2 said: "Mr McLoughlin is trying the same old trick, trying to pass us off as just a bunch [of] nimbies and says we are missing the point, but it is he who is missing the point. His Government keeps getting grief and hassle because they are pig-headed about a project which is massively expensive, environmentally disastrous, not what the country needs and will not deliver on its promises."
Reader Comments:
Views expressed in submitted comments are that of the author, and not necessarily shared by Railnews.
Yes! This will be a spur for further development on our railways and it will be beneficial to the Midlands area. We are behind in railway tech and simply can't allow the West Coast mainline to be closed for enough time to be altered for the increased speeds

The curent plans for HS2 by this government will see London to Birmingham built before work starts on North of Birmingham a slow speed way to build a High Speed railway.

Legislation may fall into two parliaments but both pieces should have been complted by 2018/19 and so buliding a section in the North should be possible in the early 2020s a full 10 years earlier than currently planned.

Remember the WCML upgrade left out many sections that were not fiyt for purpose so all I am suggesting is the project be done as a single project as Lord Adonis wants.

In fact with recent electrification announcements is worth asking why projects like Thameslink have not been re-examined given that extention of Thameslink from Bedford to Bletchley would provide a useful alternative when work at Euston gets underway.

As for anti HS2 lobby its worth pointing out that HS2 will make use of former Great Central Railway which was built to Berne gauge with its builders seeing it as a cross channel railway to France via a Channel Tunnel it was fears of invasion that stopped this idea in its tracks.

Politicians should pass legislation and let railways decide on priority for building HS2!!

there are suggestions that the 3 hour cutoff point at where rail loses to air is in fact more like 4 hours due to increased security and longer check in times although this could apply to high speed trains at some point.

however the flaw with your argument is that this 3 hour rule only applies to high speed trains. at 200 mph the hs train will cover 600 miles. the aircraft has to wait for a take off slot get into the air up to cruising speed and possibly wait to land, also airports tend to be less conveniently located then stations.

hs2 trains are to run at a maximum of 320 mph which is an achievable speed now. the most modern train sets such as agv are far more efficient in fact agv is more efficient then the pendolinos despite their much lower speed.

upgrading exisitng lines is very expensive and very disruptive to passengers the £9 billion west coast upgrade has shown and within ten years will be effectively full. japan is far more crowded then the uk with all cities effectively between mountains and the sea yet they have high speed trains as do many countries. the main reason for hs2 is capacity the 320 mph speed is an important additional benefit

Quite a few interesting points in the emails so far. It seems to me:-

1/ We don't need to choose between the extremes of a 250mph HS2 or upgrading existing lines - we can have a judicious mix of upgrading ( eg. the ezisting section from Euston to Tring, to avoid the huge costs of a new line through Northwest London and the Chilterns ) and new - build "cut - off / by - ppass" lines( eg. Tring - Nuneaton, utilising ex - Great Central trackbred ) in order to give capacity relief.

2/ 250mph is unneccessary in this country -
(a)Birmingham, Manchester and Leeds are all well within 3 hours of London. Experience has shown that once journeytimes fall below a 3 hour threshhold rail has the lion's share of the market., becoming competitive with air and allowing day - return journeys. There is little point inn reducing journey times a lot further than present here.
(b)AS far as London - Scotland is concerned, a retired railway civil engineer told me that any 250mph line between Manchester and Glasgow / Edinburgh in the topography of northern Britain would be very expensive to build, so probably never will be. This implies that sub - 3 hour London - Scotland will never happen either, so that as per (a) above,HS2 can never significantly benefit this traffic.

3/ So , yes the main justification for new - build will be capacity - enhancement. 250mph is a "red herring" - 155mph ( which the latest Pendolino's can achieve) is quitr sufficient. Such capafcity enhancement can be acheived at a fraction of the £ 37 bn. cost of current proposals.

HS1 was a mess and was not built 'in budget'. I quote Wikipedia 'The whole route was to have been built as a single project, but in 1998 serious financial difficulties arose, and extensive changes came with a British government rescue plan. To reduce risk, the line was split into two separate phases, to be managed by Union Railways (South) and Union Railways (North). A recovery programme was agreed whereby LCR sold government-backed bonds worth £1.6 billion to pay for the construction of section 1, with the future of section 2 still not settled. By May 2009 LCR had become insolvent and the government received agreement to use state aid to purchase the line and also to open it up to competition to allow other services to use it apart from Eurostar.' Recently MPs had a look at the line and calculated that passenger use was less than 40% of that predicted. I suggest you all read the sorry article on HS1 on Wikipedia - its about as honest an assessment you are likely to get.

@Peter Davidson: "I'm a retired railway engineer living in Nottingham (so not a nimby) and have always been pro-railway, but I believe the reasoning behind HS2 simply fails to stack up when examined closely." - July 2011 RN reader's letter. Perhaps it was easier to question his motives than answer his arguments?
The real question here is, when the legislation has droned its way through parliament, and the construction team spent their £32 bn (on past performance more like £64 bn), what will HS2 do for us? Answers I hear are speed and extra capacity. Speed only at cost of around three times the energy (based on TGV experience), and estimated fares of £300 return London-Brum. Capacity could be increased with much less expense & disruption by upgrading Chiltern line & ex-GWR route from Paddington. Maybe the decisive point pro-HS2 is future needs into mid-century.
What I'm saying here is can't we stop calling each other nimby's and white elephants, and have a reasoned debate?

Absolutely non-sensical comments made by a minster who is so wet-behind-the ears, he risks downing himself. The only thing our railways are useful for is an investment vehicle for the rich and those in government. They can upgrade the existing infrastructure in a shorter time frame with less planning hassle and less overall damage to the environment. Just wait for the contract tendering process for this massive white elephant, no doubt lining the pockets of those mentioned above. HS2: We don't need it, it doesn't make sense, and is merely a tool for the rich. DON'T LET THEM BUILD IT!!!

@Tony, actually HS1 was delivered within budget and on time.

You're right about the other 'megaprojects' though. Even though I am fully for HS2, I think we all know it's going to cost more and take longer than they will admit.

@Melvyn Windebank: "So why not start with rebuilding Euston and the London approaches a project that will take many years and at the same time build part of the northern second stage (e.g WCML to Manchester)"

Because, for better of worse, due process must be followed - even the more modest construction you suggest would involve substantial impact, in terms of homes and businesses affected. You can't just compulsorily purchase large tracts of land, block off rights of way and access, or knock down buildings left right and centre. Enabling legislation is required to facilitate major infrastructure projects on this scale - that's what the Hybrid Bill is for and it will take until 2015 to get that document through all of its stages and receive Royal Assent, circa Jan/Feb 2015

Yes, certain things could be speeded up but there is the little matter of money to pay for all of this - there is no magic money tree available despite rumours to the contrary. The cost of HS2 will be found from the same strategic infrastructure pot currently funding CrossRail, which will complete during 2016. At that point the aforesaid enabling legislation will be in place making everything legal and therefore immune to challenge from impacted parties - then the funding and the highly skilled personnel (you don't find someone who can operate a Tunnel Boring Machine hanging around on every street corner!) currently driving CrossRail will seamlessly transfer to HS2 - you can't eat a £32billion financial elephant all at once!

Readers may believe that France does it a lot quicker but that impression may be misleading - they're just years ahead in the whole time consuming process - consultations on preferred routes take years in France.

@Jamie: "I have no proof to back this up, but would bet my tuition fees that the majority of 'Stop HS2's membership lives along the proposed route"

Oh yes, @Jamie - you'd be on a sure fire winner there alright - in fact @Bob Grundy - I'd be inclined to suggest that your mythical retired engineer turns out to be someone living somewhere very close to the approved Route3 pathway?

Despite the postive noises coming from the new SoS for Transport, readers who think HS2 is a done deal might like to think again - most of the rhetoric you see in the press is simply paper talk - most of the action is going on quietly behind the scences. For the anti-brigade, readers might like to check out a company called "Quiller Consultants" engaged at no small expense by various Chiltern based campaign groups (where's the money coming from I say?) to lobby on their behalf?

First we have the Judicial Review (December this year), which I believe is a deliberate stalling tactic and relative sideshow - later on, when the Hybrid Bill enters Parliament (Oct 2013) we'll see the real action begin, with anti-campaigners trying their darndest to get supporters on to the all important select committee in an attempt to sabotage the Bill's progress.

Fortunately Hybrid Bills are special in the sense that should it fail to reach Royal Assent before the next General Election, it can be put in temporary stasis and then reactivated after the new govt is formed - given that HS2 has cross party support this should see the Bill go through eventually, one way or another but you can bet the anti-campaigners will fight tooth and nail until the first hard hats arrive on site and start digging!



When Brunel built the Great Western Railways trains could hardly reach 10 mph and yet he built a railway that can cope with 100+ mph so why cant we emulate Brunel and build lines for up to 300 kph?

It needs to be remembered that the WCML upgrade hardly touched the southern end of the route which is the most congested and trying to upgrade that would mean masive demolition of properties in North West London!!

In addition trains leaving Euston have to pass under the Regents Canal and with High Speed trains needing more space the line is going to have to be lowered which provides the opportunity to put into tunnels the line through Inner London and beneath much of the countryside it will pass through.

However, HS2 should as Lord Adonis planned be built as a single project even if two lots of legislation either side of an election is required as both parts should still be done by 2018.

So why not start with rebuilding Euston and the London approaches a project that will take many years and at the same time build part of the northern second stage (e.g WCML to Manchester) this could mean that in less than 10 years maybe only around 5 faster trains to Manchester using existing Pendolinos running at 140 mph could be in operation and freeing up capacity on WCML and lines around Manchester.

In fact the total cost of the project of £32 million might even be reduced if this policy was adopted along with allowing Network Rail to include HS2 upgrades in its on going programmes of works (e.g new bridges for HS2 when upgrading lines below!).

As for the NIMBYs well these are people who have always got their owmn way and will have to learn that "The good of the many outweigh the interests of the few!".

This is indeed a very good time for the Government to borrow money and invest in the rail network. For example the Brighton Line bypass through Lewes. France is very different to the UK. Their towns and cities are spread around the Country not all in one place (the South East as in the UK). There are large tracts of land with no houses or even farms. Almost wilderness is some places. But even they have to pay around £500 million a year to subsidise the running costs of their TGV network.

The new High Speed Trains' carbon footprint per passenger is greater than the Flybe Dash Q-400 plane which is the backbone of most internal flights in this country. (Flybe' biggest shareholder is BA and operates many of routes that used to be BA run.) Not exactly a very green railway. Governments don't have a good record on predicting the cost of big projects (Olympic Park, Millenium Dome, Channel Tunnel, HS1) or their future patronage or at running them profitably. They were all built well and on time but thats about all. There is a case to be made that the Birmingham to Euston line is now full of trains and needs upgrading but that can be solved in other ways. For example taking freight away onto another line or pricing passengers off that part of the WCML and onto the slightly slower Chiltern Railways. But we have never had that debate. It was just 'we've decided what to do and don't argue'. And if HS2 is agreed what about making it slightly slower with other stations eg Kenilworth Parkway and at Amersham ? Again no debate. The Government always knows whats best.

If Mr McLoughlin thinks the project is going to take too long, why doesn't he at least try to speed things up? It's at least good to hear that the government are optimistic about cross-party consensus, despite many Tory back-benchers' clear plans to vote 'no'. We all know that the "'unequivocal backing' of the Prime Minister and the Chancellor' means nothing when the Prime Minister and the Chancellor happen to be Zippy and George.

I have no proof to back this up, but would bet my tuition fees that the majority of 'Stop HS2's membership lives along the proposed route and so they are indeed NIMBY's, and that any genuine economic or environmental concerns are very much the minor reasons for their stance.

HS2 is not a straightforward question. A recent letter in Railway Magazine from a retired engineer argued that traffic capacity could be greatly increased by maximising use of existing routes e.g. Chiltern (a few short by-passes to ease bottlenecks, plus some electrification): that energy use increases exponentially with speed so that to go much faster than HST's 125 mph will cost the earth, and that our govt only wants high-speed tracks because other countries have them.
I'm all for progress on our railways, but before supporting HS2 I want cogent answers to those points.

It seems like now is a good time to have major projects like this, which secures civil engineering skills and jobs.

Does anyone know how France can build her TGV network within a shorter time scale, without upsetting too many people?