Posted 12th September 2012 | 6 Comments
Thameslink deal to be signed by 'end of year'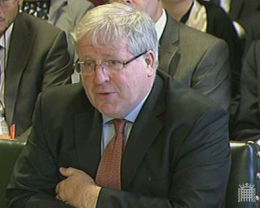 Transport secretary Patrick McLoughlin (image: Parliamentary copyright)
THE NEW transport secretary Patrick McLoughlin has revealed that the completion of the Thameslink rolling stock deal with Siemens has slipped again, potentially to the 'turn of the year'. He was giving evidence to the Commons Transport Committee, who also heard that he intends to sign the West Coast franchise with FirstGroup 'when we can'.
Mr McLoughlin has been in his job for seven days, which he joked was five days longer than his predecessor Justine Greening had been allowed before she made her first appearance before the Committee.
He said he regretted the dispute which had arisen with Virgin Trains, about which he was 'very sorry', and paid tribute to Richard Branson, but confirmed he was 'content' with the award of the West Coast contract to FirstGroup and satisfied that due diligence had been shown.
On the controversial assessment of risk which is the main subject of a legal challenge by Virgin, who feel FirstGroup's 'subordinated loan' of some £200 million should be three times as much, the Committee was told by DfT permanent secretary Philip Rutnam that the issue could not be dissected in detail, because it might be discussed in court.
Committee chairman Louise Elllman said there had been 'some concerns' about the way the Department measures risk when it awards franchises. She suggested that First had been asked to discuss the element of risk with the DfT, and asked what negotiations might take place with potential franchise holders.
Philip Rutnam said he was restrained from giving too much detail by the possibility of a High Court review, but there had been an 'exhaustive consultation process' as part of the franchising programme.
He added: "The process which we are adopting in this round of franchising has developed from the process which was used by previous administrations, in that we are trying to take a more sophisticated and evidence-based approach, which involves more detailed financial models supplied by bidders and more detailed scrutiny of those models by the Department."

In answer to a further question about whether FirstGroup could still realistically take over West Coast on 9 December, Mr McLoughlin replied: "Obviously, I wouldn't want it to be protracted, and I will keep a very close eye on that. There will contingency plans that we make -- I am determined that the trains will not stop running. There are powers that are vested in the secretary of state under the Railways Act to make sure that happens."

Questions were also asked about the outstanding Thameslink rolling stock order, thought to be worth some £1.4 billion, for which Siemens was named as preferred bidder in June 2011.
The outgoing rail minister Theresa Villiers had told Parliament in a written statement as recently as 3 September that the DfT expected to sign the Siemens contract 'early this autumn'. However, Mr McLoughlin said the Department was 'working closely with Siemens', and it was hoped to sign the contract 'certainly by the turn of this year' when some 'procedural issues' had been resolved.
Meanwhile, a spokesman for FirstGroup confirmed to Railnews today that routine arrangements for a West Coast takeover on 9 December are continuing.
Reader Comments:
Views expressed in submitted comments are that of the author, and not necessarily shared by Railnews.
I found McLoughlin's reference to "procedural issues" with regard to Thameslink very interesting; this is exactly what some of us have been arguing for over twelve months. Moreover, if the Transport Select Committee had properly understood some of the expert evidence given to them when they discussed this project in September 2011, they should also have reached the same conclusion.

MikeB I agree a crazy situation but I reckon the Secretary of State for Transport must be the only one in cabinet that has a swivel chair, to make it easier to change persons!!

As it maybe another four/five years before any of the new trains are delivered from Siemens, the Class 319s will have to remain with Thameslink. As a result, the electrification between Manchester and Liverpool and Liverpool to Wigan will be completed but Northern will be forced to soldier on with Class 156s, 150s and Pacers under the wires. A crazy situation!

End of the year he must be a slow learner!!

Time enough to reassess Bombardier?

What a waste of time this whole committee thing is,its blatantly clear that the WCML deal is a rigged parlay to get the troublesome Richard Branson out of the railway biz,and isn't nice to read the the DFT is working closely with Siemens over another botched deal,so glad that us taxpayers are keeping thousands of Germans in work