Posted 18th November 2011 | 5 Comments
Train orders vital to Bombardier's survival in Derby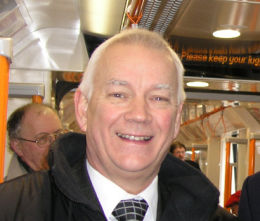 Mr Walton has warned that the future of Bombardier in Derby now depends on two orders
THE OUTGOING chairman of Bombardier in the UK has warned that two potential orders are vital if the company's train-building works in Derby are to survive. The plant at Litchurch Lane is the last of its kind in the country, but it's running out of work.
Colin Walton is to retire in February, and his job is to be divided between two successors, one of whom is starting now.
Sir Neville Simms has been appointed non-executive chairman of Bombardier Transportation UK Limited. He was previously deputy chairman of International Power plc and chairman of the Building Research Establishment Trust.
When Mr Walton retires, his other duties – as chief country representative – will be taken over by Paul Roberts, who is being promoted from his present post as vice-president of Bombardier services in the UK.
But Mr Walton's two successors are taking over at a critical time. A project to electrify 57 CrossCountry Voyager units by inserting an additional pantograph car is now being considered by the Department for Transport, after more than two years of discussion behind the scenes.
A second order, for which tenders are being invited, is for 130 electric multiple unit vehicles for Southern, which are needed because delays in the Thameslink rolling stock procurement programme mean that 23 Class 377 units now in service with First Capital Connect will not be returned to Southern in December 2013, as had been originally planned.
Although the tender published for Southern's extra rolling stock cannot be specific about the manufacturer, there are high hopes that the choice will prove to be Derby-built Electrostars, because Southern already has a large fleet of them. If its new trains were bought elsewhere, creating a new and different fleet, this would have long-term implications for operation and maintenance, adding to the total cost.
But while these matters are in the balance, the future of the Bombardier works at Litchurch Lane remains in doubt, along with 1.500 jobs.
Mr Walton said: "The critical thing now is the workload, particularly in engineering and manufacturing. The Voyagers, and EMUs at Southern, are vital projects. You can have the best people in the country, but you need the workload."
As things stand, Litchurch Lane is set to stay open until 2014, when it is due to complete a current order for a new subsurface fleet for London Underground. At the moment, it has no work after that.
Reader Comments:
Views expressed in submitted comments are that of the author, and not necessarily shared by Railnews.
Mr Lutz may think that it " sounds like political arm-twisting" but that's not the way it sounds or looks to all those who work at Bombardier, Derby and whose jobs are threatened. Why cannot I get it out of my head that this would not have happened under Lord Adonis? Certainly I am not a Labour voter, yet the whole business stinks of Toryism. It's easy to be pragmatic, "even-handed" and "reasonable" up in good old Whitehall and Westminster - when your job is not threatened. So, yes, Bombardier must indeed put up a good case for new contracts, but let's not forget that Hitachi bring work, but only assembly work, for just 500 people 100 miles north of Derby whereas Bombardier stands to lose proper construction work for well over 1,000. Try being "rational" about that sort of callow, cruel behaviour!

The Picadilly line was awarded to CAF of Spain anyway, so would not have helped the team in Derby if it had gone ahead.

The fact that Bombardier Transportation are part of a Canadian company is not really relevant. What's important is that Bombardier design, test and build trains in the UK, other companies (Alstom, CAF, Hitachi, Siemans) do most of the work abroad.

The plan for cross country trains should be extended to ALL Meridian and Voyagers thus makin them all able to use the hundreds of miles of overhead they run under every day. Doing this would make it possible to go ahead with small infill electrification on sections of lines where these trains run but have not yet been wired (e.g tracks and sidings south of Bedford on MML) doing this would also help the case to electrify freight trains as it is sometimes these holes that prevent freight using electric or boi-mode haulage.

In London Mayor Boris has added to Bombardiers woes in not proceeding with new trains for the Piccadilly Line which could have formed a follow on order to the S Stock and thus at least kept Litchurch Lane with some trains to build.

In fact the delay in ordering Piccadilly Line trains provided an opportunity to look at whether the Rayners Lane branch would be better served by the District Line with trains that are compatible with the Metropolitan Line over the joint section to Uxbridge. The main advantage would be platform/track could be adjusted to be step free for all trains and not either S Stock or tube stock.

The above would allow a more frequent service to cope with growth at Heathrow while a percentage of trains could go to Ealing to replace District Line trains and make Ealing trains compatible with each other being Central and Piccadilly Tube stock.

The importent thing to remember is that Bombardier is a Canadian Company and that our railways are not the same gauge as on mainland europe and so if we cant be boverred to order trains from them then what is the point in having an offshore plant with the added costs of transporting trains to buyers in europe!!






Sounds like political arm-twisting to me.