Posted 15th June 2011 | 4 Comments
Bombardier wins major Underground signalling project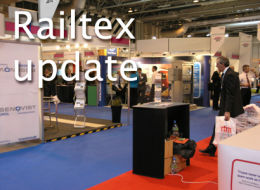 Bombardier has been awarded a £354 million contract to renew the signalling on the subsurface lines of London Underground.

The work will take seven years, and the company said the deal was the largest it has ever won for a signalling project.

The new equipment will be Bombardier's CITYFLO 650 ATC system, which has recently been successfully introduced on the Madrid Metro.

It will end the need for lineside signals and their associated trainstops -- the small paddles alongside signals which trigger a brake application if a train does not stop at a red aspect.

The trainstop system is almost a century old, and for several decades was the standard on London Transport railways, giving a very high standard of safety.

The subsurface lines are the Metropolitan, Hammersmith & City and District. Circle trains mainly run over sections of these lines, with the circle being completed by short stretches of dedicated track.

In all, 310km of track will be resignalled, and the small number of new S-stock trains which have been delivered recently from Derby will be retrofitted. Most of the S-stock order of 191 trains has yet to be completed, and these will now be fitted with the additional equipment as standard.

In some cases the traditional signals will be retained, to handle other, older trains which share their tracks with subsurface lines, such as between Hammersmith and Acton Town.

The conventional signals will disappear from the outer sections of the Metropolitan Line first, but only after a period of dual working to allow any bugs to be ironed out.

The seven-year installation phase will be followed by a two-year warranty period and then a ten-year maintenance contract.
Reader Comments:
Views expressed in submitted comments are that of the author, and not necessarily shared by Railnews.
With the delay iin ordering new trains for the Piccadilly Line surely it would make sense for TFL to look at tranferring the Rayners Lane/Uxbridge service to the District Line with new S stock which would be compatible with Metropolitan Line trains allowing level platforms for both lines at joint stations.

With the Picadilly Line becoming Cockfosters to Heathrow thus increasing the Heathrow service to cope with rising demand ahead of crossrail espevcially as the Airtrack scheme seems to have hit the buffers.



"Shame it wasn't given to a British company." Geraint Griffiths

Like who?
Bombardier in Plymouth bid for this work and engineers there will be heavily involved.


Shame it wasn't given to a British company.