Posted 28th July 2011 | 4 Comments
National Audit Office to probe Thameslink contract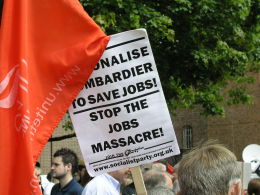 THE NATIONAL AUDIT OFFICE is to scrutinise the government's claim that awarding the £1.4 billion Thameslink rolling stock contract to Siemens meant better value for money for taxpayers than the competing bid from Bombardier, which would have built the trains in Derby
The announcement that Siemens had been chosen as the preferred bidder and would build the 1,200 vehicles in Germany sparked major protests in Derby, which were intensified when Bombardier responded by shedding more than 1,400 jobs at its works in Litchurch Lane in the city.
This amounts to almost half the current workforce, which had included about 900 agency workers on short-term contracts. All the agency staff are set to go, plus more than 400 permanent staff.
The controversial government decision was followed by a petition bearing 50,000 signatures calling for the transport secretary Philip Hammond to look at the selection of Siemens again, especially when it was revealed that the evaluation took no account of the effect on the wider economy.
Thousands of people staged a mass demonstration in Derby on 23 July, where a rally heard from local MPs as well as Bombardier chief Colin Walton and RMT general secretary Bob Crow.
A spokesman for the NAO said: "If we decide a review should take place, we will make recommendations to the Public Accounts Committee who would, in turn, make recommendations to the government.
"We have no powers, nor should we have, to overturn a decision made by the government."
The NAO will look first at whether there is a case for examining the official calculations and, if so, will go on to launch a full investigation in October.
Reader Comments:
Views expressed in submitted comments are that of the author, and not necessarily shared by Railnews.
This is excellent news.
Let's hope that the NAO looks at the wider picture and the effect the loss of this contract will have on the economy as a whole ie increase in government spending in the form of benefits to the unemployed; loss of tax revenues from those no longer in work; the socio- economic impact on Derby and its surrounds: the probable permanent loss of train making capability in the UK and, therefore, total reliance in foreign built trains in the future: the fallacy that the Siemens deal would create 2000 new jobs - these would also have been created by Bombardier if they had got the deal.


As a resident of Derby I hear that Seimens have been approaching the Bombardier staff in an attempt to recruit them because although Seimens were awarded the contract they don't actually have the skill set to complete it? Is this true? If so why more not being made about this? If it is true then it is scandalous!

Speakes volumes dosen't it? Even if the NAO does not find the Government acted improperly, it does show that the way in which the Government evaluates contracts and the Thameslink rolling stock contract in particular, is questionable.