Posted 8th June 2011 | 4 Comments
Delayed Chiltern Mainline launch date revealed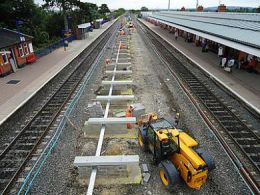 CHILTERN RAILWAYS will launch its delayed Mainline service in September, when it will start to link London and Birmingham in 100min.
Work on the necessary infrastructure improvements overran earlier this spring, delaying a hoped-for launch in May.
The project, known as Evergreen 3, was originally being run by Chiltern, but after serious problems emerged the Office of Rail Regulation intervened, and Network Rail took over management of the scheme at the start of March. The ORR said there were 'significant risks to timescales', which was why it had taken action.
At the time, the ORR's director of railway planning and performance, Michael Lee, had said: "The risk of not completing it on time to introduce new services in May had been growing and that was behind the decision to hand over project management to Network Rail."
Chiltern Railways chairman Adrian Shooter apologised for the postponement, but said it was preferable to a period of 'unplanned disruption'.
He added: "We are obviously disappointed to be postponing the launch of the Chiltern Mainline but do believe it is the right decision for our passengers. We are undertaking this project to offer a better service to passengers and are keen for customers to see the benefits of our investment as soon as possible. However, we would rather spread the work over a slightly longer period and enable our passengers to plan their journeys with confidence."
Chiltern now says it is on course to launch its new improved services on 5 September.
The infrastructure Improvements which are an essential part of Evergreen 3 have included two more restored platforms in the original GWR terminus at Birmingham Moor Street, as well as a new platform at Bicester North, an additional fast line at Princes Risborough, new crossovers and a new double-track bridge at South Ruislip.
Reader Comments:
Views expressed in submitted comments are that of the author, and not necessarily shared by Railnews.
One thing you have to bear in mind with the Chiltern Mainline is that it is a very simple line with little competition and only the ORR to crack the whip. The trains are rarely late past their 5 minute window (it 10 minutes for the rest of the country!) and the trains feature comfortable seating with airline seating and importantly for a london route, power sockets for laptops and phones.

NXEA have made no investment in, GER line because they paid ridiculous prices and made no promise of significant investments other than what is effectively repair and replacement work. Nothing innovative - and that ECML services has been a jinx for everyone who has tried to run it. And in both of these cases, both the GER and the ECML is hugely complex. Did you see the amount they had to spend on the WCML.

With the simplicity of the Chiltern Mainline, it's no wonder that privatisation has worked in this case. The same for the privatised service on the Isle of Wight.

if the germans can run our railways better than incompetent bus companies,then let them do it

Afraid to report that this is another step in the gradual takeover of our rail network by large european state owned rail carriers who are protectionist at home and refuse to open up their own networks to competetive forces, whilst at the same time persue profits in open 'markets' like the UK.

Chiltern Railways have been a success story of privitisation with a programme of re-opening lines closed in the Beeching era leading to a new mainline to Birmingham via the chilterns. Announce this scheme to-day and you would have NIMBYS coming out of the woodwork!!!

And now a link to Oxford is planned followed by the east-west project showing a better way of privitisation although Chiltern is now run by DB and is has in theory been re-nationalised withnGermany owning it!!

Perhaps a way of getting the BML2 project could be found using the same formula?