Posted 15th April 2011 | No Comments
Eurostar reports rising revenue and passenger numbers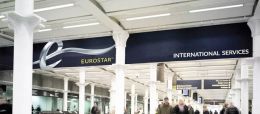 EUROSTAR has reported a rise in passenger numbers for the first quarter of 2011, and says the imminent Royal Wedding has produced a 'surge' in bookings to London.
The company said its year-on-year revenues for the first quarter were up by 10.7 per cent, to £197 million, while passenger numbers rose 7.5 per cent to 2.15 million.
The increases are being attributed to strong growth in business markets, especially the financial services sector, and also robust leisure market performance, driven in part by a rise in passenger bookings originating in the United States.
The company does concede that the first quarter last year was exceptional, because its services to Belgium were restricted for two weeks in February following a collision between two domestic SNCB trains which blocked the route south of Brussels.
Even so, Eurostar chief executive Nicolas Petrovic welcomed the news, although he warned that market conditions remain 'uncertain'.
He added: "Following the transformation of our business to a single unified company last year, we have made significant progress in seizing the opportunities presented by an open-access, deregulated world. We are set to see a revolution in European rail travel and in common with other industries post-deregulation, travellers can expect to see a raft of innovation in the coming months and years."
The company is currently improving its services to passengers. From May Business Premier ticket holders will benefit from more flexible boarding rules, allowing them to change their train of choice at the last moment, while new menus developed in collaboration with Michelin Three Star chef Alain Roux have been introduced today.
Meanwhile, leisure travellers are being wooed by new offers and competitions. These include partnerships with Jamie Oliver and the restaurant group toptable which will give Eurostar travellers discounts in London, Paris, Brussels and Lille.
Eurostar has also now launched the first phase of its rebranding, having replaced the long-familiar logo which has been used since direct train services were introduced between London and the Continent in late 1994.
Its website now reflects the new identity, which among other things has abandoned the three lines in the logo which represented the UK, France and Belgium. Eurostar is actively preparing to serve more countries by 2014, including Switzerland and the Netherlands, and its plans include the acquisition of ten new Siemens trains which will be capable of running at 320km/h.
This will be the first time that Siemens trains have been used in the Tunnel, because the original Eurostar fleet was built by the French company Alstom.
The proposed introduction of German-built units has been dogged by objections from the French government, which claimed that the units do not meet Channel Tunnel safety requirements.
However, the latest indications from the Channel Tunnel Safety Authority are that some of the restrictions are likely to be eased in the light of more than 16 years of operational experience.