Posted 15th September 2010 | No Comments
DfT agrees surprise extension for NX East Anglia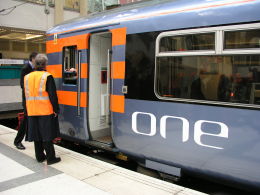 The National Express East Anglia franchise began in April 2004, and was branded 'One' until a couple of years ago.
NATIONAL Express Group has won an unexpected extension of its East Anglia franchise, and city observers are hoping that the development is an indication that its frigid relationship with Government is starting to thaw.

Troubled NXG became unpopular with ministers last year, when slack revenues forced it to relinquish the East Coast franchise only a short time after taking over as the successor to GNER, which had also failed for the same reason.

The transport secretary at the time, Andrew Adonis, claimed that NXG's failure on East Coast would entitle him to terminate the group's other franchises of East Anglia and c2c. This interpretation of the rules was disputed, and never put to the test in court.

Instead, Lord Adonis made sure that no NXG franchise extensions, which had been optional, would go ahead, and it was rumoured a year ago that National Express could be preparing to abandon the rail industry altogether.

As things stood at the time of the election in the spring, both East Anglia and c2c would have ended in 2011.

But now the DfT has relented sufficiently to allow a modest extension of the NX East Anglia contract, of seven months.

It's understood that a further extension could follow, and that talks are also underway about extending the c2c contract as well.