Posted 12th October 2009 | 7 Comments
Stagecoach takeover of East Anglia and c2c moves closer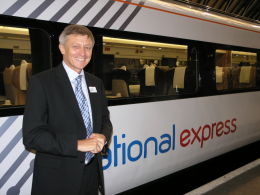 David Franks, the Chief Executive of the NX Rail Division, who was also the MD of NX East Coast when it began in December 2007. He is seen here on the launch day.
National Express could be set to leave the rail industry within a few weeks, according to industry sources. The East Anglia and c2c franchises are expected to transfer to Stagecoach, while ATOC says East Coast will be in the hands of the DfT by early December.

It had been thought that an announcement would be made about East Anglia and c2c by 16 October, but the Spanish buyers of National Express are expected to ask for more time to complete the due diligence process before confirming their offer. Any remaining uncertainties are thought to concern the Spanish coach operations of NX, rather than its assets in Britain.

Stagecoach Group has been involved in three-way talks with National Express and the Department for Transport for at least two months, and Railnews understands that a transfer of the two rail franchises has already been agreed. However, the East Coast contract is still set to be taken back in-house by the DfT. A spokesman for ATOC said today that NX is expected to surrender the franchise within the next six or seven weeks at most.

The Spanish Cosmen family, who are making a bid for NX worth £765m, are proposing to break up NX if the deal goes ahead, which would allow Stagecoach to take over the British arm. Although the East Coast franchise will be effectively renationalised under current plans, Stagecoach is expected to acquire the East Anglia and c2c rail franchises, the Midland Metro tram concession and the bus companies National Express West Midlands (formerly Travel West Midlands) and National Express Dundee. However, Stagecoach stated on 3 September that its negotiations do not include National Express coaches, and the remaining acquisitions will require the approval of Stagecoach Group shareholders.

National Express has been hampered by rising debts, currently around £1bn, and its East Coast franchise has also been badly affected by the economic downturn. The premiums agreed with the DfT from December 2007 involved an average payment of £500 000 a day over the life of the franchise, which would have run for just under eight years. By comparison, premiums for the previous GNER franchise, which failed at the end of 2006, were equal to payments of £350 000 a day over ten years.

NX has been renegotiating its loans with banks, and these talks are continuing. The latest offer from the Cosmen family, which already owns 18.6% of National Express, values the Group at 500p a share. Cosmen is working in partnership with private equity group CVG to conclude the takeover.

Stagecoach said it had already announced its interest in National Express to the Stock Exchange, and had no further comment to make for the time being.



Reader Comments:
Views expressed in submitted comments are that of the author, and not necessarily shared by Railnews.
Stagecoach are usually the best performer where they have competition from another large group. But where they are alone - OMG!!! YOU PAY MORE FOR THE WORST SERVICE IMAGINEABLE

Since 1994 there's been Anglia, One, Nat Express, and now it looks like Stagecoach are going to give it a go.
I just hope that sooner or later we can experience some long term stability and maybe even some improvements with our rail service in the Anglia region.
After all we can all dream can't we.?

I say at this point in the economic climate that it would be in the nations best interests to re nationalise the united kingdoms rail services, less hassle more sense I just really worry for our country, where will we be next year?


Jake, you're lucky living in Birmingham. I was unfortunate enought to 'enjoy' NX's bus services in Coventry when I lived there in the 90s. THey are pathetic, every 20-30 mins at best, some operated by A-plate Metrobuses which are still on the road now. Yes, A-plate means they were registered in 1983! Leamington and Nuneaton are smaller but get a more intensive service from the Stagecoach Warwickshire operation using more up-to-date kit. Coventry will benefit greatly from having Stagecoach integrating Cov garage operations with Leamington and Nuneaton, operating high frequencies on key corridors rather than low frequencies round housing estates.

This is dreadful.
Stagecoach are the worst of all the public transport empires.
Their joke business model runs it like an airline, throwing words like Mega and Super before ticket names.
They run services down to a tooth and nail, squeezing profits out of every cranny possible. How many staffed ticket offices in Norfolk will see the same fate as those in Hampshire (Open 3 hours a day at best).
National Express do a fine job running the West Midlands buses, looks like all that's set to go down a terrible hill.
And their disgusting livery which resembles a 'Clash the most colours' competition just adds insult to injury.

I do not look forward to buying my ''Superfare'' from Liverpool St to Norwich not at a ticket-office, nor do i look forward to riding the Birmingham Megatram, ¬¬

Good riddance i say, they ruined the east coast service after taking over from the excellent GNER.
To be honest the whole of the rail industry would be better off without all of the tin pot bus operators.