Posted 29th September 2009 | 9 Comments
HS2 will be the 'Union Railway' of England and Scotland - Adonis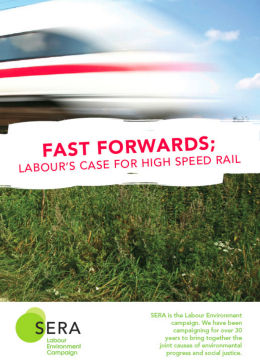 TRANSPORT Secretary Lord Andrew Adonis has declared his commitment to a new high-speed rail line between London and Scotland, speaking at the Labour Party conference in Brighton.

"I see this as the union railway, uniting England and Scotland, north and south, richer and poorer parts of our country, sharing wealth and opportunity, pioneering a fundamentally better Britain," he told delegates.

Setting out his policy for high-speed rail, Lord Adonis said: "My support for high-speed rail as an alternative to short haul flights was described recently as 'insane' - insane by no less an authority than Michael O'Leary of Ryanair. ... But let me say something about sanity and insanity in transport policy.

"Insanity would be planning yet more motorways and short-haul flights between our major cities where high-speed rail can meet demand.

"Sanity is to plan for the 21st century with 21st century technology - fast, clean and green. High-speed rail wins on all counts. For large passenger flows between major cities, it is far more energy efficient than cars and planes. It gives huge extra capacity. It slashes journey times and it takes people to the centre of cities connecting directly into other public transport. That's why I think that for Britain, high speed rail is a no brainer.

"Most of Europe and Asia thinks so, too. In Europe alone there are now 3,600 miles of high speed rail, plus an extra 7,300 miles in construction or planning.

"The trouble is that only 68 of those miles are in Britain, and even those 68 don't connect any of our major cities, much as I love Folkestone.

"By contrast Paris-Marseille, Frankfurt-Hannover, Madrid-Barcelona, Rome-Milan - all are now linked by 200 mph high-speed trains ... yes, displacing thousands of short-haul flights in the process. But London, Birmingham, Manchester, Leeds, Newcastle, Glasgow, Edinburgh - all are still dependent on slow, saturated, Victorian railways.

"Two thirds of journeys from Scotland to London are therefore by plane.
This must change. That's why over recent months my team has been working so hard to prepare a high-speed rail plan for Britain.

"It won't be easy. A north-south high-speed rail line is a 20-year project, with big planning and financial implications. But I've always been an optimist not a fatalist, and Labour's whole approach to this great project will be one of 'can do' not 'can't do'."

CYCLING HUBS

Lord Adonis also confirmed the plan to invest £14 million in new cycle hubs at many stations in the north of England and central London, which was announced by the DfT at the start of this week. Four franchise holders are to receive a share of the new investment.

One of the four, Northern, has told Railnews that it is now drawing up detailed plans for improved cycle facilities at a number of stations in the Leeds area, and that it hopes to publish a list of the stations involved during the coming month.

Lord Adonis added: "Joining up different ways of travelling is fundamental to green transport. Not just bikes and trains but better bus interchanges, more car parking at stations, more parkway stations, encouraging people to leave the car at home or to use it for only part of their journey."
Reader Comments:
Views expressed in submitted comments are that of the author, and not necessarily shared by Railnews.
I would really like to see an intermediate stop around the Brackley/Bicester/Buckingham area to take some of the traffic off of the M40.

Also, what about Rail Freight?

I have read the HS2 report tonight and find it is all about about profit and not about decongesting roads, saving money and providing people with a service (not a business). Am I surprised? No...

Bill Roberts is right in some ways but factually wrong about the Great Central. Much of the solum is still available. The only significant construction on the southern part of the route is at Brackley (an industrial estate) and it would not be difficult to divert the line to the east of the town.
Nor have we quite lost (yet) all our major railway engineering workshops. The current value of the pound against the euro may well lead to it being worthwhile to build the trains here.

Agree 100% with these comments,says it all really,id add lets dig up
Beeching's body and hang it up outside NRs HQ he really was the railways
grim reaper.

SHOULD HIGH SPEED 2 CALL AT PRESTON & CARLISLE ALONG THE WEST COAST FOR THE BENEFIT OF THE LAKE DISTRICT & THE WAVERLEY ROUTE IF IT IS REBUILT & RE - OPENED & THOSE WHO LIVE ALONG THE SCOTTISH BORDER WITH NO PUBLIC TRANSPORT IN THEIR TOWN OR CITY AS WELL AS NEWCASTLE AS ITS A JOURNEY FROM WHERE IN THE LAKE DISTRICT TO THE CONTINENT & SHOULD ANDREW ADONIS CONSIDER THIS IN CUMBRIA & DUMFRIES & WITH THEIR MP!!!

As I have said before we spend too much time talking it about and carrying out study after study whilst the rest of Europe gets on with it. Why do we have to wait 20 years to see HS2??

I am also concerned that the funding may not be available given the state of our finances and not only do I fear this investment won't be available for HS2 but I fear for some of the existiing big schemes are now at risk when the spending cuts come along like Crossrail which may have to be scrapped or at the very least put off until this country can afford them.



British transport policy has been a disaster for the railways since 1946.
1. Refusal to rehabilitate and invest to make good the disrepair caused by goverment service during WWII.
2. Failure of HMG to support and execute the 1955 Modernisation Plan of the British Transport Commission.
3. Anti railway policies of HM Treasury and Transport Ministers, including Ernest Marples MP who undercut the 1955 Modernisation Plan.
4. Beeching Report published 1964 and commissioned by Marples
5. Execution of Beeching Plan by Labour Governments, starting with Harold Wilson in 1965
6. Sysematic attempts by successive Conservative and Labour governments during the last 60 years to emasculate a viable railway system in defiance of all social environmental and economic arguments to the contrary
What a mess and what a tragedy.

It's a pity this is all being talked about now.It should have been done when we had the so called good years under Labour and borrowing every year of there mismanagement of this country, And this is why it probably won't happen
1 The tories will get in.
2 The economy will be found to be in such bad state we won't be able to afford it.


The British continue to suffer the consequences of the Beeching era.
The only main line line in England built to European loading gauge able to accommodate through traffic from Europe, The Great Central, was the only north south main line closed and allowed to be ripped up and the land built upon. What foresight!!! The cost of upgrading this path to high speed would have been far less than the current projected costs.
In the 1930's steam engines frequently traveled on the east coast main line at 100mph. By 2009 you have advanced just by 25mph. Some progress for a world leader!
Today Britain is broke. The value of the pound is falling making the purchase of High Speed trains from abroad even more expensive. Oh yes! I forgot to mention that all your major railway workshops in the UK have been closed down.
HS2 will remain a pipe dream for many years.
Look on the bright side you probably still have the fastest steam trains in the world.

And what about Manchester - Cologne and Preston - Paris? But to get to Manchester I have to travel from Blackburn on a worn out and often dirty DMU at a speed which isn't much better than in steam days on a line that is desperately in need of its singled section (an economy measure in BR days) being redoubled. And to get to Preston I might have to travel in a lousy Pacer so that I can reach London a bit quicker!
So let's not forget that our regional routes need urgent investment at a fraction of the cost of HS2 or 3 or 4 and would benfit a great many people on a daily basis.