Posted 28th September 2009 | 4 Comments
Prime Minister 'excited' by high speed rail and a new Age of the Train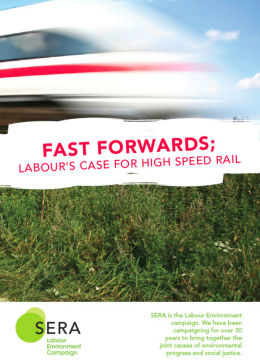 Fast Forward pamphlet cover
PRIME Minister Gordon Brown said today he was "excited by the role that High Speed Rail could play in a low carbon future."

High Speed Rail would provide a "fast, low carbon network" linking the nations and regions of the UK, he wrote in a introduction to a pamphlet published on the first day of Labour's annual conference in Brighton entitled 'Fast Forwards - Labour's case for High Speed Rail.'

In his message, the Prime Minister writes: "It is telling that those countries that have built High Speed Rail are now building more of it.

"The figures are compelling: there is currently 5,598kn of High Speed lines in Europe, 3,474km under construction and a further 8,500km planned.

"And the enthusiasm for High Speed Rail extends far beyond Europe. Japan currently has 2,452km of High Speed lines. By 2025, China plans to have 8,311km. President Obama has described High Speed Rail as: 'a smart transportation system equal to the needs of the 21st century.'

"The UK has opened its first High Speed Rail line between the Channel Tunnel and the wonderfully refurbished station at St Pancras. But as a country we need to now move further, faster. We must show how we are going to be part of the High Speed Rail revolution sweeping across the world.

"This is why we have set up the High Speed 2 company, to recommend to government a north-south High Speed Rail plan by the end of the year. Andrew [Lord] Adonis and I look forward to receiving their report later this year."

Mr Brown added that rail investment would "build our low carbon future and provide the backbone of our economic prosperity. Together we can build the case for High Speed Rail as part of a new Age of the Train."
Reader Comments:
Views expressed in submitted comments are that of the author, and not necessarily shared by Railnews.
The UK is not some sort of special case that can't 'afford' large scale infrastructure investment. HS1, Crossrail, the Olympics, southern WCML upgrade and Heathrow's third runway all benfit London and South-East England. HS2 would raise the profile of other UK cites particularly if directly linked to HS1. The pay back will not simply come from fares which would have to be set at sensible levels.

Electrification and high speed rail is long overdue and the problem seems to have been the simple lack of an individual with the power and drive to do something about it. Lord Adonis should have been made transport secretary in the early Blair years.

Have our top politicians suddenly woke up from a long sleep and realised that a
green revolution called "rail" has been going on in europe and other parts of the world for years?
The only benefit we can get from this is to learn from the mistakes that the leaders of other countries have made with there systems and not make the same mistakes.
Please lets hope that we do it in the Victorian spirit ---Built To Last--- and not on the cheap to make mega bucks for some fat cat.

The enormous sums that will be needed for this line will mean that very few will actually be able to afford to use it. The money would be better spent on improving the capacity of the existing network and rebuilding disused lines in the south-east. How can anyone be "excited" about spending money they don't have and which would put the country in debt for generations to come?

stop talking about it and get on building it now
the current is all read full up now.