Posted 4th August 2009 | 10 Comments
£1.2 billion boost for English rail and metro services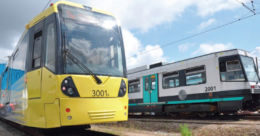 £320m will go on improving Manchester Metrolink routes
THE UK Government's recent announcement of £1.1 billion to electrify the Great Western main line and the route between Liverpool and Manchester, via Newton-le-Willows, masked a series of announcements of rail-related plans—adding up to a further £1.2 billion—in the English regions.

The East, West Midlands and North West regions get the lion's share of the Regional Funding Allocations (RFA) — £1.06 billion.

The projects include new stations in Watford, Hertfordshire, the West Midlands and North East England, expansion of the Midland Metro and Manchester Metrolink tram systems, the re-doubling of the Network Rail route between Swindon and Kemble, Gloucestershire, and improvements to the Nottingham-Lincoln line.

Rail-related RFA schemes are listed here. The RFA amounts do not necessarily refer to the total cost as some projects, such as Birmingham New Street Gateway, involve contributions from other partners.

East (£316.7m)

Major investment in Hertfordshire will see £26 million spent on Watford Junction Interchange and £136.4 million on diverting the Metropolitan line from Croxley to Watford Junction. Intermediate stations are planned at Ascot Road, Watford West, and Watford High Street. When the Croxley Rail Link is implemented, direct services into Watford Junction from Aylesbury will also be possible.

£53.3 million is allocated to South Essex Rapid Transit (embracing Essex/Thurrock/Southend), while Chesterton station in Cambridgeshire will get
£22.6 million.

The former Luton-Dunstable railway line is to be converted to a guided busway (£78.4 million). This will be the second such project in the region — the former rail route between St Ives and Cambridge is due to open as a guided busway later this year.

East Midlands (£51.0m)

- Nottingham to Lincoln line speed improvements, Network Rail, £51.0m

- The £500 million development of lines 2 and 3 of NET — Nottingham Express Transit, the city's tram system — was announced separately and not included in the RFA figures.

The approval was linked with go-ahead for a "work place parking levy." Under this scheme, local authorities may choose that any firm with 11 or more staff car parking spaces can be charged £250 a year for each. Employers will be free to pass the cost on to their staff. Nottingham will be the first to introduce a levy, from 2012. The city council says that over 10 years the levy will raise £100 million — a fifth of the cost of the two new tram lines, all focused on Nottingham Midland train station and which are intended to entice motorists out of their cars.

West Midlands (£316.8m)

Included in the West Midlands' schemes are extensions to the Midland Metro tram routes into Birmingham and Wolverhampton city centres "to improve links for visitors and businesses between the two cities," said the Department for Transport (DfT). In Wolverhampton, trams will circle the city centre, serving a new interchange with the bus and rail stations, and in Birmingham the plan is to extend trams from Snow Hill to New Street station.

The West Midlands' projects are:

- Wolverhampton Interchange, £8.7m

- Midland Metro Line 1 (Centro) – improvements and Wolverhampton city centre Loop, £53.1m

- Midland Metro Line 1 (Centro) - Birmingham city centre extension, £25.0m

- Longbridge Hub (Centro), £20.0m

- Birmingham Gateway (New Street Station), £160m

- Bromsgrove Station, Worcestershire (associated with extension of Cross-City electrification from Barnt Green), £7.5m

- Kidderminster Station, Worcestershire, £2.5m

- Stratford-upon-Avon Parkway station, Warwickshire (a new station alongside the A46 Stratford by-pass), £3.0m

- Other West Midlands rail station and infrastructure improvements, £37.0m

North West (£427.8m)

Included in the North West's plans is an accelerated package of schemes in Greater Manchester, including Metrolink extensions from Chorlton to East Didsbury and from Droylsden to Ashton, and upgrading the Blackpool and Fleetwood Tramway.

The North West's projects are:

- Manchester Metrolink phases 1 and 2 renewals, £6.2m

- Manchester Metrolink Phase 3a, £186.8m

- Manchester Metrolink Extension, Chorlton-East Didsbury, £63.7m

- Manchester Extension, Droylesden-Ashton, £63.8m

- Blackpool and Fleetwood Tramway upgrade, £60.3m

- Rochdale Interchange, £10m

- Crewe (Cheshire) Rail Gateway, £37.0m

North East (£41,3m)

The North East's plans include a series of rail improvements within the Tees Valley — including enhancements to stations such as Middlesbrough, Darlington and Hartlepool and the development of proposals for new stations such as Durham Tees Valley Airport, which the DfT said are "at an advanced stage of development."

The North East projects are:

- Nexus (Tyne & Wear) Metro, ticketing and gating, £12.8m

- Darlington Station Upgrade, £9.4m

- Middlesbrough, Wilton International Station, £5.0m

- Tees Valley station upgrades, Stockton/Hartlepool/Middlesbrough, £4.9m

- James Cook Hospital Station, Middlesbrough, £4.2m

- Durham Tees Valley Airport Station, Darlington, £5.0m

South West (£59.4m)

Swindon-Kemble, Network Rail, £21.6m

Portishead Rail Corridor, £25.3m

Bristol Metro Rail Project, £12.5m

South East (£25m)

Included in the South East's plans is creation of a £25 million Regional Infrastructure Fund to support transport schemes related to growth or regeneration benefits, but nothing rail-specific is identified.
Reader Comments:
Views expressed in submitted comments are that of the author, and not necessarily shared by Railnews.
I am absolutley delighted to read this news and I am now looking forward to continuing the momentum by pressing the relevant authorities into providing more details regarding the development. I am sure that the good people of Portishead will prevail and they will finally get what they have fought for for so long. I am very impressed by the tenacity, solidarity and strong sense of purpose of the Portishead to Bristol railway group and I am deeply proud to be among their number as a recent life member.
I do feel that as a pressure group we now need to lobby local businesses, and the operators of Royal Portbury dock to building more commercial support and to develop wider and stronger partnerships. I am convinced that the passenger railway will prove to be a vital commuter link for Portishead allowing more employment capacity to the town and improving the local economy.

"It is great to see the largest town in England without a rail link finallly on the priority list. Lets move on Portishead."

That would be Dudley, surely?

I'm a fan of the Portishead rail line to Bristol because as a boy of 11 I rode fom Temple Meads to Portishead with my grandmother. I've rememberd it ever since -- and that was in 1960. When grandmother died in 1965 I went back to Bristol and tried to ride out to Portishead again, and was saddened to discover the line had not survived Beeching.
So, get it re-opened while there's still time for me to come back and buy a ticket.

This is good news indeed.

The need for the re-establishment of the Portishead line for passenger use has been seen as obvious since the line was closed.

I would have thought that providing a basic service, where there is none, would have been a higher priority that improving services where there is some.

This is the right thing to do, let's keep on with the endeavour to re-open.


This is very good news and well done Alan and your committee. If £25.3m is to be allocated then this is fine but it seems way over the top for just 1.5 miles of track and infrastructure etc. Does this include for new rolling stock as well?
John Anning

WELCOME NEWS ON PORTISHEAD RAIL CORRIDOR BUT WHAT IS THE TIMESCALE & LIKLIHOOD OF WORK ACTUALLY STARTING & WHO DO WE CONTACT TO TRY TO PUT PRESSURE ON FOR IT TO HAPPEN?

Hi Alan
I know it's only a drop in the ocean but I'm really excited to see Portishead Rail Corridor in official 'print'. Could we quote Churchill's " not the end, nor the beginning of the end, but the end of the beginning"??
Wishing you the very best of endeavours and thanking you for all the work you do.
Best wishes
Angela Cooper

It is great to see the largest town in England without a rail link finallly on the priority list. Lets move on Portishead.

If the Government is serious in wanting to diminish the use of cars in an effort to lessen congestion and pollution on the roads, then to resuscitate the Portishead/Bristol rail link is a most glaringly obvious part of the answer. This project has been mooted for years; there are no valid reasons for refusing it; and as the railtrack is still there it would not be unduly difficult to upgrade it. The lack of action is presumably due to laziness and incompetence on the part of the Dept. of Transport; so perhaps a change of Government might speed matters up.

I am so pleased to see that the Portishead Rail corrido project is in the South West List for funding. However, the term corridor is a bit vague. I note the Croxley rail link in Watford is detailed. Could you assure us the public who are very keen to once again have a train service, the extent of the works for the Portishead link, or is this an overall umbrella figure that covers the stations and track?