Posted 13th April 2011 | 16 Comments
East Coast restaurants seem set for a quiet farewell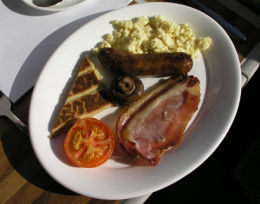 EAST Coast will abolish its last restaurant cars later next month, ending a tradition on the route which dates back to 1879, but apparently they won't be greatly missed.
The operator's managing director said very few comments have been received about the change of catering policy from 22 May, which will see complimentary food served at First Class seats instead.
The route, then owned south of the border by the Great Northern Railway, saw Britain's first restaurant cars introduced on Leeds services in 1879, although on-board catering spread only slowly until after the turn of the century.
Full on-board meal services have been declining since the 1950s, although GNER was still maintaining restaurant cars on more than 90 trains a day until 2006. Its successor National Express trimmed the service slightly after inheriting the franchise, but most trains soon lost their dedicated dining areas in favour of at-seat meals in First Class. These, however, were not free.
Next month's reforms will remove the last cars, which have survived until now on a handful of peak hour trains.
Instead, all passengers in First will be offered complimentary food at their seats, following a practice established by Virgin on the West Coast route almost a decade ago.
East Coast managing director Karen Boswell said she had received very few comments about the forthcoming changeover, although it is being opposed by Halifax Labour MP Linda Riordan, who set down a Parliamentary Early Day Motion criticising the move earlier this year.
Ms Boswell, however, does not seem likely to change her mind. She explained: "We want to increase the differential between First and standard by adding to the benefits of travelling First, which can be done at bargain rates by booking in advance. I have seats to fill, and our new timetable in May adds 19 trains a day as well as direct services to Lincoln and an early morning four-hour journey from Edinburgh to London, calling at Newcastle, which we are naming 'The Flying Scotsman'.
"It's an exciting time for East Coast, particularly now that EasyJet has withdrawn its flights between London Stansted and Newcastle. Rail is increasing its market share decisively, and we believe it's a trend which will continue."
New figures from ATOC show that East Coast's market share between Edinburgh and London grew from 21 per cent in 2008 to 27 per cent last year, while its share on the Newcastle–London route increased from 59 per cent in 2008 to 64 per cent.
East Coast is currently run by the Department for Transport's company Directly Operated Railways, following the withdrawal of National Express from the franchise in November 2009.
The operation should have been poised to return to the private sector by now, but following a change of plan the Department is now hoping to withdraw from the route in favour of a new franchisee in late 2012.
Meanwhile, the British restaurant car still survives – just – on four First Great Western trains each day. The company said it had no plans to withdraw them.
Reader Comments:
Views expressed in submitted comments are that of the author, and not necessarily shared by Railnews.
I travelled from London to Leeds this morning and, tempted by East Coast's lavish marketing of their complimentary hot food, decided to go First Class. A beautifully presented menu booklet on the table trumpeted its promise of full English breakfast to come. Good job - I'd turned down an offer of breakfast with the friends I'd been staying with to enjoy this treat to the full and I was starving.

I was curtly told that as it was Saturday there was no food and would I like two tiny, tasteless and very dry buns instead. Er, is there anything else? - Only in the Standard Class cafe. So I asked the Standard Class attendant and she referred me back to the First Class team. When I pointed out they'd sent me to her she said the only thing she had was two toasted cheese sandwiches (remember those in the early 80s?) as someone had forgotten to order the Standard Class food. I didn't have a choice but to go for one and to add insult to injury it was only after some protest that I was given it for free.

A very swift exit to the Marks & Spencer Just Food on Leeds station later, I was wishing I'd saved my money on First Class.

One other gripe. The coffee was bordering on the undrinkable - almost certainly the worst on-train coffee I have tasted in about 20 years.

My first encounter with East Coast since they took over from National Express, this whole shambles was an extremely poor advertisement for their company and I would really think twice before using them were I to need to travel that route again. Imagine going into a shop, handing over your money and being told they're not going to give you the products you just paid for. That seems to be how East Coast operate.

Avoid.

I never actually ate in the restaurant car, but I had the restaurant dinners at-seat. I was expecting some overpriced cheap rubbish but actually I got a good portion of very nice food. And they put the menus on their website so I could check what was available before I travelled. It was something to look forward to and made a 4.5 hour journey less dull.

Oh dear. It was obvious that the new "improved" service was going to be bad - they aren't going to offer restaurant-quality food included in the (unchanged) ticket price are they? Sure enough, of the supposed four choices of sandwich, only two existed. Same problem with drinks. The piece of cake was apparently made from sawdust instead of flour. And those horrible Burt's crisps (on the packet Burt's say they were trying to make a crisps with more flavour - it's got a flavour all right, stale cooking oil). Of the hot meals that weren't actually available, there was only one I'd consider eating and the menus aren't published. On my return journey when I refused a sandwich the East Coast woman said "but's its free", as if that made a difference. So what? That doesn't mean I'd like it, and I object to be treated like I'm ungrateful for not wanting something that's free. I'm travelling first-class so I'm hardly so poor that I have to eat anything that's available.It made it worse that I was travelling on a holiday so I would have liked an enjoyable lunch. It really ruined my journeys.

So I'm now reduced to having to buy some sandwiches from M&S before I get on the train.

But I suppose the sad fact is that many people will eat anything as long as it's free; and that first class is mostly used by business travellers who probably are used to "grabbing a sandwich" and are too busy looking at their laptops to have a proper meal. I suppose also they wouldn't have the restaurant food because their company wouldn't have reimbursed them.

Its just another downgrade. I was lucky enough to have dinner in the restaurant car travelling up to Inverness as the highland scenery sped by. In the words of an East Coast employee its now just like having your dinner on a park bench. Still it should suit all those who can't seem to sit down and eat without having a screen in front of them. Nothing really gets any better in this country does it?

I've travelled twice now from London KX to Newcastle since East Coast introduced the "complimentary offer". Honestly, it's embarrassing, resembling classroom food rather than First Class food. The staff are terrible, the allocation of food draconian and the overall feel simply degrades the prestige of First Class travel. Scraping dinner leftovers into a bucket on the seat opposite me... being barked at because I asked for a quarter of a sandwich after I'd had the hot meal "it's either or sir" she snapped. Staff hollering at each other and at customers "who wants dinner, who wants dinner" shouted to the masses. I would honestly rather go to the buffet and buy some food so I can have what I want, when I want it, rather than take the second rate complimentary offer, delivered by awful crass staff who came from a back street caff to work on East Coast's prestige First Class. Breakfast remains really good. You can't really get that wrong. East Coast, it's all about your people!! Come on.

I totally agree with those mourning the loss of the dining car. How can the loss of such a fine institution possibly be regarded as a good thing? It seems to me that the world is becoming less and less civilised all the time - GNER did it so well, but the moment they lost the franchise it started going downhill, and now the catering is abysmal. I am on an East Coast train now travelling first class to Leeds for £170 on the 2005 departure from Kings Cross - there is no hot food at all, and all I have had to eat is a miserable little lettuce sandwich and a glass of filthy wine. I am not at all happy, I miss the way things used to be done and I am not even old.

But I do feel a little better now having said all that ...


For a wonderful sense of occasion nothing could beat walking up to the restaurant car, sitting down at a silver service table and enjoying a (usually) fine meal while watching the countryside waft past. One of the pleasures in life.
A relic of a bygone age? I don't think so. As far as I'm aware the dining car was a profitable exercise until the end of the GNER era.
I feel lucky to have had the experience.

Utter fiasco. I travelled from Dundee to London first class yesterday and according to East Coast\'s website and on train menu I should have received a late breakfast, choice of meals (including hot food) from the \"all day menu\" at lunchtime and afternoon tea. I was given half a sandwich for lunch and another half sandwich late afternoon when I complained. They ran out of wine/there was no hot food option/breakfast was not served due to \"lack of staff\". There were no cakes/fruit or anything else available.

I paid £238 for the pleasure! Staff were dismissive - I was told that as I got a half sandwich for lunch, they had complied with the \"all day menu\".

Avoid at all costs!!

Unfortunately this was going to happen as what was the British Rail system the country was once proud of even without the investment it needed has been taken over by people who are not experienced in running railways. They have been taken over mainly by companies who want to make money still at the taxpayers expense. So we have high priced tickets shorter trains and now no RESTAURANT CARS. Perhaps one day we will have a government that will put this mess right. Both my wife and myself have enjoyed many fine meals on the East Coast route which we both will miss. A very sad day. I also do NOT BELIEVE what Karen Boswell says about few complaints because once a few executives come up with an option that looks good to them nothing will change their minds and nobody will be told the true facts.

I commend this move, yes it is a blow to tradition but having traveled first class from London to Coventry with Virgin trains I quite enjoyed my at-seat dining. One still has a table in front of him so he can surf the web or what have you whilst eating and eloquently moving at high speeds towards one's destination.

Plus, with at-seat dining I see my self now drawn to East Coast commuting for when I travel to Glasgow as the meal is complimentary.

InterCity used to provide the finest breakfasts available - A civilised way to start the day with the full English (or Scottish) breakfast on board the train.

Unfortunately the effects of privatisation sees the quality of East Coast services - once the flagship of Britain's Rail system - downgrade further.

A sad day and no matter how much spin Karen Boswell tries to put on the story she will convince nobody who has experienced pre privatised breakfast on that route.

Bring Back British Rail!

Couldn't agree more Rob,I used to love working 91's & HST's between Waverley and Kings Cross--camaraderie in the kitchen car had to be experienced to be believed-- Great times,great people,great Company--- R.I.P GNER & your restaurants.
Rob,Auckland nz

I'm not sure I believe Karen Boswell when she says she had received very few comments. I think the savings they expect to make will be negated by people like me who choose not to use East Coast because there is no restaurant car. Any comparison with Virgin is foolish. Most self-respecting business people avoid Virgin like the plague. The food is truly shocking.

Unfortunately, the service does not meet, and for a long time has not met, the requirements of the modern business traveller.

It's strange, isn't it, that Restaurant cars are deemed unwanted by the present bunch of TOC's and yet, the big attraction to a lot of people using the many charter trains available is the provision of meal service!
Restaurant cars were well used till the private companies wanted to
(a) fill up the space allocated to Restaurants with seats because the present policy is to pack us in like sardines.
and (b) wean us off them by increasing the prices, confining them to 1st class ticket holders, and restricting their use to only part of the journey.
Trains are getting more cramped and uncomfortable, with less amenities on board. Travel by train now is very rarely a pleasure.


Cutting restaurant service reduces trains to just another travel event. Cheap tickets aren't everything; why do airlines offer 'premium economy' ? Some want a bit more but don't have businesses to pay for First Class. A good meal, a view and a comfortable seat make an event into an experience - obviously that doesn't pay...

Although I can see why they are doing it, it is still a sad time. I worked for the brand new GNER and remember the excellent food, fantastic service and associated pride that they had.

Progress?