Posted 26th February 2010 | 12 Comments
Government backs away from IEP decision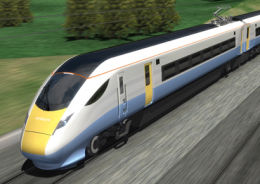 THE GOVERNMENT has postponed any decision on the Intercity Express Programme until after the General Election. Transport secretary Andrew Adonis said: "There has been a reduction in the capacity of the debt market to support the transaction as originally envisaged, and passenger growth has also slowed". There will now be an independent review of the project.

The news places a question mark over how much longer the HST fleet will now be expected to continue.

The official statement to Parliament and the Stock Exchange said: 'The negotiations are for a contract of nearly 30 years, a multi-billion pound spend over the course of many Parliaments. In all the circumstances, the Government does not believe it would be appropriate to enter into this particular contract in the immediate run up to a general election. To ensure that a decision is taken at the beginning of the next Parliament on the basis of the fullest evaluation, the Secretary of State has today asked Sir Andrew Foster, former controller of the Audit Commission, to provide an independent assessment of the value for money of the Programme and the credibility and the value for money of any alternatives which meet the Programme's objectives.'

Agility Trains, the consortium headed by Hitachi, said it was 'disappointed', but that planning would continue. In a statement, Agility said: 'We are disappointed that a contract will not be concluded before the UK general election. However we will continue our ambitious planning for production and maintenance facilities in the UK to support the programme, in anticipation of concluding the contract under the next Parliament.'

The industry has also been responding. The chief executive of the Association of Train Operating Companies Michael Roberts said: "Whilst this may not be a surprising decision given the economic climate and the complexity of the project, it is vital that there isn't a significant delay in reaching a decision, as new trains that will improve services for passengers are much needed."

He added: "The best way to get value for money would be to give train companies a greater role in buying their own rolling stock. This would get things done quicker and cheaper, ensure that the right rolling stock gets to the right places at the right time and give passengers and taxpayers the best deal. An independent assessment of the scheme will provide a good opportunity for ministers to rethink their approach and ensure that value for money is at the heart of the programme."
Reader Comments:
Views expressed in submitted comments are that of the author, and not necessarily shared by Railnews.
HSTs are not no-where near as polluting as a planes, the co2 per passenger emitted by a plane far exceeds that produced on an HST. Especially now nearly all the HSTs are running with highly efficient MTU engines. They should resurrect the Intercity250 project, with a diesel or electric locomotive at one end and a Mk5 type carriage with a DVT type vehicle at the other end. Loco hauled trains also provide operational flexibilty as with enough spare coaching stock built you can shorten and lengthen trains as and when is required.

The USAF B52 bomber which entered service in the 1950s is expected to remain in service until 2045 and so will our HST fleet at this rate.

Good. These trains provided no extra speed and narrower carriages. Maybe if this falls through the next tender will be in a few years and we might actually see some progress.

There isn't really anything wrong with the electric sets running the ECML anyway, though the slam-door diesel carriages are a bit rough.

Who is running the railways, the government, the banks, consultants, roscos?

The 125 mph HST was a stop-gap design of train designed by British Rail in the early 1970's until the 155 mph tilting APT was ready. The HST is an excellent train (even today) and the same design of carriages are also hauled by electric locos.

Right then - is there engineering capacity left in the UK to build updated 125 mph Mk3/Mk4 carriages and locomotives?


So what does this mean for the electrification of the Great Western? Doesn't seem much point in electrifying the line and running diesel HSTs!


I personally am not bother about these new trains after all they will be made in Japan. Gone are the days when we built our owns train. We still have the work force. It seems the government doesnt seem to care about our once great railway industry. Whatever you say about the HST there over 30 years old and still going strong and yes it's British.

Will someone have the foresight to commit to long term railway project - PLEASE?!

Pehaps the rail industry should take the opportunity to concentrate on reliability and punctuality of passenger trains and increased capacity for freight - rather than just on speed. Besides too much speed will erode rail's green advantage.

SHOULD THE GOVERNMENT START DESIGNING A BRAND NEW FLEET OF TRAINS THAT CAN COPE WITH ALL SEVERE WEATHER CONDITIONS LIKE THIS WINTER THAT HAS BEEN MAKING NATIONAL HEADLINES ACROSS THE U.K & AROUND THE WORLD/ THE CONSEQUENCES WILL BE HUGE IF WE DO NOT GET OUR TRANSPORT NETWORK BACK IN WORKING ORDER NOW!!!!

IS THE GOVERNMENT NOW GOING TO START BACKING AWAY FROM HIGH SPEED TWO BECAUSE WE NEED A NEW RAILWAY NETWORK CAPABLE OF RUNNING AT 220MPH WITH JAVELINS & EUROSTAR'S IN EVERY MAJOR CITY ACROSS THE UK SOON!!!

Forget enviromental issues I will be starting to fly from cardiff to london rather than pay loads of money for riding on trains that are old and out of date as as poluting as aircraft

Love the last paragraph above,erm wasnt that the case in BR days (and earlier)? couldnt make this up,anyway the entire HST fleet has only been re-engined for a short while i mean hello.and if it means more Pendolino style airline interiors,forget about it.