Posted 29th June 2009 | 3 Comments
Network Rail bonus payments encounter widespread criticism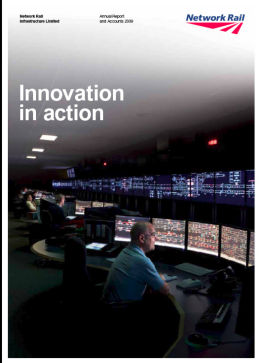 Network Rail Annual Report
THE decision by Network Rail's non-executive directors to agree to more than £1.2 million of bonus payments for the company's executive directors has been met with widespread criticism from politicians, unions — and the Office of Rail Regulation.

Bob Crow, general secretary of the RMT transport union, said: "With thousands of jobs under threat across the railways the news that Network Rail bosses are lining their pockets with another round of inflated bonuses will come as a kick in the teeth to RMT members whose very livelihoods are on the line."

Gerry Doherty, general secretary of the Transport Salaried Staffs Association, accused Network Rail of treating passengers with contempt. "Their cynicism in trying to bury bad news on the day of Michael Jackson's sad death is breathtaking," he added.

Details of the payments were contained in Network Rail's annual report and accounts and an associated press release timed at 11.40 am on 26 June.

The Office of Rail Regulation, was also critical, saying that Network Rail's remuneration committee had "decided not to exercise its considerable discretion to reduce bonuses below the potential annual award of 49.3 per cent of basic salary."

Bill Emery, ORR's chief executive, said: "We are surprised and disappointed that Network Rail's non-executive directors decided not to exercise their discretion to reduce significantly the bonuses for its senior executives, reflecting the mixed performance of the company during the last year and the economic climate that is facing many of its customers and suppliers.

"The [remuneration] committee has provided details of its reasons," he added, "but we don't find them compelling, and nor do we believe the decision will gain widespread stakeholder support."

Transport Secretary Lord Adonis had also urged Network Rail to be "mindful of the public mood on bonuses."

Continuing problems and delays on the West Coast Main Line, following a £9 billion 10-year modernisation programme, have increased criticism of Network Rail. Last week Network Rail announced it was to spend another £50 million to resolve problems.

Passenger Focus, the consumer watchdog, said the bonuses would seem "premature" to passengers who were "still waiting for a reliable service to arrive."

The Liberal Democrats said passengers would be shocked to hear "rail bosses were being rewarded for failure."

The Conservatives said they would give the rail regulator tougher powers to cut or cancel bonuses.

MP Louise Ellman, who chairs parliament's Transport Select Committee, said Network Rail should be focusing on efficiency, not giving six-figure bonuses to its directors. She said the decision on bonus payments "displayed lack of sensitivity to passengers" who she said still faced numerous delays.

Mrs Ellman said: "Network Rail have again displayed lack of sensitivity to passengers. Huge amounts of money have been spent on the West Coast Main Line but there are still too many unnecessary delays and shut-downs over bank holidays.

"They keep saying they are becoming more efficient, but this is just not happening. It is time they paid a bit more attention to improvements and to the needs of passengers rather than this bonus culture."

Last night (28 June) trains on the West Coast Main Line from Glasgow, Liverpool and Manchester to London Euston had to be cancelled, and others were delayed up to an hour, "because of a signalling problem in the Harrow & Wealdstone area."

Network Rail's announcement of the bonuses for executive directors came only days after the BBC had encountered criticisms following publication of details of top salaries and expenses — and after weeks of public criticism of MPs' payments and expenses.

Peter Henderson, Network Rail's group infrastructure director, will get a £217,000 annual performance-related bonus plus £112,000 as part of a three-year rolling incentive plan – on top of his £434,000 salary.

Ron Henderson, who stepped down as group finance director in April, will receive a £207,000 annual bonus plus £112,000 from the incentive plan, in addition to his £413,000 salary.

Bonuses of £137,000 to £142,000 will be paid to Robin Gisby, the operations and customer services director; Simon Kirby, the infrastructure investment director; and Paul Plummer, the planning and regulation director.

Iain Coucher, Network Rail's chief executive, who earns £605,000 a year, previously announced he would forgo his annual bonus, but will still receive £150,000 from the incentive plan.

Network Rail's Remuneration Committee also announced bonuses totalling £32 million for the group's 35,000 staff, with the minimum award being £740.
Reader Comments:
Views expressed in submitted comments are that of the author, and not necessarily shared by Railnews.
Disgusting is the only word to describe grabbing directors and their bonuses
for what amounts to easy targets that have not been achieved when you look
at the west coast main line. Anyway these people are already on good salaries not counting their pension pots I really don't see why they should get bonuses as well.

Their bonuses are still less than what they had to pay to disgruntled female employees who had a case against the HR director, but I guess he is entitled to a bonus as well? keep up the good work.

Presumably after calling for NR's directors to forego their bonuses, the RMT and TSSA will be asking their members to hand back their £740 bonuses as well.....they can't have it both ways can they?