Posted 14th May 2009 | 1 Comment
Coucher foregoes bonus as Adonis marks completion of £9bn West Coast project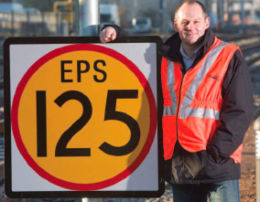 Iain Coucher with speed sign for tilting trains
AS Transport Minister Lord Andrew Adonis officially marked the completion of the £9 billion West Coast route modernisation project, Network Rail's chief executive Iain Coucher said he would forego his annual bonus this year.

Lord Adonis has been among many who have questioned plans to pay Network Rail's top directors bonuses after the rail infrastructure company was fined for three serious engineering overruns during the 2007/08 Christmas and new year period.

Mr Coucher said he would not take his annual bonus this year so that he could "talk freely."

Speaking on BBC Radio 4's Today programme, he explained his decision: "I want to be able to talk freely about Network Rail's story of success and how it has delivered for passengers not just last year but over the last five years without this story being clouded by controversy.

"In the last 12 months we met or exceeded almost all of the tough targets set for us by our independent regulator.

"I know that there is much more we need to do to deliver a consistently high quality service to all rail users and I am committed to doing just that in the coming years.

"As a result of everything the industry has done, we now have a railway carrying a record number of passengers on a record number of trains. Passenger satisfaction at 83 per cent has never been higher, 91 per cent of trains arrive on time — the highest national figure ever recorded.

"Travel by train has never been safer and is now the safest form of transport — and we have reduced by £1 billion a year for the British people the cost of running the railway."

But he added: "Nonetheless I am mindful of current sentiment, so I have taken a personal decision to forego any annual bonus this year. The success of our company and its hard-working people must have the opportunity to be seen and heard."

Last year, Mr Coucher received more than £500,000 in bonuses, including a £305,000 annual bonus. His basic salary is £600,000, he said.

Although Mr Coucher has told the company's remuneration committee he does not want an annual bonus this year, other members of Network Rail's executive committee are still being considered for payments, which could total hundreds of thousands of pounds. Those who could get payments are group infrastructure director Peter Henderson, operations director Robin Gisby, infrastructure investment director Simon Kirby, and planning director Paul Plummer.


West Coast line 'helps to better connect Britain'

Lord Adonis made no mention of the controversial bonuses when he officially declared the West Coast main Line re-opened after its 10-year-long modernisation programme.

"Getting to this point has not been easy," he said. "That we are here today is testament both to the hard work of Network Rail and the Government's continuing commitment to this vital project.

"It is easy to lose sight of how this work has changed the transport map of Britain and brought real improvements for rail passengers. Five years ago, Manchester was nearly three hours from London and was served by barely one train an hour. Today trains reach Manchester in two hours and run every twenty minutes throughout the day.

"This project helps to better connect Britain. Businesses rely on it both to move their people and to move their freight, giving them the connections they need to help our economy through these difficult times."

The Minister said passenger numbers on the line have doubled since 2004 while improved journey times have caused a "massive shift" from air to rail on the busy Manchester to London route with rail now accounting for two-thirds of journeys, up from one third in 2004.

He added that weekend travellers will also benefit "with far fewer engineering closures and an almost doubling of weekend trains." Future closures will be confined to the late Saturday evening/early Sunday morning period or holiday periods when passenger volumes are lower.

Lord Adonis added that work will now continue to help improve resilience and capacity on the line. Four extra Pendolino trains have been ordered to help ensure that the new higher frequency services are more resilient to disruption, while 31 existing Pendolinos are to be lengthened from nine to eleven carriages to provide extra capacity on the route.
Reader Comments:
Views expressed in submitted comments are that of the author, and not necessarily shared by Railnews.
A good example, this is why railway engineers, whom we all rely on are gaining respect.
As for the bankers mugging our pension funds .........!!!