Posted 8th May 2009 | 5 Comments
Super Expresses may shrink inter-city network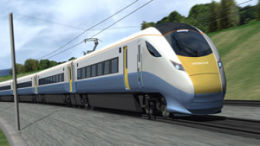 Hitachi Super Express
INTRODUCTION of Super Express trains could cause a contraction of the inter-city network because of the cost of modifying infrastructure for the longer coaches.

Network Rail has been allowed funding to prepare for the next generation of inter-city train. However, the Government has declined to guarantee that all routes now used by InterCity 125 trains will be cleared for Super Express.

The cost of modifying railways on the inter-city network's periphery could be regarded as too high for the small number of services involved. The Pembroke Dock branch, for example, has two IC125s to and from London Paddington each Saturday, in summer only. Extensive engineering works, including en-larging a tunnel, would probably be needed before Super Express could reach Wales' western tip.

Diversionary routes used occasionally by IC125s, such as Cardiff-Barry-Bridgend and Swindon-Kemble, would also need modifications for Super Express.

MPs have also expressed concerns over the future of inter-city services between Cornwall and London. When the Government announced
its preferred bidder for Super Express, it said the new trains would operate to South Wales and Bristol. Deployment on services to Exeter and Penzance was described as an option.

Super Express coaches will be 26 metres long – three metres longer than IC125 vehicles – to provide more seats without the increased weight of additional bogies.

However, the longer coaches will have a wider swept path, unless they are even narrower than existing vehicles. Bridges, tunnels, platforms and other structures on curved track will need modification.

A Network Rail spokeswoman said: "The plan is for Super Express trains to replace all IC125 trains, and structural work will be necessary to accommodate them on some parts of the route. As the delivery of the Super Express programme is staged, introduction of these trains to the route will be from 2014 onwards. So we are at the infant stage of development and a detailed evaluation will be carried out to determine those specific structural changes."

Philip Rees, who was chief civil engineer at British Rail's Western Region when the first IC125s were introduced, said: "They need to look at it very carefully indeed. The overthrow in the middle and the overhang at the ends is bound to be more than the present vehicles. If they're not careful, they're going to have a lot of work on their hands.

"West of Plymouth, it's a very curved route. It's tight-ish on the Royal Albert Bridge."

Summer Saturday trains from London still bring crowds of holidaymakers to Pembroke-shire, but modifying the cur-ved single-track tunnel at Narberth for Super Express could be prohibitively expensive. Mr Rees recalled a 21-metre coach striking the tunnel arch in steam days after renewed track was slightly misaligned. He doubted whether 26-metre coaches would pass through.

The sharp curve beside Landore train depot, used by trains between Swansea and West Wales, would also need close examination, he said.
Reader Comments:
Views expressed in submitted comments are that of the author, and not necessarily shared by Railnews.
With regard to Owens point, the power to weight ratio will not be the same as not all of the bogies are in fact powered. An article in RAIL showed the 10 car sets as having something like 8 or 9 throughout the train. Personally I'm glad that there will be some unpowered coaches - was on a pendalino today and the buzzing on acceleration is more noticible now - certainly not Mk3 build quality!

Owain,
Yes, you are right, look at the length of the Eurostar coaches.
It seems crazy to have this new train suitable only for limited routes, unable to use the extremities our network.

Why do the coaches need to be longer? Just make them shorter and add one more - the power-to-weight ratio will be better as they're all powered anyway.

Pity, we thought that this train would link most of this country through the main network.
What will West Wales and Cornwall have - refurbished sprinters?
What is wrong with building updated Mk3 carriage based trains?

Swindon - Kemble is hardly a "diversionary route used occasionally by IC125s", given the number of Cheltenham - Paddington services there are these days!