Posted 17th November 2023 | No Comments
New Piccadilly Line trains under test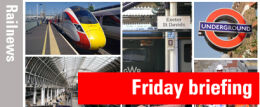 New trains for the Piccadilly Line of London Underground built by Siemens are being tested in Germany and Austria. The procurement has been running behind time because a new Piccadilly Line fleet had been intended to enter service almost 10 years ago, but the plan was frustrated by the failure of the Underground's Public-Private Partnerships. One of the new trains is on the Siemens test track at Wildenrath, near Düsseldorf, while three cars are being assessed inside a cold chamber in Austria to make sure that the cars would function during severe winter weather on surface sections of the Piccadilly Line. Siemens Mobility is building 94 trains for Transport for London, and about half are set to be assembled at Goole in Yorkshire from next year.
Merseyside devolution proposals
Liverpool City Region Mayor Steve Rotheram signed a 'trailblazer' Memorandum of Understanding about rail devolution with transport secretary Mark Harper during the official opening of Headbolt Lane station in Kirkby. The MoU opens the door to closer links between Network Rail and the City Region, which could gain more control over investments to improve the Merseyside network, including stations.
HS2 Euston debate
Liberal Democrats on the London Assembly have clashed with the Conservatives over concerns about the effects of HS2 between Old Oak Common and London Euston, following the Prime Minister's announcement on 4 October. During Mayor's Questions, Liberal Democrat London Assembly Member Hina Bokhari said local businesses in Camden have been affected by the pausing of construction at Euston. Over 70 businesses were forced to move because of the work, while hundreds more have lost some of their customers. According to Assembly Member Bokhari, both residents and businesses in Camden could now face decades of disruption amid concerns over the private sector's ability to fund the project.
Castle commemorated
A new Class 197 unit built by CAF for Transport for Wales has named by schoolchildren in a ceremony at Carmarthen station. The trains are being used first between Swansea and Carmarthen, but there are plans to extend their service area westwards to Milford Haven and Fishguard Harbour. The name 'Carew Castle Express' was chosen by year 5 pupil Rhys Protheroe from Johnstown primary school in Carmarthen, and it commemorates an ancient landmark in Pembrokeshire.
Have Your Say